Biography of Gandhi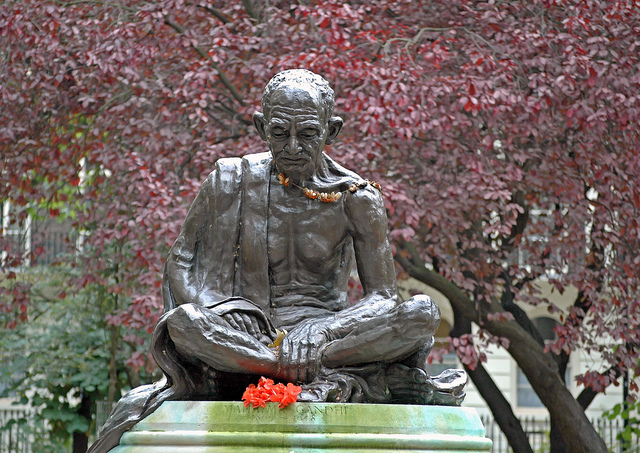 Early Life and Family
Mohandas Karamchand Gandhi was born in Porbandar, India, on 2 October 1869. His father, Karamchand Gandhi (1822-1885), was the Prime Minister of the Porbander state located in the Kathiawar Agency of British India, and his mother, Putlibai, was his father's fourth wife (his preceding wives died in childbirth).
Gandhi grew up with under the influences of Jainism, an ancient dharmic religion from India that prescribes a path of non-violence for all forms of living beings in this world. It teachings included compassion for sentient beings, vegetarianism, fasting for self-purification, and mutual tolerance between different beliefs and principles.
Gandhi loved to read and stories such as the great Hindu epic Ramayana played a role in his upbringing as he identified with the heroic characters. Following the custom of his country Gandhi was married at age thirteen to Kasturbai Makhanji. Two years later they produced a child that died shortly after birth. The couple went on to produce four sons between 1897 and 1900.
Gandhi attended Samaldas College at Bhavnagar, Gujarat and in 1888 went to University College London (UCL) where he studied law and began training to become a barrister as desired by his family. Holding on to his customs Gandhi sought a reliable source of vegetarian cuisine and ended up as a committee member of the Vegetarian Society. His interaction with other members led to his discovery of a Theosophical Society that studied Buddhism and Hinduism, and, his subsequent involvement in their studies.
Gandhi was called to the bar on June 10, 1891 and left London for India on June 12. On his return to his country he found out that his mother had died while he was away. He made a few attempts at establishing his career in law and in teaching before he received a work contract from and Indian firm called Dada Abdulla & Co in South Africa.