Women in today's society are bombarded with the media's interpretation of what constitutes beauty. It's been said that, "Beauty is in the eye of the beholder." However, if every female celebrity our eyes "behold," is ravishingly attractive, it can be difficult to comprehend that many of the most famous women are, in fact, unattractive in real life. If you are wondering how the rich and famous can be so amazingly flawless and seemingly perfect, read on. The following article will reveal 10 of Hollywood's leading ladies that are actually unattractive in real life.

Photo by EXAME.com
1. Oprah Winfrey: Rags to Riches…then back to Rags?
Oprah is well known for being one of America's wealthiest women of all time. She often reminisces about her humble beginnings and the hard work and persistence it took to get her where she is today. With all that money flying around, she is very fortunate to have access to the best: agents, personal chefs and trainers, makeup artists, and beauty products, money can buy.
What a large segment of the population doesn't realize, is that if Oprah was walking around amongst us is our own town, we might not recognize her for being anyone famous. That may very well be why she had trouble with an employee at a Swiss Boutique, when asking to see a 38K bag. One blogger made mention that without makeup, Oprah looks similar to the way she did when she played Sofia in the Color Purple. Her face looks older and more fatigued; her eyes have dark circles underneath (bags included,) and her hair is very nappy. She does own a huge collection of wigs, which covers that issue; and her money, fame, and notoriety, covers the rest.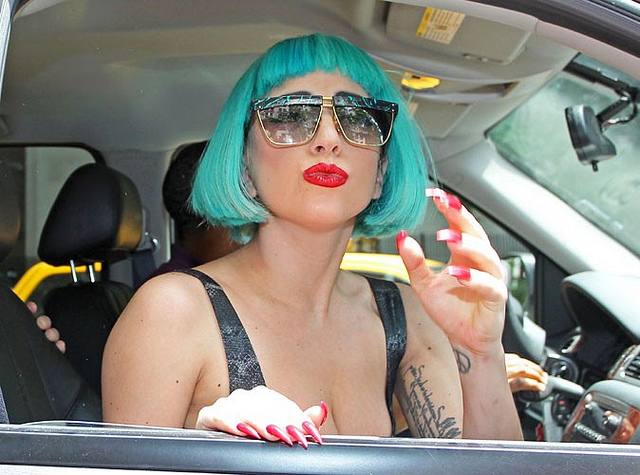 Photo by chicknglam
2. Lady Gaga-Stephani Joanne Angeline Germanotta: Goddess or Average in Disguise?
If anyone has seen Lady Gaga perform, they will know that she is a provocative singer/songwriter, whose shows are more like watching a story unfold. With dynamic costumes, and a flare for the wild-side, this Lady is a force to be reckoned with. She is an outspoken activist for the LGBT community; and she also formed the, "Born This Way" foundation; which is named after one of her songs, and supports anti-bullying. It's obvious that there is more to Lady Gaga than sitting on a throne commanding praise and attention.
When the costumes, glitter, false eyelashes, and bling come off, what's behind the mask is very different than what we are used to seeing. We go Ga Ga for her sharp and exotic features; but without her glamorous get ups, this gay icon and pop sensation, is very gaunt and masculine looking. What's great about her personality though, is that she just doesn't really care. She brags about never having had plastic surgery; and her bold confidence definitely put her, "On the Edge of Glory," even while lounging around the house.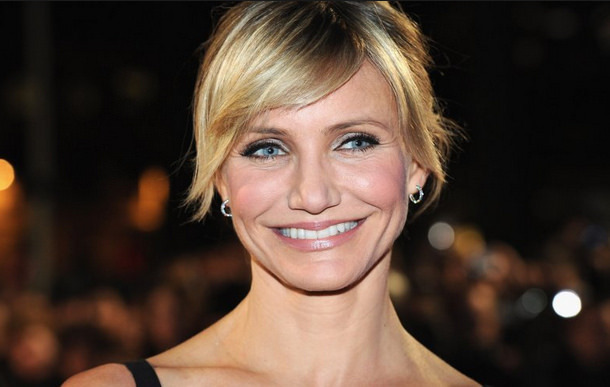 Photo by seruu.com
3. Cameron Diaz: Real Life Fiona?
Cameron Diaz has become one of America's sweethearts. Starring in heartwarming dramas, and slapstick comedies, she really draws her audience to fall in love with her. She is probably one of the most endearing actresses of her time. What many may not be aware of, is that she began her celebrity journey at the tender age of 16, as a fashion model.
When spotted at the gym on numerous occasions, she appears very washed out. Some of her most unique features on screen, become a little less appealing when she is all natural. Her light complexion causes her cute dimples to fade, her wide spread eyes to look drab, and overall, her face becomes very featureless. For being in her 40's, her body is in top shape; and working out is not easy to do in red carpet garb. When it comes to Cameron Diaz, we love her for who she is; with or without makeup.

Photo by swaggmobile
4. Khloe Kardashian: Reality Show Diva, or Guest on Jerry Springer?
Khloe, along with her sisters; Kourtney, and Kim, have really got it going on. The whole family is the water cooler talk sensation of the last several years. Her lavish lifestyle, and seemingly perfect looks, are the envy of thousands of women.
An internet search of Khloe Kardashian in real life, unveils a picture of her in sweat pants, a ponytail, and no makeup. The fact that she is so completely unrecognizable compared to what the public is used to seeing, is almost shocking. It will definitely cause a person to really study the "before and after" shots to make sure someone isn't pulling a fast one. It's unlikely that the Kardashian magic is going to disappear anytime soon; and neither will her fan's loyalty.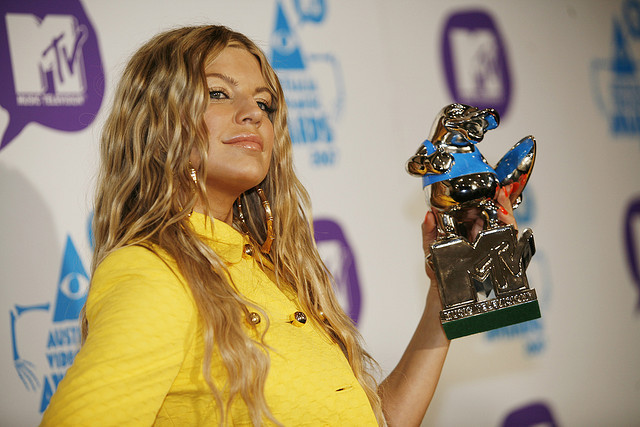 Photo by dreadfuldan
5. Fergie-Stacy Ann Ferguson: Why so Glum Chum?
This singer/songwriter is not only a female vocalist for the Black Eyed Peas, but she is also a solo artist. Fergie is a powerful singer with a strong message to send. Years ago, she struggled with a meth addiction that left her determined to pursue life with an even higher level of vigor.
This confident and highly talented pop star, doesn't twinkle quite as bright in every day life. She shows up on many web pages as being a star that is not as attractive in real life. When all dolled up, she uses a lot of concealer on her jawline to hide her jowls and minimize lines; without it, she looks much more aged, and her face seems to have a pouty scowl. She does indeed have a great voice though, and her singing has carried her past any physical imperfections she may have.

Photo by wouldnt_u _like _2_know
6. Nicole Richie-Nicole Camille Escoredo: Ever Heard of a Good Home Cooked Meal?
Nicole Richey became famous while appearing on a "Simple Life" with her friend Paris Hilton. As an American fashion designer, author, singer, and TV personality, this gal is highly versatile. She has proved to America that it really is possible to follow your dreams and become anything you want to be.
Several photos of her without her designer clothing and perfectly blended makeup, showcase a Nicole that looks anything but extraordinaire. At first glance, one might think they are viewing a photo of an anorexic junkie. Her eyes seem too huge for her tiny face, and her head, too huge for her skeletal body. Her complexion is sallow, and all of her features seem to fade and blend in to nothingness. She need not fear though, with her motivation and drive, she will be a sure success; regardless of how she appears in real life.

Photo by lardfr1
7. Tyra Banks: Beam Me Up Scotty
Who hasn't heard of this famous Super Model? Tyra Banks has made her mark in society; and is well known not only nationally, but worldwide as well. Tyra was the first African American woman to grace the pages of GQ and Sports Illustrated Swimsuit issue. In 1997, she was awarded VH1's Super Model of the Year, and from there, progressed to a Victoria's Secret Angel from 1997-2007. Most recently, she is known for being a judge on America's Next Top Model. It's a good thing no one is judging her off camera though.
Tyra will be the first to admit that she was unfortunately blessed with a "five head." Without makeup, her forehead is prominent, her complexion much paler; resulting in an alien type look. It doesn't seem to matter though, Tyra has proven that with the right attitude, not to mention; body, style, and the right makeup; it is possible to achieve greatness.

Photo by HamCam
8. Queen Latifa – Dana Elaine Owens: Graceful Gangsta'?
Queen Latifa is another example of someone who has spread her wings in several areas of stardom and fame. In her beginning years, she quickly became a well known singer and hip hop pioneer feminist. From there, she moved on to acting in several well known movies, alongside other famous singers and actors. All that didn't slow her down, as she now hosts her own daytime talk show.
Off camera though, the Queen seems to have been transplanted straight off New York's famous Queens Street. She has a look that gives off a vibe that says; "Don't you dare run into me in a dark alley!" Good thing this multi-talented celebrity has a cosmetic line of her own for women of color named, Covergirl Queen Latifa Collection.

Photo by ladypkm1
9. Madonna: Material Girl, or Matured Woman
It's amazing that someone in their mid-fifties could still look and sound so hot on stage. Madonna is truly a legend of her time, and will be famous for generations to come. She also branched out in her career to not only sing, but to act, and speak out for various causes.
One statement that seems to be standard when describing Madonna in real life though, is, "barely recognizable." She seems to carry a look of contempt on her face, and also that of someone who has led a very hard life. For someone who isn't too far off from qualifying for senior benefits and programs though, you have to admit; she definitely ain't all that shabby!

Photo by abdus.salam
10. Penelope Cruz: Plain Jane?
Livin' La Vida Loca seems to be Penelope's style. While very slim and sophisticated, she also gives us a glimpse of her sassy side. in 2007, she ranked #58 of the hot 100, in Maxim Magazine. She starred in many well known movie blockbusters; and her Latina "girl next door" persona, is a hit with both male and female fans. The gals love her sweet, yet confident beauty; while the guys drool over her saucy Latina sexiness.
Like other celebrities, Penelope Cruz has also become the poster child for famous cosmetic lines. In 2007, she was a spokes-model for L'Oreal Paris Natural Match hair dye and mascara. Having this to fall back on is good for her because Penelope tends to look a little "Plain Jane" without a little cosmetic altering. Undoubtedly, many of her followers seem to be drawn to her natural look; but for the most part, she would definitely not stand out in a crowd.
On the flip side; Megan Fox, Beyonce, Heidi Klum, and Demi Lovato, seem to shine both on camera and off. Some celebrities are hard to identify without makeup and glam, simply because we are so used to seeing them in full glory. This especially seems to be the case when they use a lot of bronzer and eye makeup; both of these tend to sculpt their faces into a different bone structure. It's almost as if we are viewing an optical illusion of that person. The fact is, most of us look a little better with some assistance from the fashion and cosmetic industry; however, the more people see us in our natural state, the more likely they are to become familiar with, and appreciate, our natural beauty.