When you live your life under the scrutinizing eye of the general public plus work in an industry where a handsome face is a major factor in whether or not a contract is offered, having plastic surgery is common choice. Bothersome things like fatty chins and ungodly wrinkles are signs of times to sound the alarm. Female entertainers are no longer the lone clientele of skilled plastic surgeons. Male celebrities are equally concerned about their looks and maintaining a box-office draw.
There is no question some celebrities have gone overboard while the chiseled work on others is barely noticeable. Vanity or not, more and more male celebrities think nothing of having a little nip and tuck done to enhance or diminish certain features. Listed are examples of 13 males who seem or seemed obsessed with their looks.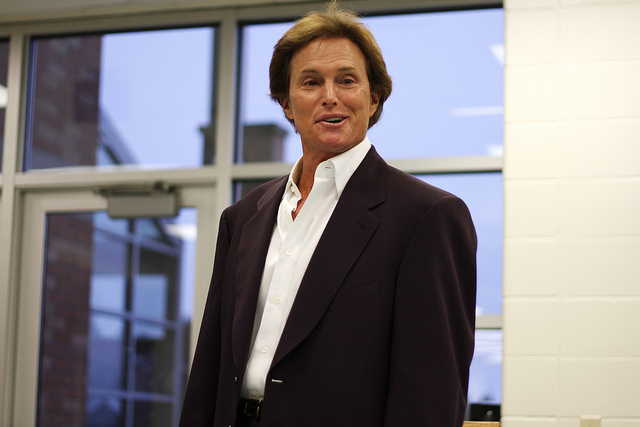 Photo by CGK Photography (Discontinued)
1. Bruce Jenner
It's clear the Montreal 1976 Summer Olympics gold medal winner has no qualms about doing whatever it takes to achieve his look. Unfortunately, no one can exactly pinpoint what look Jenner is going for these days. So far there are reports of him having a nose job, at least two facelifts and hair transplant surgery for that thick patch of mane seen in the front of his head. There are also claims of Jenner having his Adam's apple shaved down some. The 64-year-old actor and former track and field athlete first sought cosmetic surgery in the 1980s after having gone through a divorce and losing a ton of money.

Photo by cvrcak1
2. Michael Jackson
The late music icon was notorious for drastically changing his looks over the course of his adult life. The singer denied going through many of the procedures, but most were undeniably obvious. Jackson received multiple nose surgeries as well as cheekbone, lip and forehead lift surgeries. Allegedly, Jackson also received regular dermal filler injections to reverse the effects of aging by reducing wrinkles. Tragically, Jackson seemed to live a life that always had a void which needed filling. An insomniac, Jackson died at the age of 50 in 2009 of acute propofol and benzodiazepine intoxication after suffering cardiac arrest at his home.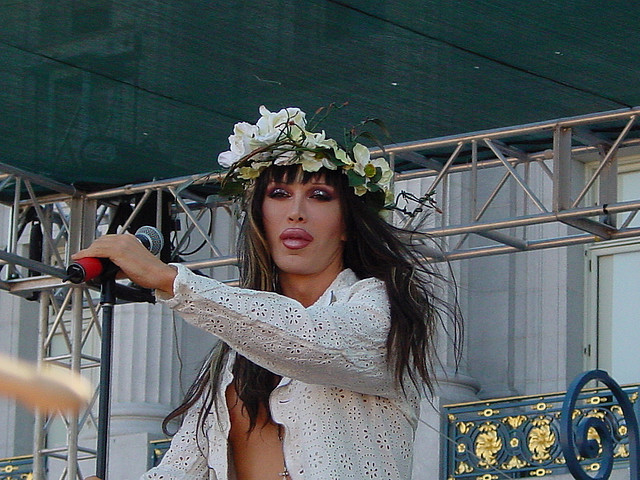 Photo by CharlesFred
3. Pete Burns
The former front-man of Britain's 1980s band Dead or Alive is perhaps sporting the most androgynous look of all and almost entirely by choice. There is the matter of botched surgeries to consider for which he won over $700,000 after suing a surgeon for a failed lip job. In 2006, Burns even made a documentary titled "Cosmetic Surgery Nightmares" which chronicled the complications and failures of his procedures. He once told the Daily Mail, "People redecorate their homes every few years and I see this as no different. Changing my face is like buying a new sofa." Apparently, he really does feel this way after practically renovating his entire face and spending most of his life savings on 18-months worth of surgeries. Among those procedures are: rhinoplasties, cheek implants, polyacrylamide lip injections and several reconstructive surgeries.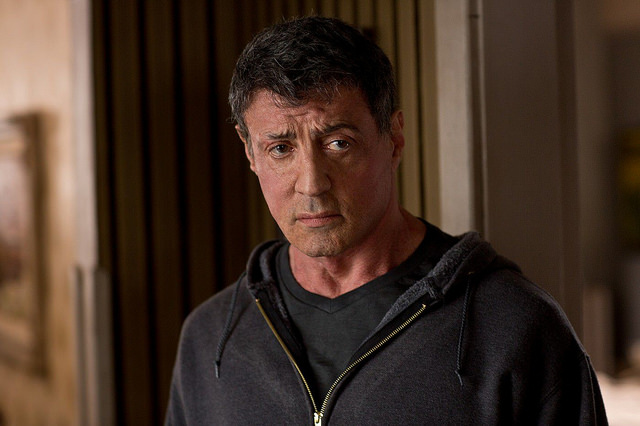 Photo by Aficia Info
4. Sylvester Stallone
Rocky Balboa (Stallone) cannot blame years of receiving brutal punches for his facial changes. That came with age. Although Stallone has not revealed what procedures he had done, he has admitted to being "open" about the use of plastic surgery. The 68-year-old actor once told People magazine, "Sure, Why not do it? You have body work done on your car." The star of "Rambo" may not admit to going under the knife, but it's easy to tell he's had some work done besides the alleged forehead lift.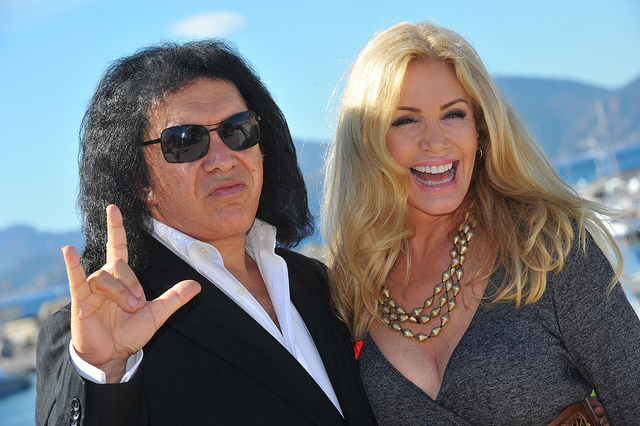 Photo by mipmarkets
5. Gene Simmons
Back in 2007, KISS singer Gene Simmons underwent a facelift to remove some extra skin. Before having the surgery, he told People magazine, "I was aware I had jowls." Fans of the reality show, "Gene Simmons Family Jewels," followed along as crew members filmed Simmons as he underwent a face lift, a tummy tuck and liposuction. When asked if he had any second thoughts, Simmons said, "I have no second thoughts. I am more stunning now than ever." He added that the facelift happened after Leslie Greif, one of the show's executive producers, asked if he could film it.

Photo by mikes4354
6. Barry Manilow
In the spotlight since the 1970s, popular singer Barry Manilow has also kept up his cosmetic surgery membership. The 71-year-old native New Yorker has had at least one facelift and more filler injections than one can count, evident by those plump cheeks. Best known for hit songs like "Mandy" and "Copacabana," Manilow had a complete upper and lower facelift in 2003. He was spotted leaving the plastic surgeon's office wearing dark glasses and a wig. The poor disguise failed him.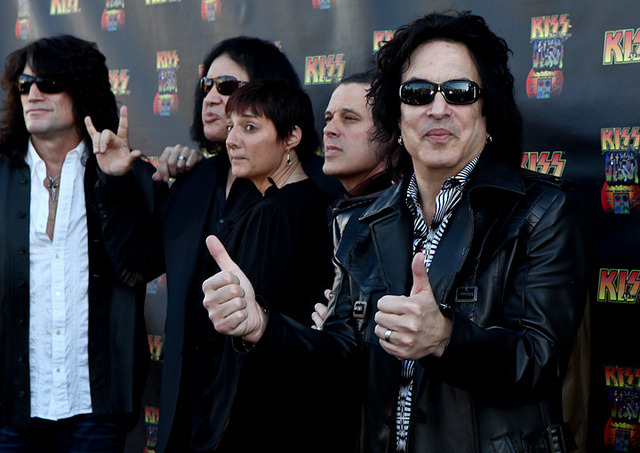 Photo by Gabe Ginsberg
7. Paul Stanley
Gene Simmons and Paul Stanley are more than just bandmates. They both believe in trying to keep a more youthful appearance with perhaps be one difference. Stanley is rumored to be addicted to plastic surgery. Supposedly, he is the recipient of eyelid and nose surgeries, a face lift, eyebrow lift and maybe even lip augmentation. No longer concealing his appearance behind a white painted mask, Stanley still tries to hold on to the past with the help of cosmetic surgery. The 62-year-old rocker also began balding in the early 1990s.

Photo by celebsplasticsurgery
8. Burt Reynolds
Once considered to be one of the sexist men alive, it's doubtful the 78-year-old Georgia native is aiming for another centerfold spread. The actor's 1972 famously nude photo covered in Cosmopolitan magazine caused quite a stir. Magazine sales skyrocketed and the ladies loved him. No wonder Reynolds was linked to such beauties as Loni Anderson (wife), Sally Field, Inger Stevens and Tammy Wynette. Apparently, Reynolds is still not too thrilled on looking his age these days. Rumor has it that he has had a facelift. He will only admit having surgery around the eyes. Could that tight skin be due good family genes or the work of a good facelift?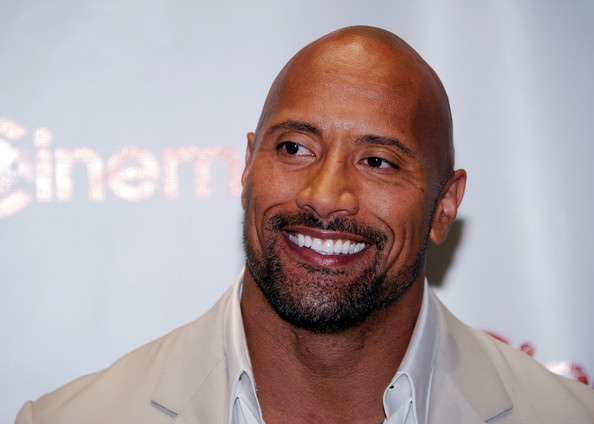 Photo by DwayneJohnsonLive.net
9. Dwayne Johnson
The Rock has gone through a cosmetic procedure of a somewhat different nature. Being relatively young in Hollywood years, perhaps it is too soon to worry about the face just yet. The wrestler/actor has undergone liposuction. However, he had this "normal" procedure performed in the chest area because "he thought it was starting to look too big." In other words, Johnson had a breast reduction. Since many of the actors scenes are of the shirtless persuasion, this was an important step regarding his career and not to mention appearance.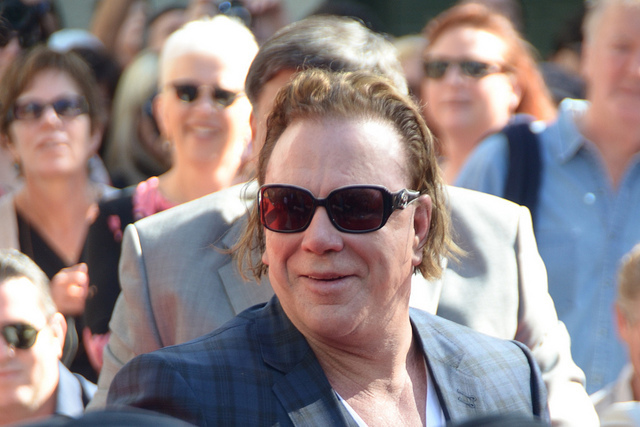 Photo by yausser
10. Mickey Rourke
Although the actor has made headlines in recent years, most of them were not for starring in any upcoming movies. The Academy Award nominee star of "The Wrestler" has been the topic of tabloid fodder for his disastrous trips to the plastic surgeon's office. Old post surgery photos had not been kind. Aside from attempting to regain his previous good looks, the 61-year-old former boxer has had his nose broken twice. Rourke had undergone several surgeries to correct the damage years of boxing had brought to his face.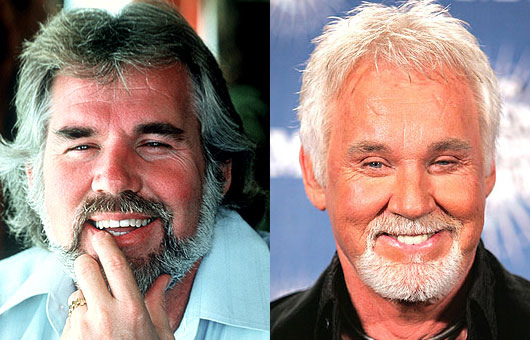 Photo by celebsplasticsurgery
11. Kenny Rogers
Thanks to a bad eyelid lift job performed in 2006, the country music singer is not a happy camper. Rogers told People magazine, "I'm not happy about it. It drives me crazy." Looking back, he says he wishes hadn't done it. What drove the 71-year-old Houston native to do so in the first place? It stated when he married his fifth wife who happens to be 29 years younger and he felt the need to look closer to her age. Rogers was quoted as saying, "I didn't want to be an old man with this young girl. I didn't want to look like an old man. As you go through life, you make choices. Some are good, some are bad."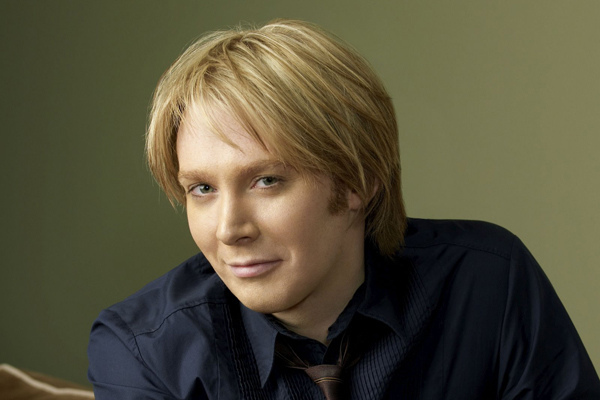 Photo by stylistvn8
12. Clay Aiken
The "American Idol" alum and politician from North Carolina admitted to having some fat sucked out of his chin. Aiken is looking very different these days in more areas besides the chin. Many speculate he has had other procedures. Although Aiken lost out to Reuben Studdard, he remains one of the top earners of "American Idol."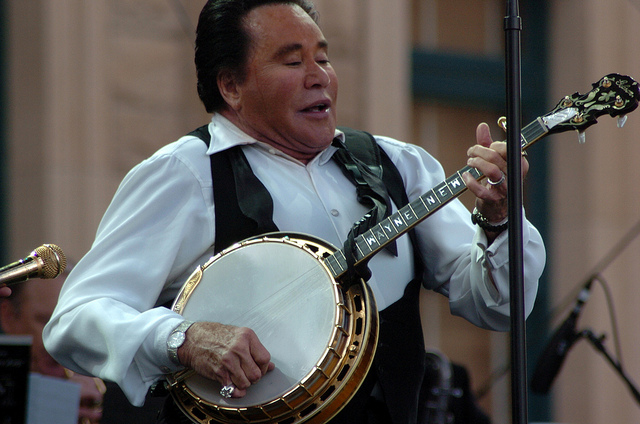 Photo by ONE/MILLION
13. Wayne Newton
The Las Vegas crooner is a veteran when it comes to male celebrities with facial amendments. Due to the lack of eyebrow movement in Newton's case, there is evidence of him having an eyebrow lift as well as jaw line surgeries. He has admitted to receiving Botox injections. Mr. Las Vegas continues to defy aging.