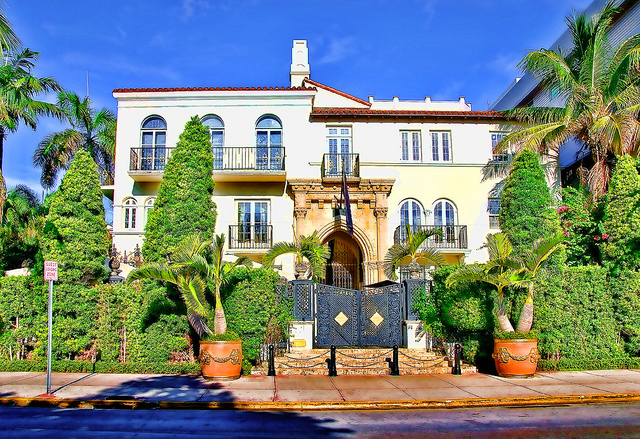 Photo by DigitalLUX *Summer Break*
1. Gianni Versace's House
Price: $125 million
Location: 1116 Ocean Dr, Miami, FL
Square Footage: 23,462 Sq Ft
The expensive home that once belonged to the famous fashion designer could now be very difficult to sell. However, the person who buys it will have many things to enjoy in this house. One of such things is a 24 karat gold lined mosaic pool, fifty four foot long. There is truly only a handful of homes priced over 100 million dollars. The Spelling Manor was listed as $150 million, but it sold for $85 million dollars. Therefore, it is quite uncertain whether this house will ever be sold at this price.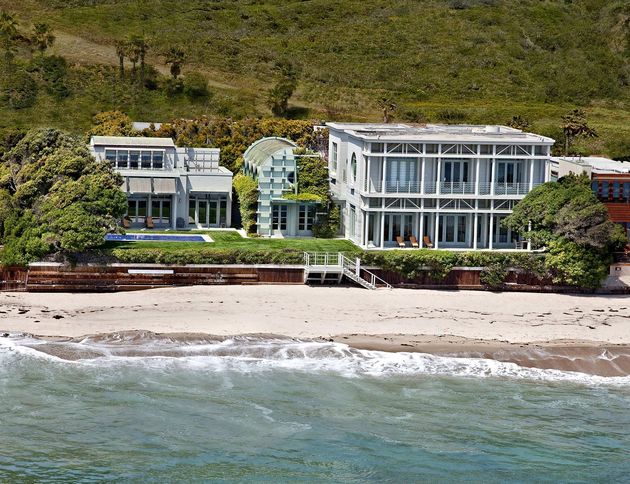 Photo by Flickr
2. Terry Semel House
Price: $50 million
Location: Malibu Beach, CA
Square Footage: 10,317 Sq Ft
Terry Semel, former Yahoo executive, owns a beautiful beachfront home located on Billionaire's Beach on the Malibu stretch. This is a particularly high price considering other available beachfront homes located in this same Malibu Colony. Jim Carrey listed a beautiful beach house in this Colony at $13.95 million. This is a three-story masterpiece with a skylight, two-story guest house, and a screening pavilion.

Photo by Jaclyn Diva
3. Jay-Z and Beyoncé's Rental
Price: $43.5 million
Location: Bridgehampton, NY
Square Footage: 31,000 Sq Ft
These successful musicians have been renting this Hamptons home for $400 thousand dollars a month. For $43.5 million, they could own this spectacular home. The estate is better known as the "Sandcastle", and is suited for a billionaire in every aspect. The home offers:
10 seat theater with interactive seats
half pipe
bowling alley
a heated pool with an underwater stereo system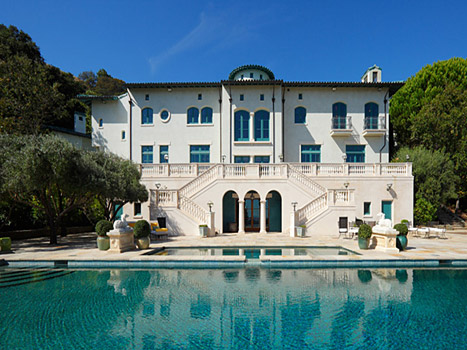 Photo by Jaclyn Diva
4. Robin Williams House
Price: $35 million
Location: Villa Sorrisa, Napa, CA
Square Footage: 20,500 Sq Ft
Robin Williams has owned this estate since 1994.  This 20,000 sq foot home is located in Napa Valley, California. If you wanna buy it, you will also get:
safe rooms
a vineyard
climate controlled art cellars
a solar farm
Photo by Flickr
5. Joe Montana House
Price: $35 million
Location: 10500 Franz Valley Rd, Calistoga, CA
Square Footage: 21,780 Sq Ft
This villa was for sale at the price of $49 million in 2010. Even though they lowered the price for $14 million dollars, it is still one of the most expensive estates. Here's some of what the Golden Great's mansion has to offer:
skeet shooting range
a professional grade equestrian stable
an olive farm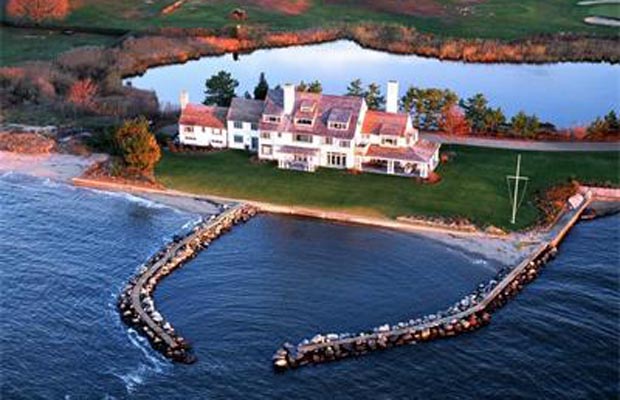 Photo by Flickr
6. Katharine Hepburn's Compound
Price: $30 million
Location: 10 Mohegan Ave, Old Saybrook, CT
Square Footage: 8,368 Sq Ft
If you like ocean view, you will love this house. There is a beach on each side of the property. The house has six bedrooms and seven bathrooms. If you are a person who enjoys the beach and has thirty million dollars to get rid of, then this is the ideal location for you.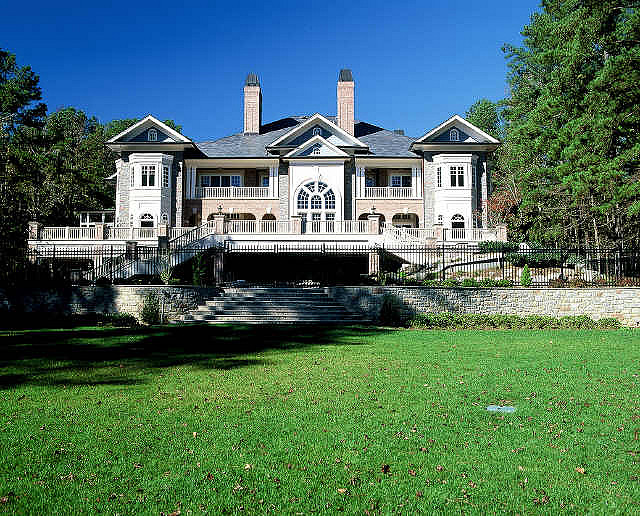 Photo by not_mymoney
7. Michael Jordan's House
Price: $29 million
Location: 2700 Point Dr, Highlands Park, IL
Square Footage: 32,683 Sq Ft
Situated on a seven-acre property, with a basketball court and a golf course, fifteen bathrooms and nine bedrooms. This is a very secluded compound. If you wish to maximize your privacy, this would be the ideal home for you. The basketball court there is NBA-quality, and it is surrounded by a live fence made of 150 evergreens.

Photo by Flickr
8. Pia Zadora House
Price: 26 million
Location: 1471 San Remo Dr, Pacific Palisades, CA
Square Footage: 13,585 Sq Ft
This Californian estate was sold to ABR Capital LLC for a low price of $5 mil. Now, after recent remodeling, they are asking nearly triple the original asking price. Zadora asked for $10 million in the beginning. Here's something to give you a better idea of what this estate now has to offer:
sports court
gym
infinity pool
a dining room that can seat 20 people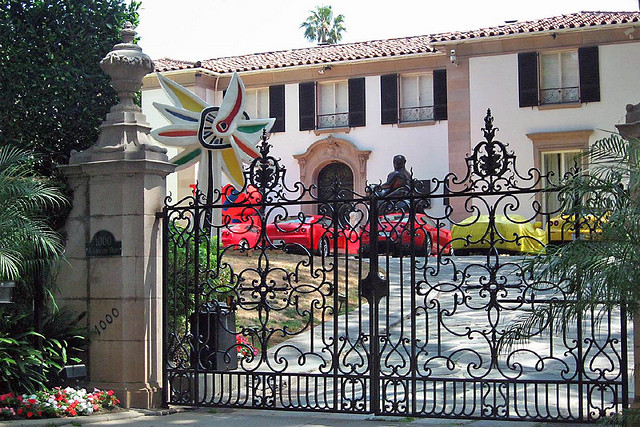 Photo by paulpickhardt
9. Georges Marciano's House
Location: Beverly Hills. CA
Price: $24.5 million
Square Footage: 19,590 Sq Ft
This one is the most expensive of the Marciano homes. The house was first listed at a surprisingly low price of $1.995 million. The modernization was done by an architect, Hal Levitt, who lived there for four decades, since 1964. This property has quite a bit to offer:
two acres of land
sunken tennis court
a motor court big enough for 11 Ferraris
two guest houses
a billiards room
a screening room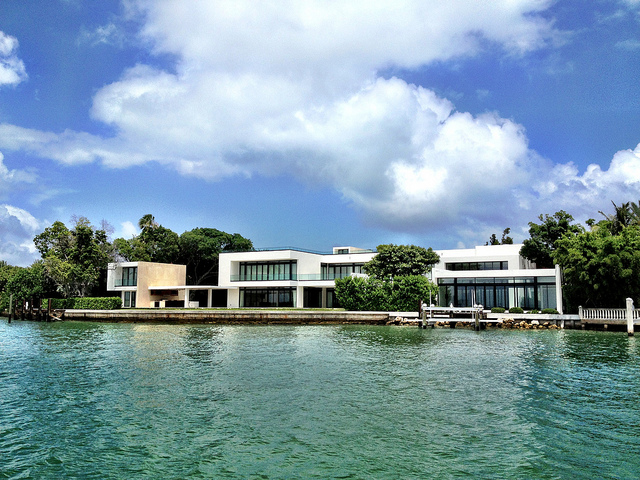 Photo by miamism
10. A-Rod's House
Price: $24 million
Location: Miami Beach. FL
Square Footage: 20,000 Sq Ft
A-Rod spent $24 million last year remodeling and adding features. This house is now being sold for $38 million! The location of this property speaks for itself. Lets take a look at some of the upgrades and newly added features:
a roof deck
batting cage
275 ft water frontage with two docks
16 camera security systems
13-bath spread
9 bedrooms
Photo by DandGComputerServices.co.uk
11. Michael Jackson's Rental House
Price: $23.9 million
Location: 100 N Carolwood Dr, Los Angeles, CA
Square Footage: 17,171 Sq Ft
The estate was founded by Richard Landry and completed in 2002. This is the house where Michael Jackson died on June 25, 2009. Despite of this bad memory, the house is beautiful and offers:
7 bedrooms
13 baths
17,171 Sq Ft
theater
immense wine cellar
tasting room
elevator
exquisite spa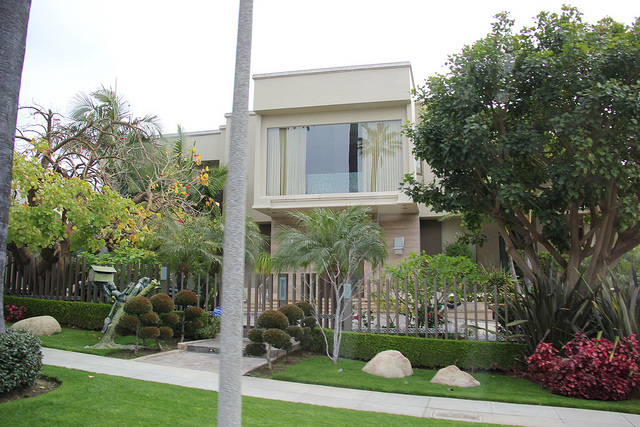 Photo by KanreiAnn
12. Jeffrey Katzenberg's House
Price: $20.5 million
Location: Park City, UT
Square Footage: 14,100 Sq Ft
This 14,000 square-foot long property is actually a log cabin near Deer Valley. Some very important people used to visit this get-a-way exclusive, such as Bill Clinton, Al Gore, Michael Jackson, Tom Cruise, and Cameron Diaz. Lets look at it:
seven bedrooms
ten total bathrooms
a billiard room
seperate game room
80 inch LED TV
interiors by Naomi Leff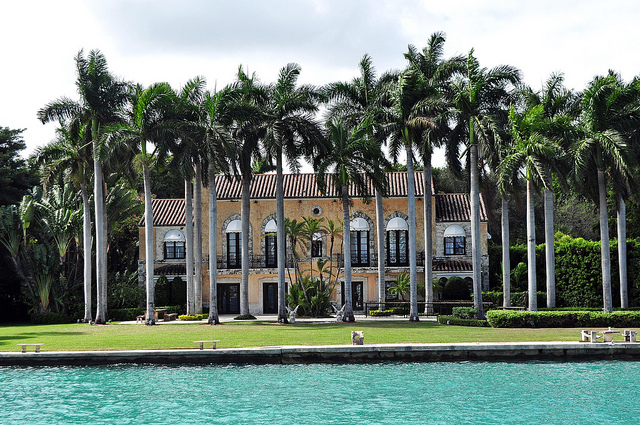 Photo by VickieRans
13. Rosie O'Donnell's House
Price: $19.5 million
Location: 43 Star Island Dr, Miami Beach, FL
Square Footage: 11,104 Sq Ft
Since the cancellation of her Oprah Winfrey OWN TV Network show, Rosie has been without a job. It is unclear whether that is her motive to sell the property. Whoever buys it, he or she will enjoy things like:
12 bedrooms
11.5 bathrooms
master suite with a private office
terrace overlooking the water
two separate guest cottages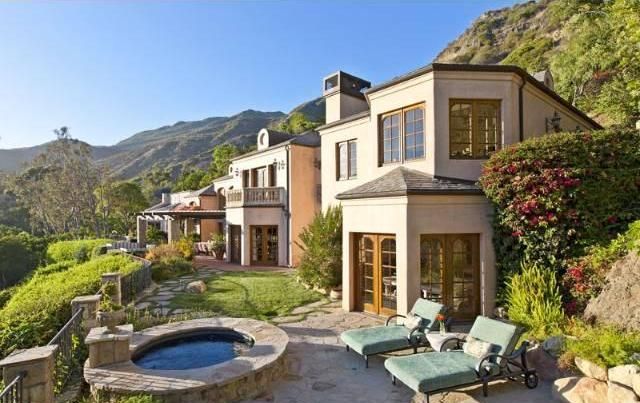 Photo by Flickr
14. Kelsey Grammer's House
Price: $18 million
Location: 261 Baroda Dr, Los Angeles, CA
Square: 10,567 Sq Ft
This is a "modern traditional" estate located on the great Baroda Dr. It has:
media room
gourmet chef's kitchen
a gymnasium
6 car motor court
4 car garage
library
wine cellar
Photo by thanhtrungsg
15. Alicia Keys and Swizz Beatz's Penthouse
Price: $17.95 million
Location: 30 Crosby St, New York, NY
Square Footage: 6,167 Sq Ft
This is a 6,167 sq. ft. triplex penthouse with terraces of 3000 sq. ft. Let's look at this pre-war condo:
5 bedrooms
4 bathrooms
4 powder rooms
state of the art gourmet kitchen
butlers pantry (walk in)
formal dining room facing east encased in a glass solarium
fireplace
Photo by Flickr
16. Derek Jeter's Apartment
Price: $17.95 million
Location: Trump Towers, New York, NY
Square Footage: 5,425 Sq Ft
The New York bachelor's pad showed up at the market for $2 million less than in 2010, when he first tried to sell it. He acquired the pad for $12.72 million in 2001. Jeter is the Yankees' most successful player ever, when it comes to hits and stolen bases. He's won 12 All-Star Selections, five Gold Glove awards, and two Hank Aaron Awards.

Photo by Flickr
17. Camille Grammer House
Price: $17.9 million
Location: Malibu, CA
Square Footage: N/A
Since Camille and Kelsey have reached a divorce settlement, it only makes sense for this "family home" to hit the market. The home was purchased in 1998 for $4.5 million, but they proceeded to expand and upgrade. The property has:
towering trees
gardens
a lily pond
lighted tennis court
large private pool with entertainment
gourmet kitchen
much more…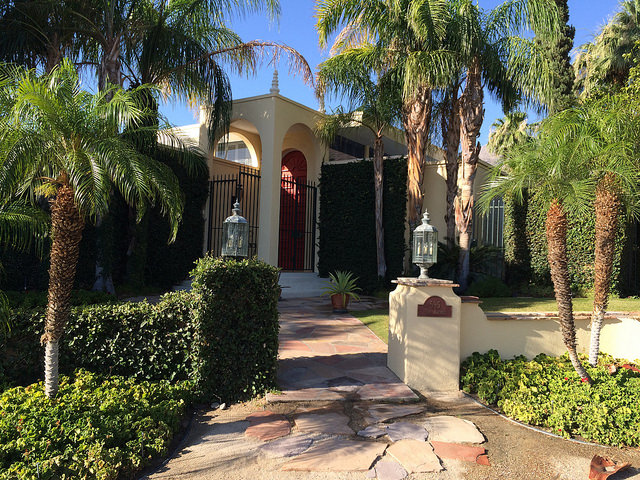 Photo by hoffa02
18. Zsa Zsa Gabor's House
Price: $14.5 million
Location: 1001 Bel Air Rd, Los Angeles, CA
Square Footage: 46,248 Sq Ft
This house from 1955 has been for sale for a while now. Here you can find gracious outdoor terraces with a lovely pool overlooking the city. Let's see what else this deal includes:
4 bedrooms
5 bathrooms
it's quite big – 6,393 square feet
1.05 acres of land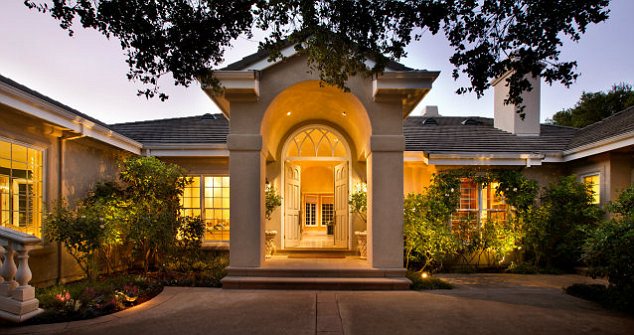 Photo by Flickr
19. John Chambers' House
Price: $14.8 million
Location: 278000 Via Feliz, Los Altos, CA
Square Footage: 8,280 Sq Ft
The owner of this estate is the CEO of Cisco Systems. This six-acre property has been lived since the 90's. Lets look at the features:
accessed from two streets
a home theater
tennis court
spa
a CEO worthy private office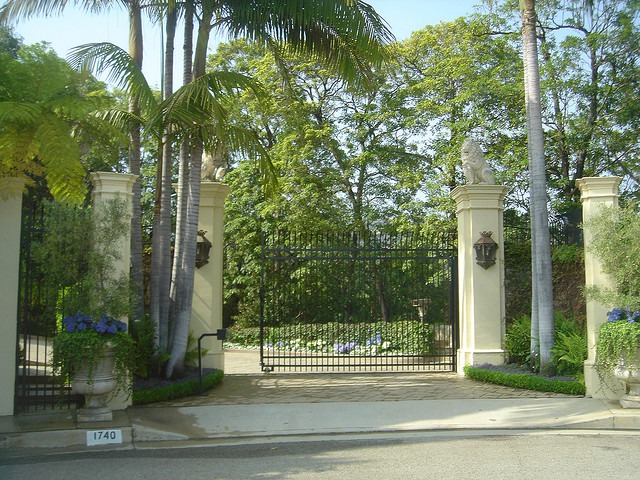 Photo by Alcatraz Media
20. Jim Carrey's House
Price: $13.9 million
Location: 23418 Malibu Colony Rd, Malibu, CA
Square Footage: 2,866 Sq Ft
This Malibu home barely made the top 20 of the list, but it is truly an extraordinary home. It has been said that you get what you pay for, and in this case I think it's true. He bought the home in 2002 for $9.75 million. Before you decide if it's overrated, check out some of the features:
5 bedrooms
5.5 bathrooms
2,866 square foot big
big deck with removable privacy walls
Photo by Shawn Magill
21. Mark Wahlberg's House
Price: $12.995 million
Location: Beverly Hills, CA
Square Footage: 11,500 Sq Ft
Back in 2008, he was asking for $15.9 million, but the price has been slowly deflating ever since. Provided that he sells the estate before it deflates even more, he will still make a substantial profit. He purchased the place back in 2001 for only $4.95 million. Features include:
7 bedrooms
11 bathrooms
well-guarded gate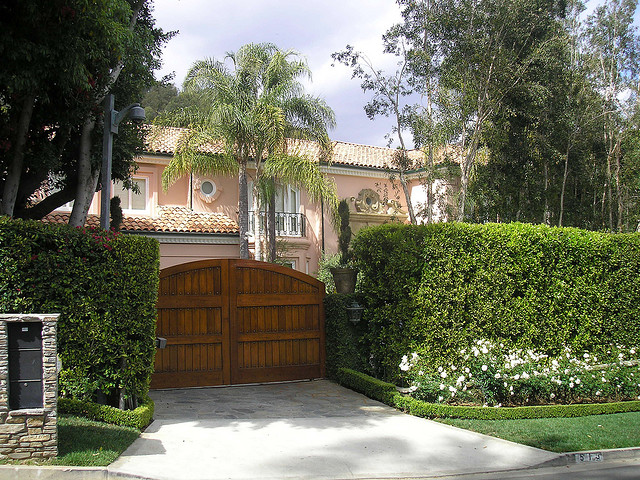 Photo by Ali_Haikugirl
22. The Osbourne's House
Price: $12.99 million
Location: 5535 Dixon Trail Rd, Hidden Hills, CA
Square Footage: 11,000 Sq Ft
The Osbournes were unsuccessful selling their property in 2011. Although it is priced at only $12.99 million, the home has a lot to offer:
10,953 square feet
6 bedrooms
10 bathrooms
intricately paneled study with fireplace
porte-cochere with motor court
dramatic foyer with spiral staircase
expansive lower level studio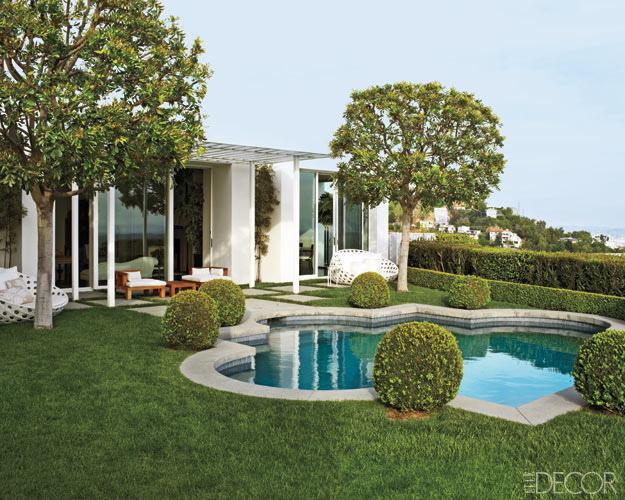 Photo by Curbed National
23. Megan Mullally & Nick Offerman's House
Price: $12.65 million
Location: Tanager Way, Hidden Hills, CA
Square Footage: N/A
This trophy property is located in the Hollywood Hills. It has been regarded as the best of the "Bird Streets". Here are just some of the features this estate has to offer:
3 bedrooms
3.5 bathrooms
an incredible ocean view
fully furnished
Photo by recent settlers
24. Meg Ryan's House
Price: $11.4 million
Location: 755 Stradella Rd, Los Angeles, CA
Square Footage: 6,877 Sq Ft
This Bel Air mansion on Stradella Road hit the market for only $11.4 million, after her listing for $19 million was unsuccessful back in 2008. This beautiful home has quite a lot to offer:
6 bedrooms
7 bathrooms
6,877 square feet
open city and ocean view
wonderful architecture
complete privacy
stenciled and painted wood ceilings
tiles, ironwork, rich wood floors, and arches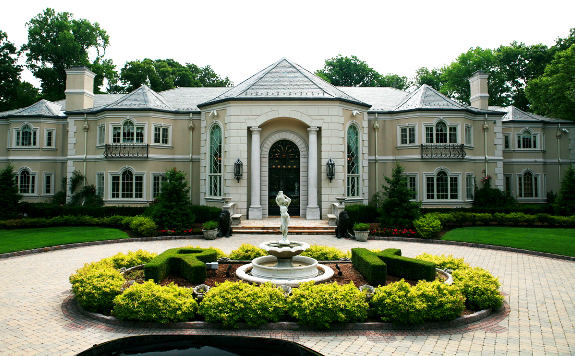 Photo by ShoLux
25. Russell Simmons' Home
Price: $11 million
Location: Financial District, New York, NY
Square Footage: 7,175 Sq Ft
The home of the business magnate is for sale for 11 million dollars. It comes with:
12 ft barrel vaulted ceilings
two terraces
huge circular staircase