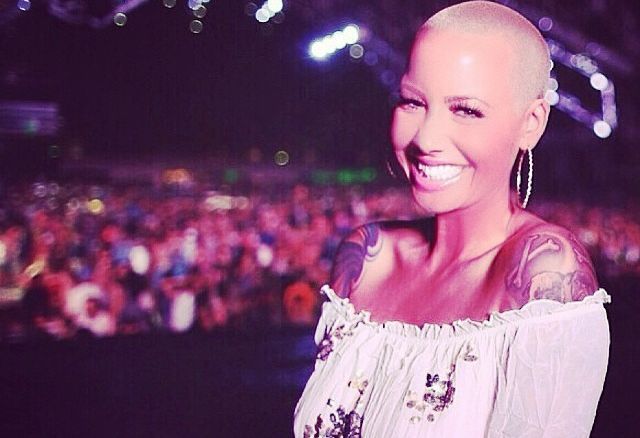 Photo credit: Amber Rose / Instagram
Many celebrities have married women of lower social and financial status. In marriage (and later, divorce) these women had their own "Cinderella" moments. Many of them made sure that after divorce their bank account was "heavier" for millions of dollars.
1. ) Amber Rose
Amber Levonchuck, also known as Amber Rose, got the public attention during the two-year relationship with Kanye West. Soon after the breakup, Amber began dating Wiz Khalifa. They got married in July 2013. and now they have a son. Amber admitted that she has been working as a stripper ever since she was 15, and that she was poor. It is clear that relationship with Kanye helped her gain popularity, but her marriage with Wiz Khalifa certainly changed her life – his wealth is estimated at $14 million.
2. ) Ivana Trump
Former Olympic athlete, coach and ski model Ivana Marie Zelnickova met Donald Trump in New York in 1976., when he was promoting the Olympic games in Montreal. They got married one year later. Donald, whose wealth is currently estimated at $3.5 billion, was cheating on her with Marla Maples, an actress, and the couple divorced in 1991. Ivana got $20 million, a house in Connecticut worth $14 million, $350,000 annual alimony and 49 percent of ownership of the family home in Palm Beach.

Photo by xispo
3. ) Anna Nicole Smith
Vickie Lynn Hogan, who later became famous as Anna Nicole Smith, dropped out of high school at the age of 15. Then, at the age of 18, she got married for the first time. At 24, she became a stripper at a nightclub where she met her second husband, Howard Marshal, a billionaire. She married him in 1994., when Marshall was 89 years old. He died a year later. Her struggle to inherit $1.6 billion of Howard's wealth lasted for years, but she didn't live to see the final outcome of the court proceedings. She died in 2007. of a drug overdose.
4. ) Heather Mills
Heather Mills had a very troubled life. When she was young, she left the family home in London and became homeless. In her twenties, she had several partners, and they were all rich. She was married to one of them in the nineties. In 1993. she had an accident in which she lost her leg. In 1999. Heather met Paul McCartney. They got married in 2002. They became parents in 2003. However, in 2006, Paul filed for divorce, and the reason was her mental state. Heather got £125 000 000, but the judge awarded her "only" £24.3 million and £35,000 annual child support.

Photo by david_shankbone
5. ) Grace Hightower
Grace Hightower, the wife of the famous Robert De Niro, was a flight attendant when they met in 1987. After 10 years of marriage, Grace and Robert were close to getting divorced, but they reconciled and in 2004. renewed their marriage vows. They got a child in 2011. Robert's fortune is estimated at $185 millions, thanks to his acting career, "Tribeca production", and the chain of his "Nobu" restaurants. With such wealth, Grace is definitely living her dream.
6 ) Elin Nordegren
Elin Nordegren was working as a nanny in Stockholm, Sweden. She moved to the US for work and in 2001. met Tiger Woods, one of the highest paid athletes in the world. They got married in 2004., got children, and everything seemed fine. Then, a few years later, there was a rumor that Tiger was cheating on Elin with several women. They got divorced in 2010., and Elin got $100 million of $500 million, which was Tiger's estimated wealth at the time.