Tiger Woods, Privacy
Eldrick Tont "Tiger" Woods, the American golfer, is one of the best golfers of all time. He is currently the world's number one golfer but also the most highly paid sports player in the world. His net worth has been estimated to more then 500 million dollars. It is no wonder that with so much money he owns a yacht. He bought this 154 feet yacht for his wife Elin Nordegren. After their divorce she declined to accept the yacht because of high maintenance costs. Two years ago, there were rumors that Tiger is looking to sell it for $25,000,000. The Yacht, named Privacy, was built by now defunct Christensen Shipyards in Vancouver, Washington, for a reported $20 million. It is reported that the yacht has 6,500 square feet and is capable of guesting 21 persons not counting the crew. It has a gym, theater, master suite, five guest rooms, elevator, sky lounge bar, walk-in refrigerator, built-in wall safes and places for two jet skis.
Johnny Depp, Vajoliroja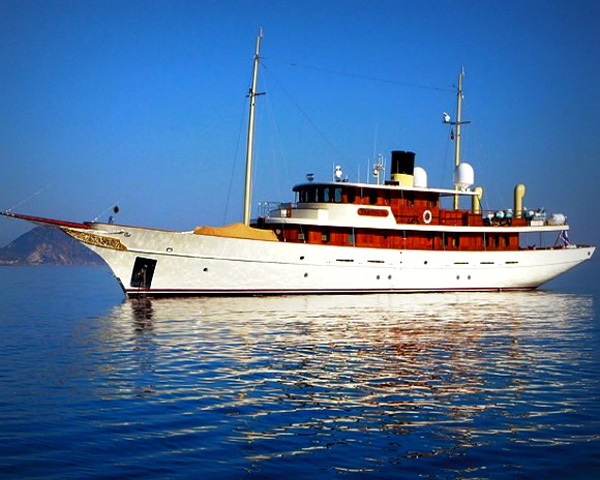 Well our dear captain Jack Sparrow has a boat in real life too. The famous actor bought this classic yacht back in 2007. The yacht was built by Proteksan Turquoise Yachts shipyard in Istanbul, Turkey back in 2001. Depp named this yacht after his family member names: girlfriend Vanessa, Johnny (himself), daughter Lily Rose and son Jack. While looking at this yacht, everyone agrees that modern contemporary yachts of today are lacking the simple elegance of vintage yachts. Depp also rents this yacht for $98,000 per week with the crew included. The yacht can host up to 10 guests and a crew of 8. The main layout of the yacht is: dining room, library, balcony areas, master suite, and four cabins for guests. The yacht also contain tenders, kayaks, windsurfers, water-skis and snorkeling gear. Who could want more?
Bono, Cyan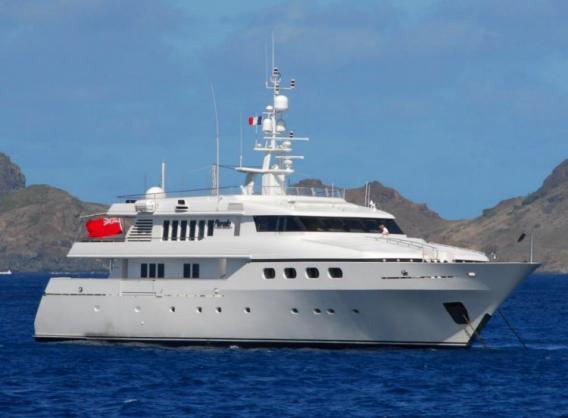 Paul David Hewson, more well-known by his stage name Bono, the frontman of the band U2, owns a fifty million dollar yacht named Cyan. Bono bought the yacht back in 2007 and invested $25 million in restoring the interior and exterior. Each room in this 147 foot long yacht has a media center and satellite television with large HDTV screens. The yacht also features a deck Jacuzzi. When Bono is not using his yacht for work or vacation anyone can rent it for $250,000. Since Bono is worth $600 million, it is no wonder that he can afford a yacht like this one.
Sean Combs, Maraya
Photo by atcshep
Sean John Combs, also know as Puff Daddy and Puff Diddy, is an American musician, rapper, actor and entrepreneur. His net worth is over $700 million so it is no wonder he owns a yacht such as Maraya. Sean purchased this 174 foot long motor yacht for a $65 million in Italy back in 2008. His lavish parties on the Maraya are mega popular and are regularly featured in celebrity magazines. This yacht has four double cabins and two suites with double beds in addition to a retractable room on the yacht balcony. Sean usually uses the yacht for cruising over the Carribbean sea but you can see this yacht each year at the Cannes Film Festival in France.
Eric Clapton, Va Bene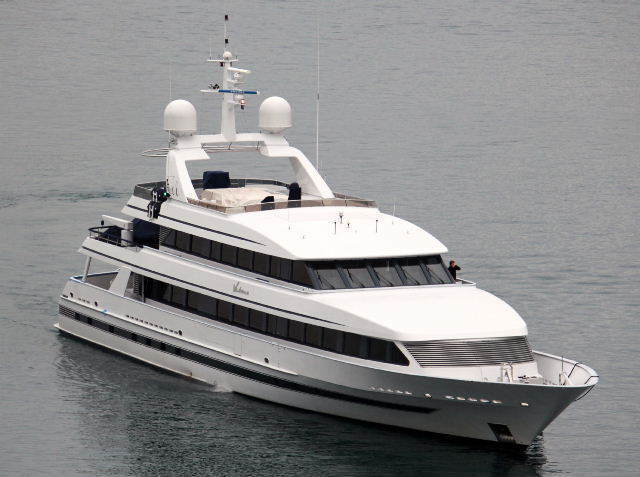 Eric Clapton is a British musician and one of the greatest guitarists of all time. He has net worth of $230 millions but his yacht looks like he is much richer. He bought the yacht back in 2005 from Bernie Ecclestone (a Formula 1 mogul) who bought it from Kees Cornelissen shipyard back in 1992. Though it is aged, it has been refitted with new interior, exterior and engines several times, last time in 2008.. VA BENE is available for charters from $179 000 per Week.
Giorgio Armani, Main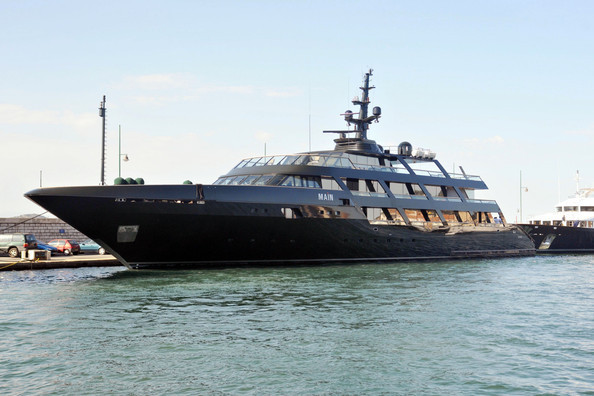 Giorgio's Main may not be the biggest and the most expensive yacht in the world but it is definitely among the nicest ones. Sweeping angular lines of the exterior combined with black finish makes this 213 feet yacht an incredible sight. Main is built by Codecasa Yachts of Viareggio Tuscany, Italy. The cost of this yacht is estimated at around $60 millions. Beside wild parties this yacht regularly hosts photo shoots for elite fashion magazines.
Steven Spielberg, Seven Seas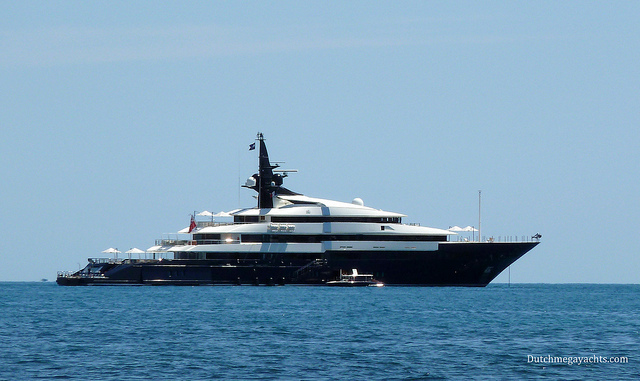 Photo by Dutchmegayachts
Steven Spielberg owns a yacht worth of his name. This super mega yacht is worht $200 millions. 282 feet long, if you would put it upward it would be 28 stories high. This luxury yacht is made to guest up to 12 persons and the crew of 26. It has a helipad, master room with private deck, indoor theater and infinity pool. Interior is made of walnut wood, rosewood and teak wood. It reaches speed of 20 knots and it has a special stabilizing system that reduces sea sickness. This was made because Steven Spielberg was constantly seasick while filming Jaws. The yacht is so massive that when people see it they think it is a cruise ship. Good thing is that Spielberg is happy to share yacht with you if you can pay $1.3 million per week for renting it. Yach was built by a Dutch shipyard Oceanco and designed by Nuvolari Lenard Design. It was modeled to Spielberg's specifications.
Roman Abramovich, Eclipse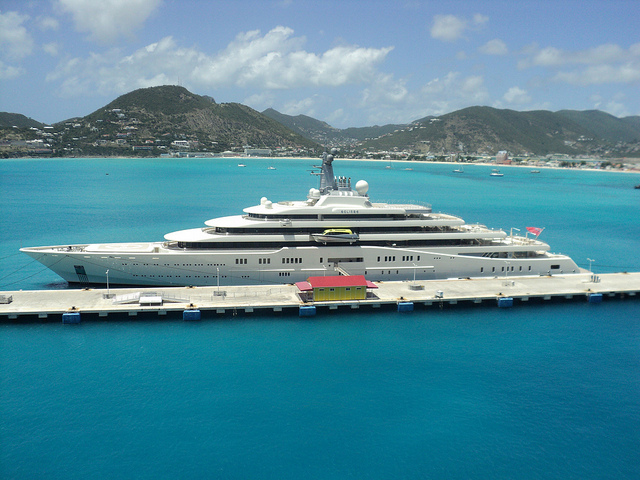 Photo by vaskovip
This is what you get when a man who has $14,6 billions decides to buy/build a yacht. This 536 feet long yacht's estimated worth is over $1.1 billion since that's the amount of money invested in it. It is the second largest private-owned yacht in the world and it is the most expensive yacht ever built. It's top speed is 20 knots, has 15 ultra luxury cabins, two helipads, 16-meter swimming pool. It also has self-defense capabilities and bulletproof windows. You can rent this super yacht for only $2 millions per week.