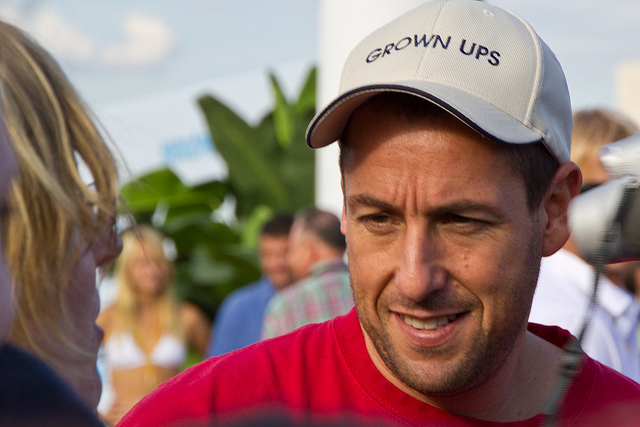 Photo by JudithTB
From amateur routines in college clubs to a successful production company, Adam Sandler has achieved success as a comedian, actor, and entrepreneur. Born in September 9, 1966, in Brooklyn, New York, Sandler found his love for stand-up by taking the stage at a Boston club at 17 years old. While attending New York University, he honed his skill by performing on at colleges and clubs. Sandler's talent earned him a recurring role on The Cosby Show from 1987-1988. He continued to make appearances in comedy clubs, and even performed on the sketch comedy-based game show Remote Control, which aired on MTV.
Sandler, however, gained his big break when the comedian Dennis Miller saw one of his performances at a club in Los Angeles, California. Impressed, Miller contacted Lorne Michaels, the producer of Saturday Night Live. In 1990, the young comedian began what would be a memorable 5-year stint on the show, performing imaginative and humorous original songs such as "The Sweater Song." Sandler eventually parted ways with SNL in order to establish himself as a movie actor.
Throughout the 90s, Sandler filmed a slew of financially successful comedies, such as Billy Madison, Happy Gilmore, The Wedding Singer and The Waterboy, the last of which he co-wrote. In 1999, Sandler established his production company, Happy Madison Productions; first producing fellow SNL cast member Rob Schneider's Deuce Bigalow, Male Gigolo.
Through movies produced through Happy Madison, Sandler has become known for working with a main group of actors and directors. Quite frequently, these actors are fellow SNL alumni, such as Schneider, David Spade, and Kevin Nealon, though Sandler has worked with other actors such as Kevin James and Steve Buscemi. Happy Madison has produced almost all of the films in which Sandler has acted since its inception, with the exception of 2002's Punch Drunk Love and 2004's Spanglish.
More recently, Sandler has decided to act in less comedic films, which have all generally received critical acclaim. Punch Drunk Love earned him a Golden Globe nomination, while Reign Over Me, in which he played the role of Charlie Fineman, a man who has lost his entire family in the 9/11 tragedy. In 2009, the accomplished comedian starred in Judd Apatow's Funny People, in which he plays a successful comedian who discovers that he suffering from leukemia.
Adam Sandler has been noted for keeping his personal life private. In 1999, on the set of the box office success Big Daddy, Sandler met his future wife, former model Jacqueline Samantha Titone. The couple has two daughters- Sadie Madison Sandler, born in 2006, and Sunny Madeline Sandler, born in 2008. Sandler has also made contributions to several charities, including the Boys and Girls Club in his hometown of Manchester, New Hampshire.