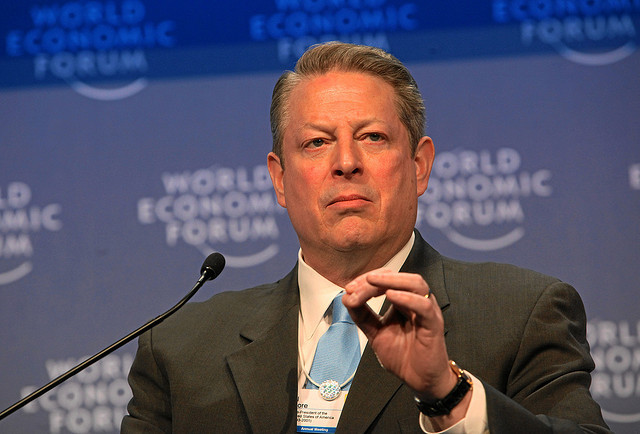 Photo by World Economic Forum
Albert Arnold Gore, more widely known Al Gore, is an environmental activist and former American Vice-President. He is most popularly known for his 2006 documentary on the startling effects of climate change "An Inconvenient Truth", and for his work in popularizing the issue of global warming. Al Gore was born on March 31, 1948 to highly ambitious and prestigious parents. His father, Albert Gore Sr., served as a U.S. representative, and his mother, Pauline LaFon Gore, was one of the first women to earn a degree at Vanderbilt University Law School. His childhood was spent between Washington, D.C., and Carthage, Tennessee, where he worked on his parents' farm.
Gore attended Harvard University in 1965, and it was here that his interest in environmental concerns was sparked. Roger Revelle, one of the first scientists to study the phenomenon of global warming, taught the young Gore a riveting course on climate science. After the assassination of Martin Luther King Jr. in 1968, Gore decided to change his major to government. In the year to follow, Gore would enlist in the army to serve in the Vietnam War. After being discharged, Gore would explore a career in journalism, working as an investigative reporter for The Tennessean. He enrolled in Vanderbilt University Law School but left suddenly to run for a seat in the U.S. House of Representatives in 1976. Gore won the seat, using his position to push the High Performance Computer and Communication Act of 1991, which aided in Internet expansion and development.
Gore made a bid for the presidency in 1988, losing to fellow Democratic nominee Michael Dukakis. In 1992, Gore was chosen by Bill Clinton as his running mate. The team was elected into office and was then re-elected in 1996. In 2000, Gore decided to run for president, choosing Orthodox Jew Joseph Lieberman as his running mate. Though Gore won the popular vote, legal disputes over voting procedure caused the win to go to George W. Bush.
Gore then concentrated his efforts on environmental awareness and activism. In 2004 he co-launched Generation Investment Management, a fund management firm dedicated to sustainable development. He has written some critically-acclaimed books on the topic, including 1992's Earth in the Balance: Healing the Global Environment and 2006's An Inconvenient Truth: The Planetary Emergency of Global Warming and What We Can Do About It, released in conjunction with the film. An Inconvenient Truth won an Academy Award for Documentary Feature. In 2007, Gore was awarded the Nobel Peace Prize, shared with the Intergovernmental Panel on Climate Change, in appreciation for their combined efforts in creating awareness of global warming. Gore has also spoken out on political issues, including George W. Bush's invasion of Iraq, and his defense of same-sex marriages.