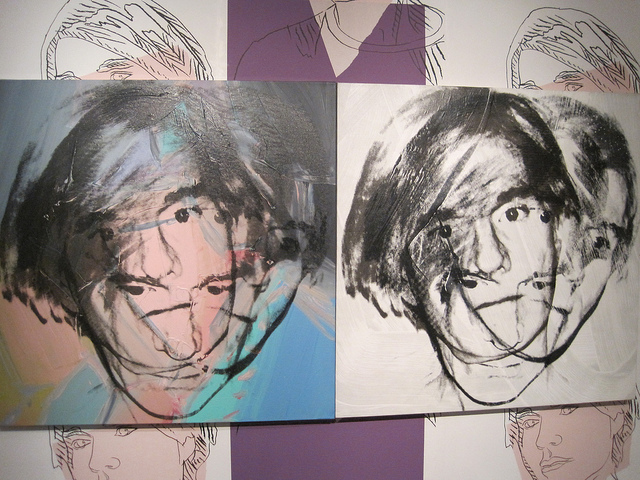 Photo by TheGirlsNY
Andy Warhol was born on August 6, 1928 to working-class Slovakian immigrants in Pittsburgh, Pennsylvania. As a child, Warhol developed St. Vitus' dance, a disease of the nervous system which causes involuntary movements of the body and blotchiness of the skin. During this period, he developed a fear of doctors, and formed a strong bond with his mother. These years were considered especially formative, as the young Warhol spent a great deal of time in bed drawing and collecting pictures of movie stars.
Warhol attended the School of Fine Arts at Carnegie Institute of Technology in Pittsburgh, where he majored in commercial art. He moved to New York in 1949 where he launched a successful career in commercial illustration. He gained a reputation for his quirky, imaginative style of drawing, and was hired by record label RCA to design album covers. Around this time he also drew illustrations for magazines such as Glamour and Vogue. In 1957, Warhol was awarded the 36th Annual Art Directors Club Medal and Award of Distinctive Merit for I. Miller shoe advertisements.
The talented artist was always interested in pop culture, and manifested this love in his first paintings. In 1960, he made his first paintings which were based on comic strips. In the following year, he created a window display for Lord and Taylor which was based on Dick Tracy. In 1962, Warhol made his iconic paintings of dollar bills and Campbell's soup cans. In 1964, he moved his studio to East 47th St, in a space that would be called 'The Factory.' In this year, he also released his first film, Tarzan and Jane Regained… Sort of.
Andy Warhol is known for the social circles in which he associated. An assortment of artists and bohemians were usually always present in The Factory, either assisting in films or serving as inspiration. Warhol, who was always interested in celebrity, called them "Superstars." This group included socialite Edie Sedgwick and members of the underground art and music scene, such as Lou Reed and the Velvet Underground, and the artist Isabelle Collin Dufresne, better known as Ultra Violet. During the 1960s, Warhol's fame skyrocketed- in 1966, his film Chelsea Girls was the first underground movie to be screened in a commercial theatre. He co-established Interview magazine with Fred Hughes.
Valerie Solanas, feminist and playwright, had asked Warhol to review a script she had written which he had lost. Vexed, Solanas shot Warhol at his home. He barely survived. In 1987, Warhol died from complications of a routine gallbladder operation. By this time, Warhol had become an American legend, and is remembered as one of pop art's most influential figures.