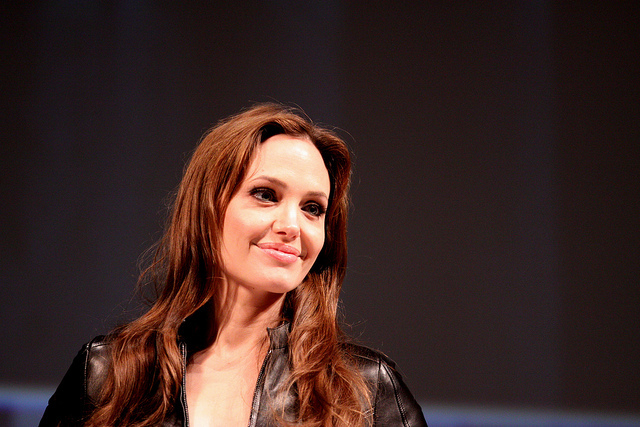 Photo by Gage Skidmore
Daughter of Actor Jon Voight, Angelina Jolie was born on June 4, 1975 in New York. In 1976, her parents separated, and she, her brother and her mother moved to Los Angeles. As a child, Jolie enjoyed watching movies with her mother which inspired her to become an actress. At eleven years, Jolie enrolled in the famed Lee Strasberg Theatre Institute, where she spent two years training and performing on stage. Jolie's childhood was tumultuous- she was a rebellious adolescent, dropping out of school at the age of 14 and living with her boyfriend.
During this time Jolie's career as a fashion model was taking off. She was hired in Los Angeles, New York, and London, and even made appearances in music videos by Meatloaf and Lenny Kravitz. She appeared in some films made by her brother, who was then studying at the University of Southern California's School of Cinematic Arts. Her professional acting career began in 1993, however, when she played a leading role in Cyborg 2, a low-budget movie. Two years later, she starred in Hackers, a Hollywood movie that eventually developed a strong cult following. It was on the set of this film that she met actor Jonny Lee Miller, whom she would marry in 1996.
It was only in 1997, however, that her film career would begin to blossom. She won a Golden Globe award for her performance in George Wallace, and was also nominated for an Emmy Award. Soon after, she starred in the movie Gia, produced by HBO, where she played Gia Carangi, a supermodel who was addicted to heroin and eventually died of AIDS. Jolie became known for her strictness in following the method acting she had been taught at Lee Strasberg, preferring to stay in character between scenes. She also became known for choosing to play tough, troubled characters.
After a short stint at New York University in 1999, she returned to acting and was particularly praised for her role in Girl Interrupted. It was only in 2001, however, that she began to receive international recognition, starring as the heroine Lara Croft in Tombraider. The movie was extremely successful, earning $156 million worldwide. She continued to star in big-budget movies, such as 2002's Life or Something Like It, Sky Captain and the World of Tomorrow and the epic Alexander, both released in 2004, and 2005's Mr. and Mrs. Smith, filmed with Brad Pitt. During this time, her reputation as a star skyrocketed, and she was featured in prominently in the media as one of the most beautiful women in the world. Her relationship with Brad Pitt, which was made public in 2005, became one of the most talked about stories in the media at this time.
Angelina Jolie is also known for her humanitarian work. On August 27, 2001, she became a Goodwill Ambassador of the UNHCR, or the Office of the United Nations High Commissioner for Refugees.