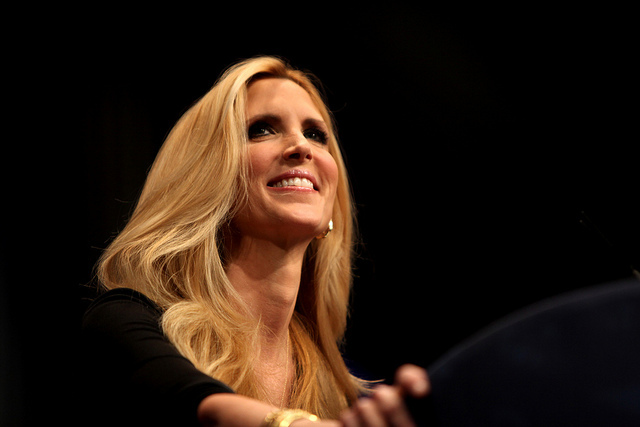 Photo by Gage Skidmore
Best known for her outspoken conservative views, Ann Coulter has become a successful radio commentator, author, columnist, and media personality. Coulter was born on December 8, 1961 in New York City, but was raised in New Canaan Connecticut with her older brothers, James and John. Her family was considered upper-middle class.
Coulter majored in history at Cornell University in Ithaca, New York, where she excelled academically. She helped to create the Cornell Review, a conservative newspaper published by students of the university, and was also a member of the prestigious Delta Gamma women's fraternity. Afterwards she enrolled in the University of Michigan Law School, where she graduated with her Juris Doctor. During this time, she established a chapter of the Federalist Society, a right-wing organization which aims to bring about reform of the American legal system. She furthered her interest in journalism by becoming the editor of The Michigan Law Review.
Upon graduating, Coulter became a law clerk for Pasco Bowman II of the U.S. Court of Appeals for the Eighth Circuit. She moved back to New York City where she worked in private practice, specializing in corporate law. In 1994, after the Republican Party took control of Congress, she worked for the Senate Judiciary Committee. Her responsibilities included handling immigration issues, even assisting in the writing of legislation that would expedite the deportation of non-US residents convicted of felonies.
In 1996, Coulter made her first national media appearance, working as a legal correspondent for MSNBC. She was dismissed from the network more than once for her outspoken comments, which were considered to be offensive. CNN and Fox News, however, seemed to take an interest in Coulter, and often called her to make appearances. She has been featured on many talk shows, including The O' Reilly Factor and The Rush Limbaugh show.
In 1998, she published her first book, High Crimes and Misdemeanors, in which she made her case for the impeachment of Democratic President Bill Clinton. Slander: Liberal Lies About the American Right, Coulter's second book, became a New York Times Bestseller. Published in 2002, Slander discussed the unfairness of President George W. Bush's coverage in the media. Afterwards Coulter published five other books which were all generally met with success, such as 2009's Guilty: Liberal "Victims" and their Assault on America.
In the late 1990s, Coulter also became known for her columns, many of which sparked controversy due to the conservative's outspoken political opinion. USA Today, for example, refused to publish an article Coulter had written on the Democratic National Convention in 2004, in which she was highly critical of the event's attendees.
Coulter has described herself as a Christian, although she has stated that she does not wish to belong to a particular denomination. Though she has been engaged several times, she has never been married. She divides her time between an apartment in New York and a house in Florida.