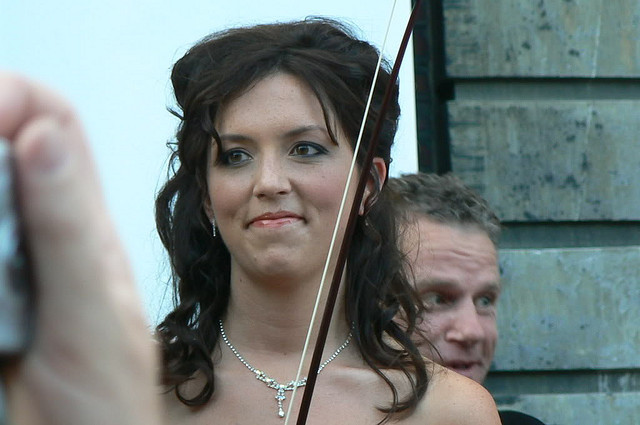 Photo by abussemaker
Early Life
After being born in Amsterdam, on September 23 1984, Anneliese Louise Van Der Pol moved to the United States of America with her family at 3 years old, and still retains a dual Dutch/American citizenship. Anneliese named by her mother, after the late Holocaust refugee Anne Frank, started performing in the third grade. Her debut performance was as soloist "Lana the Ladybug" in her third grade musical; it is with this performance that Anneliese established her passion for the performing arts.
Schooling
Anneliese went on to attend the Musical Theatre Program at the Orange County High School of the Arts, California. She was well respected among her peers and instructors for her talents and highlights of her high school experience included winning the title of "Funniest Girl" as well as a one day suspension, incurred for discordance with the dress code regulations.
Work and Achievements
Anneliese has already made impressive strides in the entertainment industry with her captivating performance as Eva Peron in the Buena Park Civic Theatre production of Evita (1999). She won rave reviews from the Los Angeles Times and earned a place in history as the youngest actor–at only 15 years old–to play the role of Eva Peron in a professional production of Evita. Anneliese went on to star as Laurey in Austin Musical Theatre's production of "Oklahoma!" in 2002, after her role in Evita. Her performance earned her "Best Actress in a Musical" nominations for the B.Iden Payne and the Austin Critics Table award.
Dancing
Anneliese is not only an actor, but also an accomplished dancer. She has danced the role of Clara in "The Nutcracker" and the title role of "Copelia" for the Southern California Dance Theatre. She is a constant student of dance and voice, taking weekly acting classes from Andrew Magarian at The Shop in North Hollywood.
Singing
Anneliese's is a soprano and is trained in the belting vocal technique. Her first professional solo recording was "Over it" (2004) to the soundtrack for "Stuck in the Suburbs," a Disney Channel Original Movie. She has worked in association with other Disney projects, such as for the song, "Circle of Life" (2003) for The Lion King: Special Edition DVD, and "A Dream Is a Wish Your Heart Makes" (2005) for Cinderella: Special Edition DVD. Her second solo recording is called, "A Day in the Sun" (2006) for the "That's So Raven" soundtrack called, "That's So Raven Too!" The fourth Disneymania soundtrack, also features a song recorded by Anneliese called, "Candle On The Water." Anneliese began working on her debut album between 2005 and 2006, however, its status is unknown.
Television Appearances
On television, Anneliese stars as Chelsea Daniels, Raven's best friend and sidekick in Disney Channel's Original Comedy, "That's So Raven" (2003). While taking pleasure in playing the sweetly goofy Chelsea Daniels, Anneliese looks forward to undertaking more dramatic roles in the future.