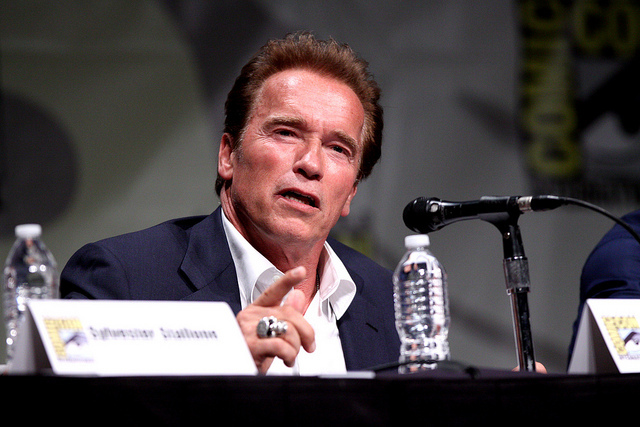 Photo by Gage Skidmore
Early Life
Arnold Alois Schwarzenegger was born in Thal, an Austrian town bordering the Styrian capital, Graz. His parents are, Gustav Schwarzenegger and Aurelia Jadmy. Though he maintained a good relationship with his mother until her death in 1998, he did not have a good relationship with his father. Gustav generally favoured Arnold's older brother, Meinhard, who died in a car accident in 1971. Gustav died the following year, and his funeral was kept without Arnold in attendance.
Schwarzenegger was active in many sporting activities during his childhood and found his passion for bodybuilding in his mid-teens. In 1965, Schwarzenegger served in the Austrian army to fulfil the one year service required of all 18 year old Austrian Males. During this time, he sneaked off the base to compete in the junior division of Mr. Europe–his first body building competition, in which he placed first. Taking his first plane trip in 1966, and knowing little English, he travelled to London to attend the NABBA Mr. Universe competition. It was in England that he was first referred to as The Austrian Oak or The Styrian Oak, due to his large build and the story of him supposedly performing chin ups from the limb of an Oak tree on the banks of the River Thalersee, in his hometown. On this trip, Schwarzenegger placed second in the competition but won the title in the following year, becoming the youngest ever Mr. Universe at age 20.
Living in America
In September 1968, Schwarzenegger moved to the United States of America, with little money and still no knowledge of the English Language. During 1977, his autobiography, "Arnold: The Education of a Bodybuilder," was published and he went on to earn a B.A. From the University of Winsconsin-Superior, where he graduated in 1979, with degrees in international marketing of fitness and business administration. In 1983, Schwarzenegger became a dual Austrian/ U.S. Citizenship.
Business Career
Schwarzenegger was a millionaire by the age of 22, even before his Hollywood stardom. His financial independence was due to a series of successful business ventures and investments including: Bricklaying Business; Mail Order Business; Real Estate and Planet Hollywood.
Acting Career
Schwarzenegger initially had problems breaking into films due to his long surname, large muscles and foreign accent. Eventually, though, he was chosen to play the role of Hercules, in the film "Hercules in New York" (1970). His accent in the film was so thick, that his lines had to be dubbed after production. His second film appearance was as a deaf and mute hitman for the mob in "The Long Goodbye" (1973). This was followed by his more significant part in "Stay Hungry" (1976), for which he was awarded a Golden Globe for Best New Male Star. His breakthrough film was "Conan the Barbarian" (1984), and today he is best known for his part as the title character of "The Terminator" (1984).
Politics
As a Republican, Schwarzenegger was first elected on October 7, 2003, in a special recall election to replace then-Governor, Gray Davis. He was sworn in on November 17, 2003, to serve the remainder of Davis's term and then re-elected on November 7, 2006. After serving full term, he was sworn in again on January 5, 2007. In may 2004 and 2007 he was named as one of the Time 100 people who help shape the world.
Personal Life
Schwarzenegger is married to Maria Shriver and they have four children together