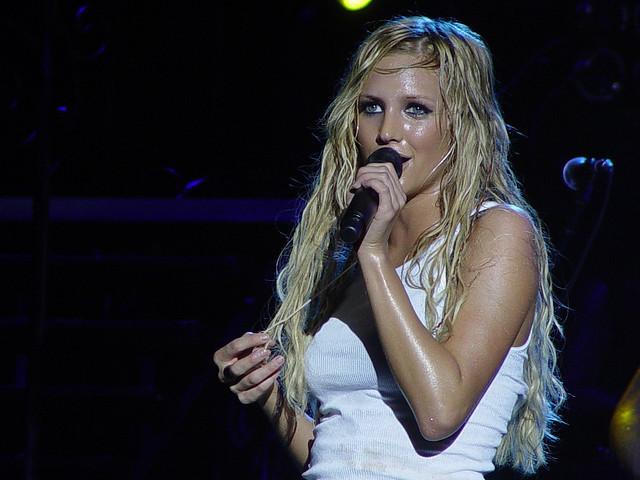 Photo by LeLilly
Early Life
Born in Texas, on October 3 1984, Ashlee Nicole Simpson is an American singer, actress and dancer. Ashlee is the second daughter of Joe Truett Simpson, her manager, and Tina Ann Drew. Ashlee attended the Prairie Creek Elementary school and began studying classical ballet at the age of three. At the age of 11, Ashlee was admitted to the School of American Ballet in New York City and around this time, started suffering from an eating disorder. Her condition lasted for about six months, and ended due to her parent's intervention. After Jessica Simpson, Ashlee's older sister, was signed to a record company, the family made a decision to move to Los Angeles, California, where Ashlee began appearing in TV commercials.
Acting and Music Career
Ashlee got her first big break as a backup dancer in support of her sister's concert tour. Ashlee had bigger plans for herself, however, and decided to break away from the shadow of her sister's limelight in 2001 when she started landing small roles in television shows. In 2002, Ashlee was cast as Simon Camden's love interest on the popular American television series, 7th Heaven. While Ashlee proved her acting abilities on the show, what she really wanted to do was sing. She contributed a song to the "Freaky Friday" (2003) soundtrack which also featured songs from Lindsay Lohan and Simple Plan. This though, was only a stepping stone, as Ashlee went on to pursue her solo career as a singer, and in 2003 she was signed to Geffen Records. She began working on her first album immediately following her contract signing, and decided to star in her own reality TV show simultaneously, to promote herself and her music career. The series was called "The Ashlee Simpson Show" and premiered on MTV, in June 2004. It documented the process of making and recording her debut album, "Autobiography" which was later released in July 2004. The album reached the top of the music charts a feat her sister has never accomplished.
Though her debut was initially well received by fans, her success diminished throughout 2004 and into 2005. The public complained about her image and made constant commentary on her lack of talent as a singer, especially after her lip-syncing incident on Saturday Night Live. Despite a multitude of embarrassments, Ashlee continued to pursue singing by setting to work on her second album, "I Am Me." The album was released on October 25, 2005 and featured her hit single, "Boyfriend." She went on to play the role of Roxie Hart in the London stage production of "Chicago" to rave reviews and then released a third album in April 2008 titled, "Bittersweet world." She has been recently cast as Violet Foster, a small town girl, in the CW's revamp of the '90s drama "Melrose Place," which will go by the same name.
Personal Life
Following her third album release, Ashlee married musician and member of Fall Out Boy, Pete Wentz. Soon after the engagement they both announced their expecting a child together. On November 20, 2008, Simpson-Wentz gave birth to her first child, son Bronx Mowgli Wentz