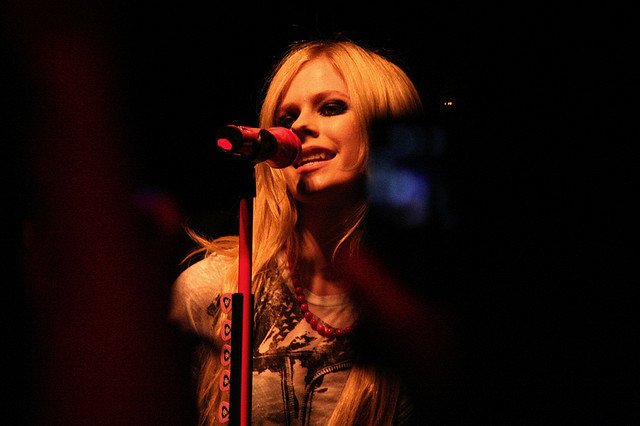 Photo by .Storm
Early Life
Singer and Songwriter Avril Ramona Lavigne is a Canadian native born on September 27, 1984. Avril is the second of three children born to John Lavigne, a technician for Bell Canada and Judy Lavigne, a stay at home mother. At the age of five, Avril moved from her birthplace in Belleville, Ontario Canada to Napanee, a farming town with a population of approximately 5000 people.
Growing up, Avril idolised her older brother Matt Lavigne. Matt who was heavily involved in sports, thus inspired Avril to play hockey and baseball. As Avril grew older she gained a reputation of being an athletic child who preferred taking part in activities like sports, skateboarding–a passion of hers–and camping, rather than more 'girlie' activities. When Avril wasn't busy playing sport however, she did enjoy singing, and pursued that as a hobby as well. Avril sang in her church choir at the age of ten and sang covers of popular songs at a variety of venues in her community. In 1998 at age fourteen, Avril was discovered by her first manager Cliff Fabri, while singing at a small performance in a local bookstore. Fabri liked Avril's voice and was impressed by her confidence. In the same year, Avril won a contest to sing a duet with fellow Canadian Shania Twain at the Corel Centre in Ottawa. It was Avril's first time performing in front of an audience of twenty-thousand people, but she was fearless.
Music Career
At sixteen, Avril was granted the opportunity to audition for L.A. Reid, the head of Arista Records in New York City. After her 15 minute tryout, Avril was immediately signed to a two-record, $1.25 million contract by Reid. Avril dropped out of school and devoted her time to working on her first album. Reid sent Avril to work with a team of producers and writers known as The Matrix in Los Angeles after production got off to a poor start in New York. When Lauren Christy, the producer in L.A. Asked Lavigne what style of music she had in mind, Avril replied, "I'm 16. I want to rock out." On the same day, Lavigne and the Matrix team penned the first song for her debut album, "Complicated."
Success
Lavigne's debut album, titled "Let Go," was released on June 4, 2002, and went platinum in six weeks. The singles "Complicated," "Sk8er Boi," and "I'm With You" dominated the charts, and by the end of 2002, Avril's debut sold 4.9 million copies and was the second best-seller of the year. Avril's fame escalated with more album sales and several awards. In May 2004, her second studio album was released, titled, "Under My Skin." In 2006 Avril wrote and performed the song "Keep Holding On," for the fantasy film, Eragon, then went on to produce and release her third album, "The Best Damn Thing," in April, 2007. Avril is currently working on her fourth album in studios, due to release in early 2010.
Personal Life
Lavigne enjoys listening to bands like: Outkast, Third Eye Blind, Oasis and Marilyn Manson. Lavigne married Deryck Whilbey on July 15, 2006, at a private estate in Montecito, California. Their split was announced on September 17, 2009, and divorce papers are said to be imminent.