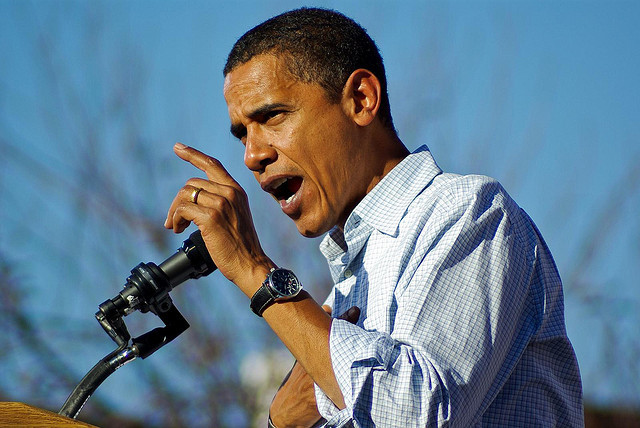 Photo by zyrcster
Barack Hussein Obama was born in Honolulu Hawaii, on August 4, in 1961, to Stanley Ann Dunham, an American native from Wichita, Kansas and Barack Obama, Sr., a Luo from Nyang'oma Kogelo, in the Nyanza Province of Kenya Colony. Obama's parents met at the University of Hawaii at Manoa, in 1960 and married on February 2, 1961. Obama's parents separated and then divorced in 1964. Obama's father returned to Kenya and saw his son only once thereafter, before his death in 1982.
In 1967 Obama moved with his mother and stepfather to Indonesia and attended local schools in Jakarta from ages six to ten. In 1971, Obama returned to Honolulu to live with his maternal grandparents, Madelyn and Stanley Dunham. He attended the private, Punahou School from fifth grade until his graduation from high school, in 1979.
Education
Following high school, Obama moved to Los Angeles to attend Occidental College. In 1981 he transferred to Columbia University in New York City, where he majored in political science with a specialisation in international relations. In 1983, Obama graduated with a B.A., then moved to Chicago after spending four years in New York City. Late 1988, Obama entered Harvard Law School and was selected as an editor of the Harvard Law Review at the end of his first year, and president of his school journal in his second year.
Political Career
Obama held the position of state legislator from 1997 to 2004. He was first elected to the Illinois Senate in 1996, and then re-elected in 1998. In 2000 he lost a Democratic primary run for the U.S. House of Representatives Bobby Rush by a margin of two to one. Obama became chairperson of the Illinois Senate's Health and Human Committee in January 2003, and in November 2004, he resigned from the Illinois Senate following his election to the U.S. Senate. Obama was sworn in as senator on January 4, 2005, as the fifth African American Senator in U.S. History and the third to have peen popularly elected. On November 13, 2008, Obama announced his resignation from the senate on November 16, 2008, to focus on his transition period for the presidency. In 2007, Obama announced his candidacy for president of the United States in front of the Old State Capitol in Springfield, Illinois. Obama went on to win the Democratic Party presidential primaries against Senator Hilary Rodham Clinton, and focused on the general election campaign against Senator John McCain, the presumptive Republican nominee. Three presidential debates were held between the contenders spanning September and October 2008. In November, Obama won the presidency with 52.9% of the popular, to become the first African American president of the United States of America. Obama delivered his victory speech in Chicago's Grant Park and was inaugurated on January 20, 2009.
Personal Life
After meeting Michelle Robinson in 1989, the began dating and became engaged n 1991. The were married on October 3, 1992, and had their first daughter Malia Ann in 1998, followed by their second daughter, Natasha in 2001. Obama has penned two best selling books, entitled: "Dreams from my Father: A Story of Race and Inheritance," and "The Audacity of Hope: Thoughts on Reclaiming the American Dream." On October 9, 2009, Obama received the Nobel Peace Prize for "his extraordinary efforts to strengthen international diplomacy and co-operation between peoples."