Early Life
Benjamin Géza Affleck-Boldt was born on August 15, 1972, in Berkeley California. The American actor, film director and screenwriter was born to Christopher Ann Boldt, a school district employee and teacher, and Timothy Byers Affleck, a drug counsellor, social worker, janitor, auto mechanic, bartender and former actor with the Theatre Company of Boston.In 1984, when Ben, his parents and his younger brother Casey Affleck moved to Cambridge Massachusetts, his parents later divorced. At the age of eight, Affleck met ten year old Matt Damon who lived two blocks away from his home in Cambridge. The two went to Cambridge Rindge and Latin School together, but were in different year groups. After high school, Affleck went on to attend the Occidental College in Los Angeles and well as the University of Vermont.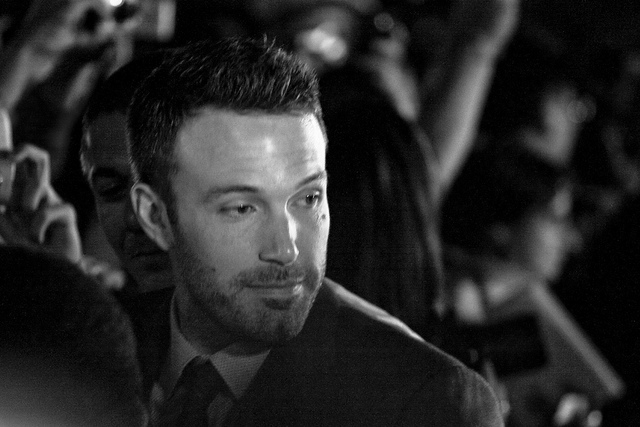 Photo by Josh Jensen
Acting Career
Affleck appeared in the PBS kids' series "The Voyage of the Mimi," as well as in several movies made for television, as a child. Throughout the 1990s, he played roles in "Lifestories: Families in Crisis" as a steroid-abusing athlete, as well as in several notable films, including "School Ties" (1992) with Matt Damon, the original "Buffy the Vampire Slayer" movie, "Dazed and Confused," (1993) "Mallrats" (1995) and "Chasing Amy" (1997). Both "Mallrats" and "Chasing Amy" marked the start of his collaborative work with writer and director Kevin Smith. He gained the starring role in Smith's "Jersey Girl" and has appeared in every Jersey film Smith has made to date, except "Clerks."
Affleck gained national recognition after working with Damon in the movie "Good Will Hunting" in 1997, for which they shared credit and received the Oscar award for Best Original Screenplay. Affleck is one of the founding fathers of the production company LivePlanet, along with producers Chris Moore, Sean Bailey and Matt Damon. Through this company, the four have produced the documentary series "Project Greenlight," as well as the failed mystery-hybrid series "Push, Nevada" amongst other projects. "Project Greenlight" has been Emmy nominated in 2002, 2004 and 2005 for the award of Outstanding Reality Program.
Ben's latest works include his starring role in the film "Armageddon" (1998) opposite Bruce Willis. The film earned critical reviews, but was a success at box office earning a total of $553 million worldwide. Ben went on to star in other films that receive critical reviews but enjoy success in box office. His most recent roles include his part in the huge flop, "Gigli" (2003) and "Surviving Christmas" (2004). Since these appearances, Affleck's career success has declined considerable, and he did not appear in any films until a cameo appearance in "Clerk II" (2006). Affleck made a comeback in late 2006, and have most recently starred in the 2009 romantic comedy, "He's Just Not That Into You" that gained mixed reviews but enjoyed box office success.
Photo by Samer M
Personal Life
After being linked to famous women like Gwenyth Paltrow and Jennifer Lopez, Affleck married actress, Jennifer Garner on June 29, 2005 in Turks and Caicos. They have two daughters together, Violet Anne and Seraphina Rose Elizabeth. Affleck entered alcohol rehab in 2001 for treatment and is an avid poker player. He is a fan of the Boston Red Sox, New England Patriots and Boston Celtics. Having got his first tattoo at 16, Affleck now was about half a dozen, including one of a dolphin that covered the tattoo of his high school sweethearts name.