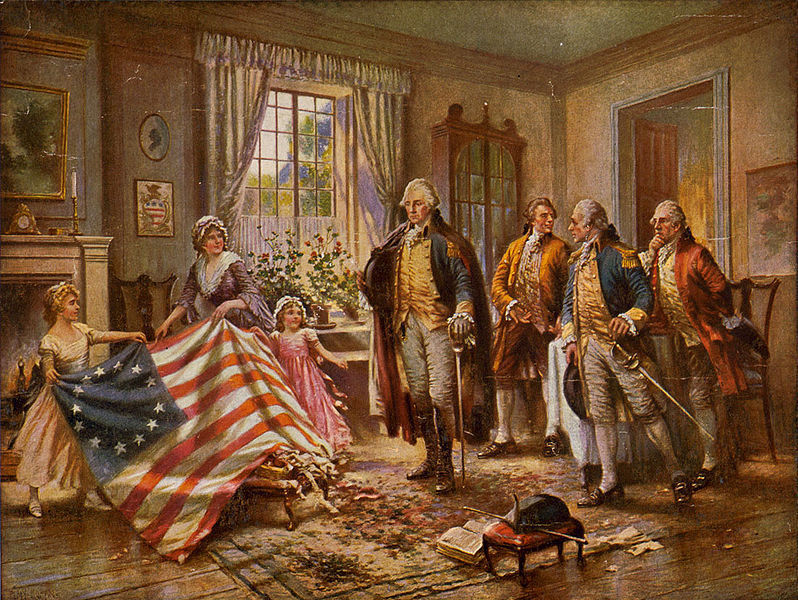 Early Life
Betsy Ross, born Elizabeth Griscom, was an American patriot born on January 1, 1752, in Philadelphia, Pennsylvania. She was the eighth of seventeen children born to parents Samuel and Rebecca Griscom. She was raised in a household where modesty and discipline were the core values taught; she learned the art of sewing from her great-aunt Sarah Griscom.
Betsy attended and finished her schooling at a Quaker public school, following this, her father apprenticed her to an upholsterer name William Webster. Working here, Betsy fell in love with John Ross, her fellow apprentice, and son of an assistant rector Aeneas Ross at Christ Church. In 1773, twenty-one year old Betsy eloped with John Ross at Hugg's Tavern in Gloucester, New Jersey. The marriage broke apart her relationship with her family, and caused her expulsion from the Quaker congregation. Betsy and John Ross started their own upholstery business and joined Christ Church; they had no children.
During and After the Revolutionary War
After the outbreak of the Revolutionary war, the Ross couple faced economic hardship. The fabrics they needed for their work grew scarce, and so business soon declined considerable. John joined the Pennsylvania militia and in January 1776, he was killed while guarding ammunition in a storehouse that exploded.
After John's death, Betsy joined the "Fighting Quakers" movement, whom differed from traditional Quakers because they supported the war effort. She remarried in June 1777, to Joseph Ashburn at Old Swedes' Church in Philadelphia; they had two children. When British soldiers occupied the city in 1777, they forcibly occupied the couple's house. Following the Battle of Germantown, Betsy nursed both American and British soldiers.
Betsy Ross, however, is most remembered as a flag maker, and possibly the first flag maker during the Revolution. This myth, however, is only supported by family oral history, affirmed only by 19th century affidavits, who recounts the widowed Ross meeting with George Washington, George Ross and Robert Morris at her upholstery business in Philadelphia. This meeting is said to have resulted in the stitching of the first 'stars and stripes' flag of the United States of America.
Some evidence to support Betsy Ross making the first flag for the U.S. government include, a receipt for her making "ship's colours" for the Pennsylvania Navy in May 1777, as well as a star pattern with her folded with her name on it, found in a Philadelphia Quaker Society safe. Whether Betsy Ross was indeed the maker of the first 'stars and stripes' flag for the United States, or not, has yet to be proven. According to the family legend, many women were making flags when Betsy received her first order. Congress only partially acknowledges Francis Hopkinson, who also takes credit for the design of the stars and stripes.
Personal Life
After her first two marriages, Ross married John Claypoole, after Ashburn's death in a British prison. The couple had five daughters together. Claypoole died in 1817 after twenty years of ill health. Betsy continued working as an upholsterer until 1827. After retiring, she moved in with Susannah Satterthwaite, her married daughter who continued to operate the business. On January 30, 1836, Ross died in Philadelphia at age 84.