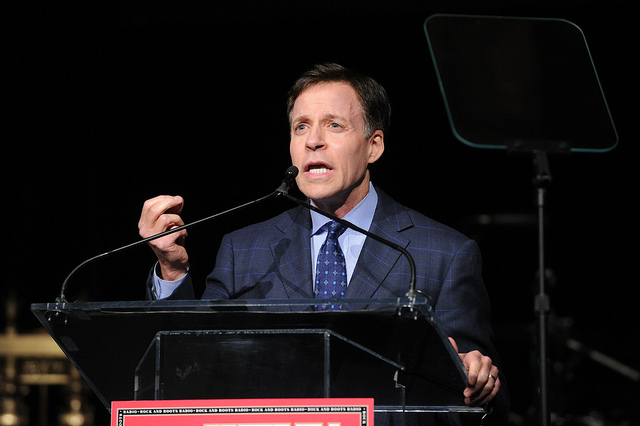 Early Life
Robert Quinlan "Bob" Costas is an American Sportscaster that was born in Queens, New York on March 22, 1952. He is the son of Jayne and John George Costas, who raised him in Commack, New York. He attended the Commack High School South, before going on to attend the S.I. Newhouse of Public Communications at Syracuse University; Costas left University before graduating to begin his professional career as a commentator.
Early Career
Costas started out as an announcer while attending Syracuse University, as an announcer for the Syracuse Blazer minor league hockey team playing in the Eastern Hockey League and North American Hockey League. His professional career began as a professional as a play by play announcer for the Spirit of St. Louis of the American Basketball Association, followed by a stint with the Spirits' station, KMOX radio. Costas is extensively quoted on a wide variety of topics, in the ABA book, "Loose Balls: The Short, Wild Life of the American Basketball Association." The book also includes Costas' reflections on ABA life during his tenure as radio voice of the Spirits of St. Louis. During the 1979 to 1980 season, Costas did play by play for the Chicago Bulls broadcasters on WGN-TV, and he was briefly employed by the CBS network before joining NBC Sports in 1980.
NBC
From 1997 to 2000 Costas has teamed with Isaiah Thomas and Doug Collins for basketball telecasts, from 1983 to 1989 with Tony Kubek, and 1994-2000 with Joe Morgan and Bob Uecker for baseball telecasts. Costas did play by play with analyst Bob Trumpy for NFL games before becoming the studio host for The NFL on NBC in 1984. In 2009, Costas was the host at the World Figure Skating Championships for NBC Sports. He has also co-hosted the big horse racing events for NBC Sports since 1997 and filled in for Tom Hammond at the hosting desk during the 2002 Breeders' Cup when Hammond had to undergo open-heart surgery. Again, in 2009, he was the host of Bravo's coverage of the 2009 Kentucky Oaks.
Olympics
Costas has been the frontliner for NBC Olympics broadcasts. They include Olympics in Barcelona, Atlanta, Sydney, Salt Lake City, Athens, Turin and Beijing. Notably, Costas has cited the legendary ABC Sports broadcaster Jim McKay who hosted many Olympics for ABC from the 1960s to the 1980s, as a personal influence.
Other Work
In 2001, Costas was hired by HBO to host a 12 Week series called "On the Record with Bob Costas" which was similar to the format of the old "Later" program as they both concentrated on in-depth celebrity interviews. Subsequently, in 2002, he became the co-host of HBO's "Inside the NFL" and remained so through the to the end of the 2007 NFL season. "On the Record with Bob Costas" was revamped in 2005, and became "Costas Now" a monthly show that focused more on sports.
Personal Life
Costas wed Carole Randall Krumenacher in 1983. They had two children together, a son Keith, and a daughter Taylor. After splitting from Carole in 2001, Costas remarried to Jill Sutton on March 12, 2004.