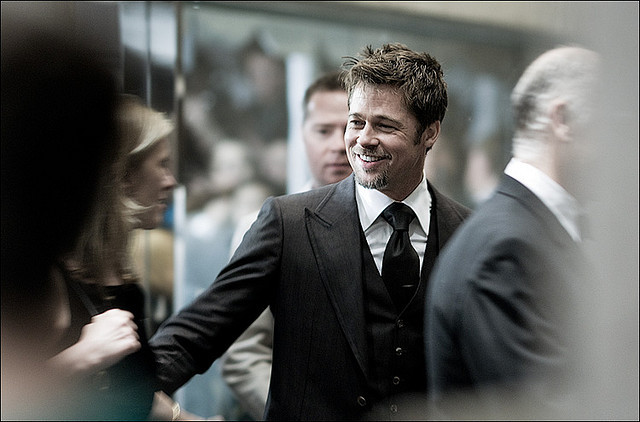 Photo by wvs
Early Life
William Bradley "Brad" Pitt was born on December 18, 1963, in Shawnee, Oklahoma. He is the eldest of three children, and grew up in Springfield, Missouri as part of a devoutly Southern Baptist family. Pitt attended Kickapoo High School, where he was a participating member of the golf, tennis and swimming teams. He also participated in the school's Key and Forensics clubs, school debates and musicals. After graduating, Pitt enrolled at the University of Missouri in 1982, where he became a member of the Sigma Chi fraternity and acted in several fraternity shows. In university, he majored in journalism, with advertising as his focus. Two weeks before earning his degree, in 1985, Pitt left university and moved to Los Angeles to enrol in acting lessons.
Acting Career
Initially Pitt struggled while living in Los Angeles, and had to earn his living with a variety of odd jobs. His onscreen career launched in 1987 with uncredited parts in the films "No Way Out," "No Man's Land," and "Less Than Zero." His T.V. Debut was a guest appearance on the ABC sitcom "Growing Pains." In 1988, he performed his first film leading role, in "The Dark Side of the Sun." He portrayed a young American taken by his family to the Adriatic to find a remedy for a skin condition; however, the film was shelved due to the outbreak of the Croatian War of Independence and was not released until 1997. Pitt started to draw broad public interest with a supporting role in the 1991 road film "Thelma & Louise." He was cast as J.D., a small time criminal who befriends Thelma, and love scene with that character has been cited as the moment that defined Pitt as a sex symbol.
The year 1994 marked a significant turning point in Pitt's career. He earned the starring role as vampire Louise de Pointe du Lac in the feature film "Interview with the Vampire," based on Anne Rice's 1976 novel of the same name. Despite winning two MTV Movie Awards in the 1995 ceremony, his performance was met with negative reviews. In 1995, however, he starred alongside Morgan Freeman and Gwyneth Paltrow in the crime film, "Seven" and his performance received many great reviews. The film, along with positive reviews, earned 327 million at the international box office and following that success, Pitt played the supporting role of Jeffery Goines in Twelve Monkeys (1995). Pitt won a Golden Globe Award for Best Supporting Actor for the film, and received his first Academy Award nomination. Pitt went on to gain wide popularity for roles in blockbuster films including the cult classic, "Fight Club" (1999), "Ocean's Eleven" (2001), "Troy" (2004), "Mr. And Mrs. Smith" (2005), "Burn After Reading" (2008) and more recently, "Benjamin Button" (2009). Pitt's performance in "Benjamin Button," earned Pitt his first Screen Actors Guild Award nomination, as well as a fourth Golden Globe and second Academy Award nomination. The film gained a total of thirteen Academy Award nominations and grossed $32 million worldwide.
Personal Life
After a seven year marriage, Brad Pitt made a mutual decision to split from his wife Jennifer Aniston in January 2005. Aniston filed for divorce two months later citing irreconcilable differences. The final divorce documents were granted by the Los Angeles Superior Court on October 2, 2005, and ended their marriage. On January 11, 2006, Angelina Jolie, who had co-starred with Pitt in "Mr. And Mrs. Smith," publicly disclosed that she was carrying Pitt's child, and thus confirmed an intimate relationship between them for the first time. Pitt says he and Jolie will marry when "everyone else in the country who wants to be married is legally able to." He openly disclosed that he is no longer a christian, and is "probably 20% atheist and 80% agnostic." Pitt and Jolie have three children together: a daughter, Shiloh Nouvel Jolie-Pitt and twins, Knox Léon and Vivienne Marcheline.