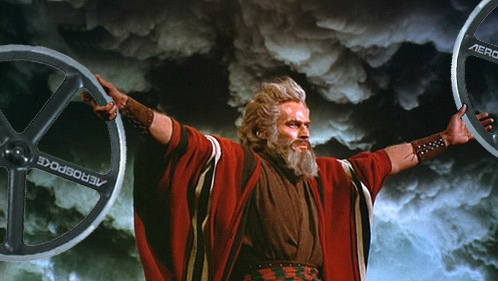 Early Life
American actor, John Charles Carter was born on October 4, 1923, in No Man's Land, Illinois to parents Lilla Charlton and Russell Whitford Carter. As an infant, Heston moved with his family to St. Helen, Michigan. Heston spent most of his time hunting and fishing in the backwoods of St. Helen. At age 10, His parents divorced and his mother subsequently married Chester Heston. The new family moved to Wilmette, Illinois, where Heston attended New Trier High School. Throughout his life, Heston was known by friends as "Chuck" a diminutive of his birth-name Charles; however, Charlton Heston, his stage name, is drawn from his mother's maiden surname and his stepfather's surname.
Career
In high school, Heston enrolled in New Trier's drama program, playing in the silent 16 mm amateur film adaptation of "Peer Gynt" by David Bradley, who would later become a film activist. Heston went on to earn a drama scholarship to Northwestern University, from the Winnetka Community Theatre, with which he was actively involved. Subsequently, several years later, Heston and Bradley collaborated to produce the first sound version of William Shakespeare's "Julius Caesar," in which Heston played Mark Antony.
Serving in World War II
Heston enlisted in the United States Army Air Forces in 1944. He served for two years in the capacity of a radio operator and aerial gunner aboard a B-25 Mitchell stationed in the Alaskan Aleutian Islands with the Eleventh Air Force. He reached the rank of Staff Sergeant during his time, and had married Lydia Marie Clarke in the same year that he joined the military.
Theatre and Television
When the war was over, Heston and Clarke lived in Hell's Kitchen, New York City, where they both worked as artists' models. Heston and Lydia decided to manage a playhouse in Asheville, North Carolina in 1947, as they sought out ways to make it in theatre. They earned $100 weekly on the job, and in 1948, they went back to New York where Heston was offered a supporting role in a Broadway revival of Shakespeare's "Antony and Cleopatra." Heston went on to be successful in television, playing a number of roles in CBS's Studio One. His most frequently played roles on stage include the title role in "Macbeth," Sir Thomas More in "A Man for All Seasons," and Mark Antony in "Julius Caesar and "Antony and Cleopatra."
Hollywood
Heston was later offered a contract by film producer, Hal B. Wallis of Casablanca, after he spotted him in the 1950 production of "Wuthering Heights." Heston launched into a film career, earning recognition for his appearance in his first professional movie, "Dark City," a 1950 film noir. His breakthrough performance was in "The Greatest Show on Earth," in which he was cast as a circus manager. After Heston accepted the title role in "Ben-Hur," a part actors Marlon Brando, Burt Lancaster and Rock Hudson turned down, he won the Academy Award for Best Actor–one of the unprecedented eleven Oscars the film earned. Heston played leading roles in a number of fictional and historical epics, and at the height of his success in 1965, Heston became the president of the Screen Actors Guild. He remained in the position until 1971, making his tenure the second longest to date in that office. Heston continued to star in hugely successful films, and became one of the most successful and popular actors of his era.
Personal Life
After undergoing hip replacement in 1996, Heston was diagnosed with prostate cancer in 1998. The cancer went into remission following treatment, and in 2000, he publicly disclosed that he had been treated for alcoholism at a Utah clinic in the same year. In August of 2002, Heston publicly announced that he was diagnosed with symptoms consistent with Alzheimer's disease. He received the Presidential Medal of Freedom at the White House from President George W. Bush in July 2003. Heston died from pneumonia on Saturday, April 5, 2008, at his home in Beverly Hills, California. At the time of his death, he had been married to Lydia for 64 years. Along with his wife, Heston was survived by his son and adopted daughter.