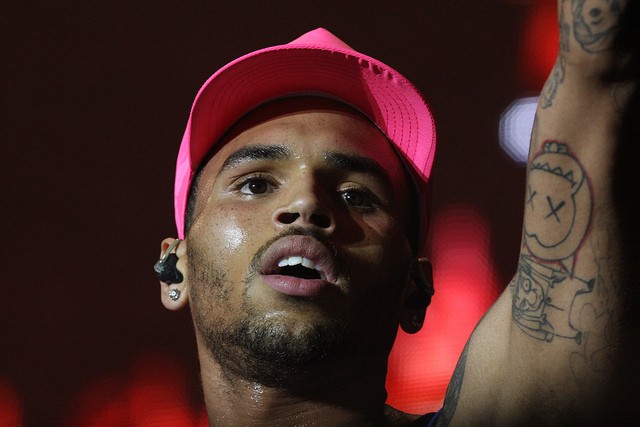 Photo by Eva Rinaldi Celebrity and Live Music Photographer
Biography of Chris Brown
A classic case of good guy gone bad, but not really…, Chris Brown became a teen sensation when he hit the spotlight in 2004 after he was discovered by senior A&R Executive at Def Jam Recordings Tina Davis and subsequently signed to Jive Records when Tina left Def Jam and became his manager.
Chris received his first record deal when he signed to the label Jive Records in 2004; Chris Brown quickly become a phenomenon in the music industry, his youthful innocence, charm, soul and charisma propelling him to the top of the most sought after R&B/Hip-Hop acts. His talent as a songwriter, singer and dancer made him a triple threat, and provided Chris with the foundation to launch his musical career.
Early Life
Born Christopher Maurice Brown on May 5, 1989, Chris and his older sibling was raised in Tappahannock, Virginia by his parents Joyce Hawkins and Clinton Brown. From an early age Chris was inspired by the melodies and foot works of Michael Jackson and Usher, trying out his moves and voice on local talent shows and church choir; his inspirations were further infused with the sounds of Stevie Wonder, Sam Cooke and Aretha Franklin. Chris was discovered by a local production team before his big break in 2004 with Jive Records after negotiations with Def Jam Recordings fell through.
Chris Brown the Entertainer
Chris launched his first album titled Chris Brown in 2005 at the age of 16, his second album Exclusive was released in 2008 and was ranked by Billboard Magazine as the thirteenth biggest-selling albums of 2008 in the United States. Since then the American recording artist with a combination of his two albums (and a third one in the making) has sold over four million copies worldwide, and certified two times platinum by the Recording Industry Association of America (RIAA). Some of the successful singles include Run it! an up-tempo hit from his first album, Kiss, Kiss, With You and Forever which all held top spots on the Billboards Hot 100; Yo (Excuse Me Miss) also made it to the top twenty of the same chart.
The singer has worked with several producers and songwriters including Scott Storch, Cool & Dre, Jazze Pha, Sean Garrett, The Underdogs, Bryan Cox and Jermaine Dupri, and had memorable collaborations with Rihanna, Jordan Sparks, Ciara, T-Pain and Ne-Yo amongst others. Chris has had concert tours and performances across the USA including Hawaii, and also in the United Kingdom and Japan.
Brown was named the top artist of 2008 by Billboard magazine and was nominated for the "Best Rap/Song Collaboration" award at the 2008 Grammy Awards, with his single Kiss, Kiss. In the same year Chris won the NAACP Image "Best Male Artist" award and received four nominations at the BET Awards.
Chris Brown on Screen
Chris began his acting career on the Fox network series The OC in 2007. He also made appearances on UPN's One on One and The N's (now called Teen Nick) Brandon T. Jackson Show. He made it to the big screen when he starred in "Stomp the Yard" and the Screen Gem production "This Christmas", both released in 2007.
Where is Chris Now
In 2008 Chris Brown made headlines when the media discovered his romantic connection to R&B super-girl Rihanna. The power duo soon became the center of negative publicity in early 2009 when they had a domestic altercation in the streets. Rihanna was taken to the hospital to treat injuries sustained, and allegedly caused by Brown, who was subsequently arrested, charged and released on bail. The incident left severe negative impact on Chris's empire and image where he lost several commercial sponsorships and his music was blocked by radio stations. Brown later released a statement saying, "words cannot begin to express how sorry and saddened I am over what transpired".
Chris Brown is now picking up the broken pieces of his life in a hope to regain the trust and confidence in his fans starting with his upcoming tour that was confirmed by his label on Tuesday October 20. The tour begins at the House of Blues in Houston on November 14, 2009 and ends December 15, 2009 in New York.