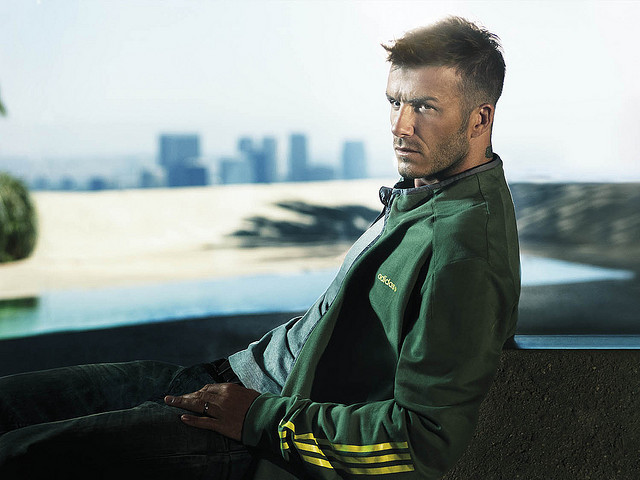 Photo by adifansnet
Biography of David Beckham
David Beckham is one of the world's most celebrated football players. He has appeared in over a hundred games for his national team England scoring seventeen times. He held the role of team captain from November 2000 through to the 2006 FIFA World Cup and is noted as the only England player to have scored in three separate World Cups and the 21st player in history to do so.
With his high commercial value Beckham, has landed major sponsorship deals including Adidas, Gillette and Pepsi and with his model looks is seen as a fashion icon gracing the covers of magazines such as Vanity Fair, Men's Health and GQ. In 2004 he was reported as the worlds' highest paid football player.
In 1997 Beckham became one-half of one of the worlds' power couples when he married pop singer Victoria "Posh Spice" Adams from the all female group Spice Girls.
Early Life
David Robert Joseph Beckham was born in Leytonstone, England, May 2, 1975. Beckham had two sisters Joanne and Lynne, and his parents David Beckham and Sandra West were avid Manchester United fans. From his childhood days David Beckham's professional ambition was to play soccer; he attended the Chase Lane Primary School and Chingford Foundation School. Beckham enrolled in the Bobby Charlton Soccer School eleven and won the chance to participate in an FC Barcelona training session at age eleven. Beckham played for a neighborhood youth team called Ridgeway Rovers and became a Manchester United (MU) mascot for a match in 1986 and signed with the club as a trainee in 1991 at the age of sixteen.
Beckham the Soccer Player
In 1992 shortly after joining the MU family he helped the club to win England's Football Association Youth Challenge Cup. Beckham made his UEFA Champions League debut in fine style when he scored his first goal for a victorious MU in December 1994 in a Champions League home game against Galatasaray. He was loaned to Preston North End for a brief period before playing in the Premier League against Leeds United in 1995. Beckham helped MU to win the Premier League/FA Cup double for the 1995-1996 seasons scoring the winning goal in the semi-finals against Chelsea, and made his mark in the club with eight goals in 40 games.
Manchester United won the champions for the following season where Beckham was named PFA Young Player of the Year for 1996. In the following two years he played in 52 games with MU winning the Premier League, FA Cup and UEFA Championships League. He was in the top two for the FIFA World Player of the Year award in 1999 and 2001. In his final Manchester season Beckham helped his team secure the sixth Premier League Championship title.
David Beckham spent twelve years with Manchester United before moving on to Real Madrid in 2003 under a four year contract. He led the club to the 2006 – 2007 La Liga title where they finished the season in fourth place, and were knocked out of the UEFA Champions League at the quarter-final stage. A favorite with the Read Madrid fans Beckham sealed five goals in the first sixteen matches. He ended his Real Madrid stint with over a hundred games and eleven goals.
In 2007 Beckham left Real Madrid and signed on with Los Angeles Galaxy with a $250 million five-year contract. His first match with the club happened with a friendly against Chelsea and he scored his first goal in the 2007 SuperLiga semi-final against D.C. United. A knee injury in the SuperLiga Final against Pachuca caused Beckham to be out commission for six weeks before he returned for the final two games of the year.
Beckham the Icon
Beckham was named BBC Sports Personality of the Year in 2001 and in 2003 he received an Order of the British Empire from the Queen for "services to football" at Buckingham Palace.
In 2004 Beckham's net worth was estimated at £200,000 million with several corporate sponsorships including Pepsi, Vodafone, Brylcreem, Police Sunglasses, Nike, Adidas and Gillette.
He's regarded as one of the most stylish men in the world and together with his wife Victoria is seen as one of the leaders in the fashion industry inspiring fans to imitate his many styles in both clothes and hair.
Beckham has worked with various charities including UNICEF and is an Ambassador in London's bid to host the 2012 Olympics. There is a gold-covered bronze statue of David Beckham in a Thai Buddhist temple, a 10-ft. statue built of chocolate in Tokyo, and his picture adorns a Japanese chain of beauty salons.