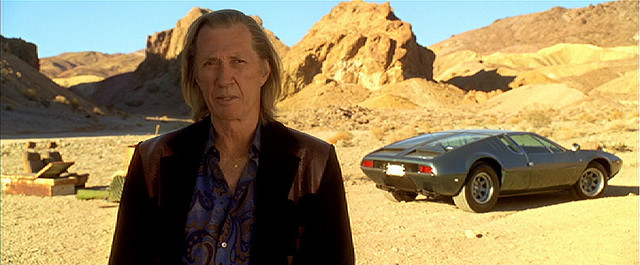 Photo by swgn
Biography of David Carradine
David Carradine was an iconic television figure best known for his role in the popular 1970 television series Kung Fu. Carradine's professional career consists of 118 films, 32 plays, 27 television movies of the week, miniseries and dramatic specials, over 35 guest appearances on various series and the star in 3 series. Four times Golden Globe Award nominee, Carradine also won the Saturn Award for best supporting actor for Kill Bill: Vol. 2 and has over 40 years of experience in the industry.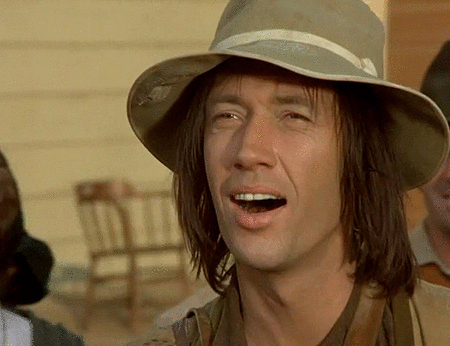 Photo by quicheisinsane
Early Life
John Arthur Carradine (his name was later changed to David) was born December 8, 1936 in Hollywood, California. His father was a famous American actor, John Carradine and his mother was Ardanelle McCool. He had four brothers, Bruce and half brothers Keith, Christopher and Robert. Christopher was the only sibling that didn't follow in their father's Hollywood footsteps. Carradine had an unstable childhood going through his parent's divorce in 1942 and hopping from foster homes to boarding and reform schools.
Carradine attended Oakland Junior College and studied music theory and composition at San Francisco State College where he wrote music for the university's annual vaudeville and got bit by the 'acting bug'. He joined a Shakespearean repertory company to further develop his new found craft and became involved with drugs before being drafted in the U.S. Army for two years.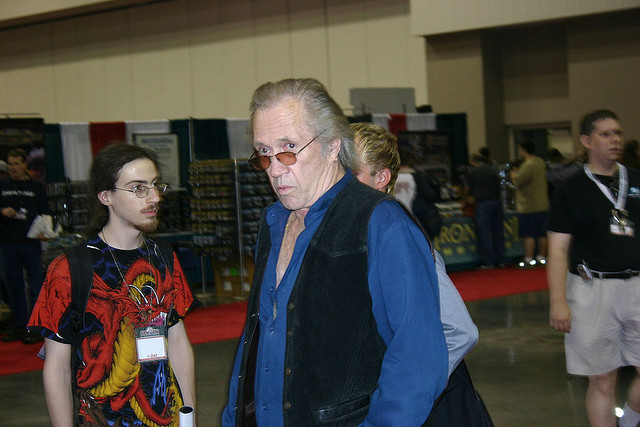 Photo by Inti
Carradine the Actor
In 1963 Carradine debut in the NBC drama series Armstrong Circle Theatre, and made further appearances in East Side/West Side and Wagon Train. In 1964 he made his first feature film debut in the western screenplay Taggart continuing with other roles in television such as The Alfred Hitchcock Hour and Shane. Between 1967 and 1971 Carradine made appearances in several series before embarking on his career-making series Kung Fu in 1972. Carradine's father John appeared in 3 episodes of Kung Fu, and David's brothers Bruce, Keith and Robert also appeared in the series.
Carradine will always be remembered for his role in the hit television series Kung Fu; a role that he played for three seasons as the half-Asian Kwai Chang Caine, and for which he received Emmy and Golden Globe nominations. Carradine earned critical praise as Woody Guthrie in Bound for Glory (1976) and won a National Board of Review Award for Best Actor; he was also nominated for a Golden Globe and New York Film Critics Circle Award.
Further recognition came in 1985, when Carradine appeared in a supporting role in North and South, a miniseries about the American Civil War and was nominated for a Golden Globe for Best Supporting Actor for his performance. 1986 saw him taking the Kung Fu series to another level in the TV movie Kung Fu: The Movie. In 1993 Carradine returned as the grandson of his original King Fu character in Kung Fu: The Legend Continues; he stayed with the series extending his role to include Executive Producer and Director until the series ended in1997.
After a number of other television and film appearances including the hit series Charmed and Disney Channel's Lizzie McGuire, it wasn't until 2003 that Carradine reinvented himself starring as the title character in Quentin Tarantino's Kill Bill martial arts themed film released as Volume 1 in 2003 and followed by Volumes 2 in 2004.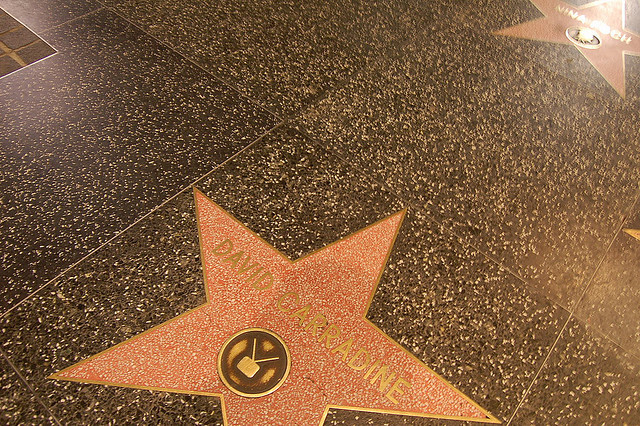 Photo by andi glitterati
Carradine's Death
After a highly successful career David Carradine died on June 4, 2009 in Bangkok, Thailand. Much controversy surrounded the details of Carradine's death as it was linked to autoerotic asphyxiation whilst Carradine's representative and family members told the press that they believed the death to be accidental and not a suicide. Carradine was in Bangkok to shoot his latest film, Stretch.