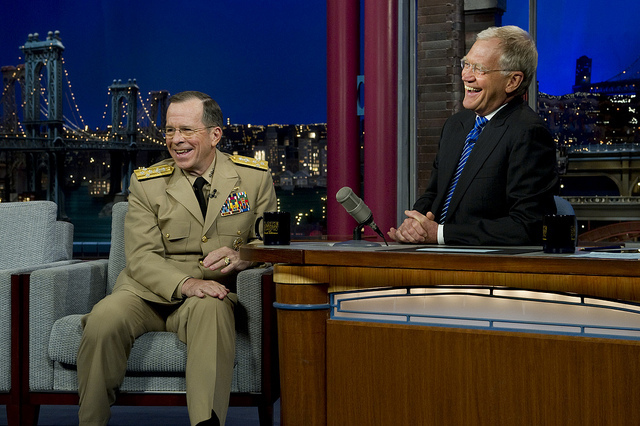 Photo by Chairman of the Joint Chiefs of Staff
Biography of David Letterman
American talk-show host and television and film producer David Letterman is one of late night television's most coveted personalities. He is host of the CBS late night television show Late Show with David Letterman which made its debut in 1993, following the 1992 debut of its predecessor Late Night with David Letterman which was aired on NBC.
Letterman also owns a television and film production company World Wide Pants Inc., located in New York; it has produced The Late Late Show with Tom Snyder (1999 – 2005), Everybody Loves Raymond (1996-2005), Late Show with David Letterman (1993-present) and The Late Late Show with Craig Ferguson (2005-present).
Early Life
Letterman was born April 12, 1947, in Indianapolis, Indiana, to father Harry Joseph Letterman and mother Dorothy (née Hofert, now Dorothy Mengering), who is now a regular correspondent on his late-night talk show usually at holidays and birthdays. He has two sisters, Janice and Gretchen.
He attended Broad Ripple High School and Ball State University, in Muncie, Indiana where he became a member of the Sigma Chi Fraternity. He studied with the Department of Radio and Television, and graduated in 1969 with a scholarship. From 1970 to 1974 Letterman worked in Indianapolis as a weatherman and TV announcer and from 1974 to 1975 as a radio talk show host.
Late Night with David Letterman
In 1975 Letterman moved to Los Angeles motivated to do comedy-writing. He wrote material for popular sitcoms, including Good Times and did stand-up comedy at the LA comedy club The Comedy Store. In 1978 Letterman became a regular guest on The Tonight Show with Johnny Carson and in 1980, he was offered his own comedy show on NBC, the daytime David Letterman Show. The show only lasted for three months, but was a critical success winning two Emmy Awards before being cancelled, but not before convincing NBC-TV to give Letterman a late-night show following Carson's.
The late-late show hour was well-suited to Letterman's brash and quirky humor. Late Night with David Letterman was edgy and unpredictable and soon became popular with a young audience particularly college students; it featured inventive comedy segments and running characters and often included quirky, genre-mocking regular features, including The Top 10 list, Stupid Human Tricks, Small Town News, and Stupid Pet Tricks.
Late Show with David Letterman
Letterman had eleven successful years with NBC before moving on to CBS, the decision fueled by NBC's decision to replace Johnny Carson (host of The Tonight Show) with Jay Leno when Carson retired. Jay Leno's Tonight Show became the Late Show with Letterman's main competitor. The new show debuted on August 30, 1993 and Letterman was signed to a three year contract which doubled his Late Night salary. Due to the legalities, Letterman renamed his popular NBC segments and incorporated them into the CBS special. The Letterman on CBS was described as being kinder and gentler, since the he shed the sarcastic undertones.
Letterman's shows have garnered both critical and industry praise, receiving 67 Emmy Award nominations, winning twelve times in his first 20 years in late night television. After fluctuations in ratings lead, Letterman received a higher ranking than Leno from 1993-2009 in the annual Harris Poll of Nation's Favorite TV Personality twelve times. Letterman's last contract negotiated with CBS will end in August 2012.
Personal Life
David Letterman got married in 1969 to Michelle Cook; the marriage lasted for eight years. He underwent quintuple bypass surgery on 14 January 2000 and remarried his former girlfriend Regina Lasko in 2009; the couple has a son. In October 2009 Letterman announced that he had been the victim of an extortion attempt based on allegations that he was sexually involved with his female employees. He confirmed the relationships.