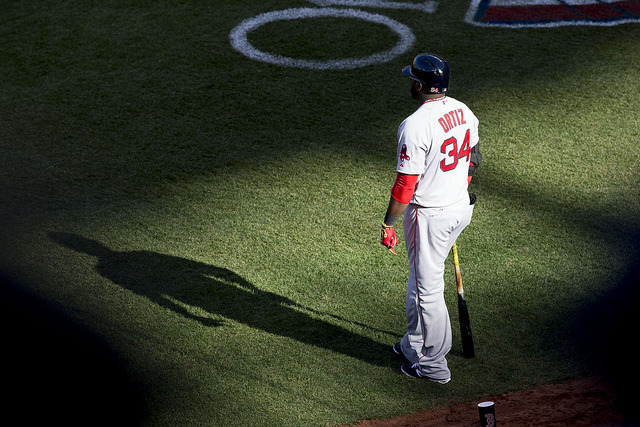 Biography of David Ortiz
David Ortiz is a Major League Baseball and Boston Red Sox player. Known as "Big Papi," in the Boston clubhouse, Ortiz is a five-time All-Star and holds the Red Sox single-season record for home runs with 54, set during the 2006 season.
Early Life
David Americo Ortiz Arias was born on November 18, 1975 in Santo Domingo, Dominican Republic to parents Enrique and Angela Rosa. He had four younger siblings and was known as the person to bring calm to the family. Ortiz's father played baseball in Dominican leagues and seemed to pass his baseball zeal to his son.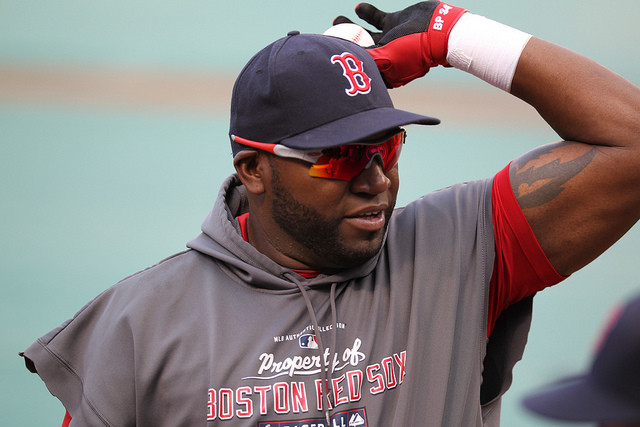 Photo by Keith Allison
Ortiz graduated from Estudia Espallat High School where he excelled in basketball, and in 1992 he was signed by the Seattle Mariners. The Mariners scouted Ortiz closely and signed him as a non-drafted free agent shortly after his 17th birthday. He played for the Wisconsin Timber Rattlers of the Class-A Midwest League and established himself as one of Seattle's most promising young stars. In 129 games, he hit 322 with 34 doubles, two triples, 18 homers and 93 RBIs. Ortiz debuted with the Minnesota Twins in September 1997.
In the Major Leagues
In 2002, Ortiz hit .272 for Minnesota, with 20 home runs and 75 RBIs. The Twins advanced to the American League Championship Series that year, but lost to the Anaheim Angels. Ortiz suffered wrist injuries in both 1998 and 2001 and knee problems in early 2002. In six seasons with the Twins, Ortiz hit 58 homers. In his second year with Red Sox Ortiz played led the Red Sox to their first World Series championship in 86 years. It was his first year as their full-time designated hitter. During the 2004 season, Ortiz was voted onto the All-Star team for the first time in his career, as he batted .301 with 41 home runs and 139 RBI. In the playoffs, Ortiz hit .400 with 5 home runs and 19 RBI. His post-season heroics earned him MVP honors for the ALCS and he finished fourth in AL MVP voting.
In 2005 Red Sox's owner, John Henry, named Ortiz "The Best Clutch Hitter in the History of the Boston Red Sox. Ortiz career saw 47 home runs, 43 of them as a designated hitter, twenty of his home runs either tied or gave Boston the lead, and over the period 2003-2005, he hit .326, with 22 home runs and 73 RBIs in only 221 at bats in the late innings of close games. He also led the American League in RBI with 148, and his 47 homers were second in the AL to the Yankees' Alex Rodriguez. He also finished second to Rodriguez in MVP votes.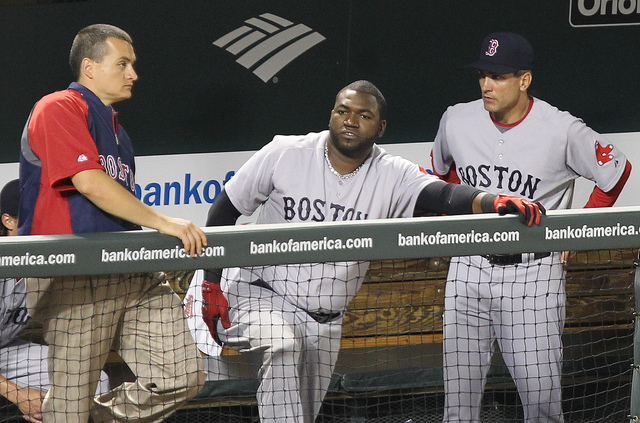 Photo by Keith Allison
In 2006 Ortiz set a new Red Sox record with 54 home runs. 2006 was a year of Walk-off home runs for Ortiz and excelled in Late Inning Pressure Situations (LIPS). On August 27, 2006, Ortiz tied his career high in home runs by hitting his 47th home run of the year and in September 2006, Ortiz tied Jimmie Foxx's single season Red Sox home run record of 50 set in 1938 and subsequently broke the record when he hit is 51st home run.
Personal Life
David Ortiz's mother Angela Rosa Arias died in a New Years car crash in January 2002 at the age of 46. He lives with his wife Tiffany and their three children: Jessica (born October 23, 1996), Alexandra (born March 22, 2001), and D'Angelo (born July 10, 2004).