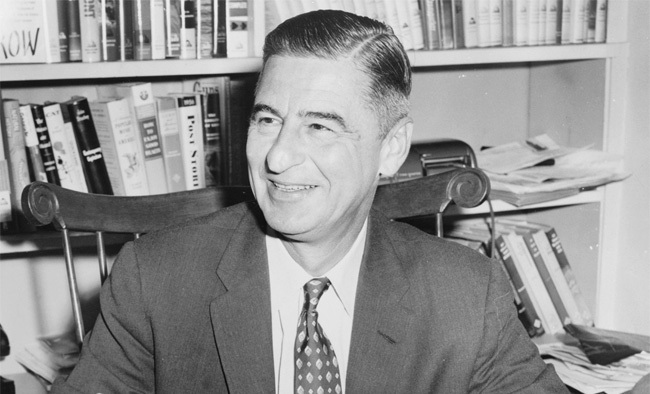 Biography of Dr. Seuss
Dr. Seuss is the infamous pseudonym that was used by American writer and cartoonist Theodor Seuss Geisel. Geisel specialized in children's books and has over 60 books published with over 200 million copies worldwide, translated into fifteen languages. His most popular books include the bestseller Green Eggs and Ham, The Cat in the Hat, and One Fish Two Fish Red Fish Blue Fish.
Geisel has over 50 decades of wonderful creations that have made their way from book pages to television, theater and Hollywood. He contributed to two Academy Award winning films while working in the animation department of Frank Capra's Signal Corps (U.S. Army).
Following his death on September 24, 1991, Geisel was inducted into the California Hall of Fame among other posthumous honors.
Early Life
Theodor Seuss Geisel was born in 1904 on Howard Street in Springfield, Massachusetts, to Henrietta Seuss and Theodor Robert Geisel. Ted's father and grandfather were successful brew masters in the city. Theodor Geisel's parents were from Germany and the onset of World War I and Prohibition presented both financial and social challenges for the German immigrants; the Geisels became the target of racial slurs. They became active in the pro-America campaign.
Geisel attended Springfield's Central High School and subsequently entered Dartmouth College in 1921. Whilst at college he joined the humor magazine Dartmouth Jack-O-Lantern, and soon became editor-in-chief, however his violation of the then national Prohibition laws forced him to resign from the magazine. Geisel discreetly continued his contribution to Jack-O-Lantern under the pen name "Seuss".
Dr. Seuss
After Geisel graduated from Dartmouth he attended Oxford's Lincoln College with the hopes of becoming a professor but dropped out before making this accomplishment; it was at Oxford that Geisel met his future wife Helen. After leaving Oxford Geisel decided to become a cartoonist and eventually signed on to a New York weekly named Judge. Geisel also continued to submit his illustrations to other bodies such as The Saturday Evening Post, Vanity Fair and Liberty
He was discovered by Standard Oil; a company that manufactured a pesticide called Flit, and began working in its advertising department. He became nationally famous from Flit advertising campaigns, though he also drew advertising for General Electric, NBC and many other companies. Geisel spent fifteen years in advertising.
During World War II Geisel served in Frank Capra's Signal Corps (U.S. Army) where he made war-type movie and a number of animated training films. He also contributed to two Academy Award–winning films called Design for Death released 1947 and Gerald McBoing-Boing released in 1950.
Geisel got the opportunity to illustrate a collection of children's sayings called Bones. The book received low reviews but Geisel's illustrations were a success. It was at this point that he realized his potential in children's literature and produced his first book And to Think That I Saw It on Mulberry Street. The book was rejected twenty-seven times before it was finally accepted by Vanguard Press.
The Cat in the Hat
After the war Geisel wrote many works, including If I Ran the Zoo, (1950), Scrambled Eggs Super! (1953) and How the Grinch Stole Christmas! (1957). In May 1954, Life magazine published a report on illiteracy among school children, which concluded that children were not learning to read because their books were boring. As such The Cat in the Hat was produced in response to a challenge for Geisel to "bring back a book children can't put down".
With the (international) success of The Cat in the Hat Geisel became the definitive children's book author and illustrator, a position he held for many decades.
Personal Life
After a long struggle with illnesses Geisel's wife died on October 23, 1967. In 1968 Geisel married Audrey Stone Dimond an old friend; she currently heads Dr. Seuss Enterprises. No children were produced from either marriage. Before his death Theodor Geisel earned two Emmy awards, a Peabody award, a New York Library Literary Lion and the Pulitzer Prize.