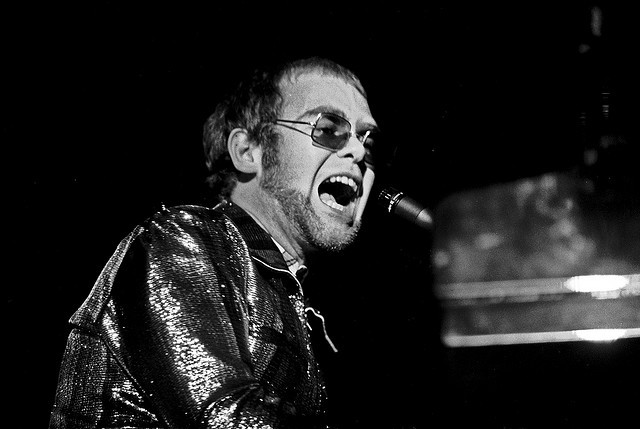 Photo by Heinrich Klaffs
Biography of Elton John
English singer-songwriter and Rock and Roll Legend Sir Elton Hercules John, was heralded the biggest popstar in the early 1970's. His accomplishments encompass five Grammy awards, an Academy Award, and Golden Globe Award steered by a musical career that boasts records sales of over 200,000 million dollars, 50 Top 40 hits, including seven consecutive No. 1 U.S. albums, 56 Top 40 singles, and nine No. 1 hits.
Elton John is also known as a prolific composer, producing works such as the Broadway musical The Lion King, 1998 for which he won 6 Tony Awards; Aida, 2000 (Tony Award for Best Original Score); and Billy Elliot the Musical, 2005 given the Olivier Award for Best Musical.
Elton's infamous singles include his 1997 bestselling single of all time Candle in the Wind. The song was a tribute to the late Diana, Princess of Wales; RIAA Gold Don't Go Breaking My Heart, and the high profile collaboration That's What Friends are For.
Photo by Heinrich Klaffs
Early Life and Music
Born Reginald Kenneth Dwight March 25, 1947 in Middlesex, England, the charismatic Elton John is the son of Royal Air Force Flight Lieutenant Stanley Dwight and mother Sheila Harris. Elton attended his local junior school Pinner Wood, and then Pinner County Grammar School. He left Pinner County at the age of seventeen before completing his General Certificate of Education in the hopes of pursuing a musical career.
Elton's musical talent was inaugurated at age three when he began playing the piano, and eight years latter qualified him for a junior scholarship to the Royal Academy of Music. Although his parents were musically inclined (his father was a member of the Bob Millar Band), they were slightly opposed to him embarking in that direction. Elton still grew up influenced by the sounds of Elvis Presley and Bill Halley & His Comets, thanks to his parents' home records.
In 1964, he and his friends formed his first band, Bluesology, and divided his time between playing with the group, giving solo concerts at a local hotel, and running errands for a London publishing house. Bluesology was originally a quartet and was part of a series of British blues band. The band backed American stars such as Doris Troy, Major Lance, and the Blue Belles featuring Patti LaBelle, with Elton on the keyboards; they were later signed as Long John Baldry's backing band and additional members were drafted. Though the band did European tours Elton decided to launch a solo career.
Elton failed a few auditions for lead vocalist before getting a break with Liberty Records to write music for songwriter Bernie Taupins lyrics. The duo produced the song Scarecrow in 1967 and by the time they met in person Elton had changed his birth name. Together they joined Dick James's DJM Records as staff songwriters in 1968 and collaborated on material for pop singers like Roger Cook and Lulu. During this period Elton lent his instrumental and vocal talents to other artists such as The Scaffold. The duo was also noted for their cohesiveness in producing and composing lyrics astonishing speed.
In the early 1970's Elton and Bernie produced fourteen albums including Elton John, Tumbleweed Collection and chart topper Captain Fantastic and the Brown Dirt Cowboy. The American number one gold mine Goodbye Yellow Brick Road became an all-time classic.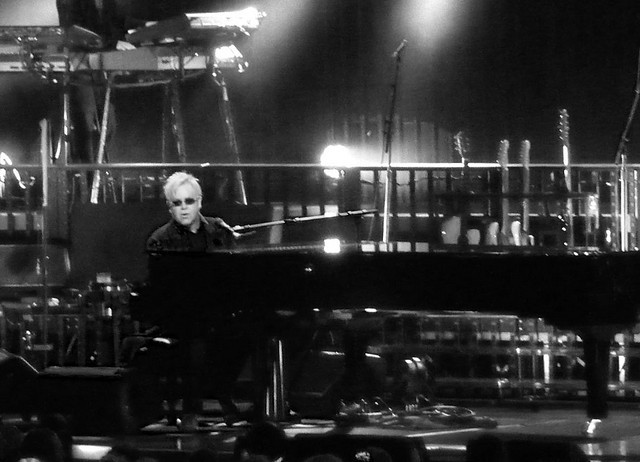 Photo by thart2009
Elton John the 1970's Popstar
Elton's road to fame was lined with the U.S. Top Ten single Your Song followed by Billboard 200 Top Ten album Tumbleweed Connection (1970), 1971 success album Madman Across the Water which spawned the hit single Levin, and American number one album Honky Chateau which spent five weeks at the top of the charts. Honky Chateau produced the hit singles Rocket Man (I Think It's Going to Be a Long, Long Time) and Honky Cat.
MCA Records pop album Don't Shoot Me I'm Only the Piano Player came out at the start of 1973, and produced U.S. number one hit Crocodile Rock and Daniel. Chart topper Goodbye Yellow Brick Road gained instant critical acclaim remaining at #1 for two months. The album contained sensations such as the self-named single Goodbye Yellow Brick Road, along with Candle in the Wind, Saturday Night's Alright for Fighting and Grey Seal.
In 1974 Elton collaborated with John Lennon where Elton covered The Beatles' Lucy in the Sky with Diamonds and Lennon's One Day at a Time, and in return Elton John performed on John's Whatever Gets You thru the Night. They reunited on stage at Madison Square Gardens with an incredible historical performance.
In the latter part of the '70s Elton followed through with elaborate stage shows, the live album Here and There (1976), hit duet with Kiki Dee Don't Go Breaking My Heart and his first UK Chart breakers Part-time Love and Song for Guy.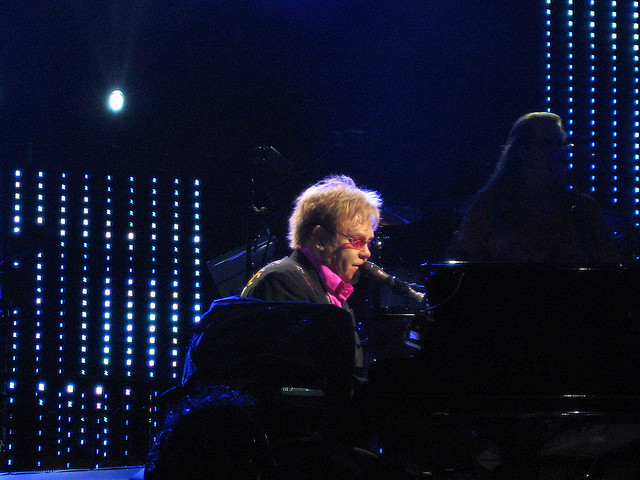 Photo by HitnRunTony
Elton John in the 1980's
1980 Elton and Bernie were reunited and produced the Top Ten album 21 at 33 followed by Jump Up! and Too Low For Zero. In 1994 he released the double platinum album The One. Elton composed the music for Disney's The Lion King which for which he won Best Male Pop Grammy and his first Academy Award. Further compositions included Broadway's Aida and Billy Elliot the Musical. Since 1997 Elton has held the record of biggest selling single of all time with his Diana tribute Candle in the Wind 1997.
Personal Life
Elton John is an open bisexual that has overcome the struggles of drugs, alcohol and bulimia. He has also overcome medical conditions such as angina. Elton's partner of several years is advertising executive David Furnish. Although he has no children of his own Elton is godfather to several children including the brood of the infamous Beckhams. In April 2009, the Sunday Times Rich List estimated Elton's wealth to be £175 million, and ranked him as the 322nd richest person in Britain.