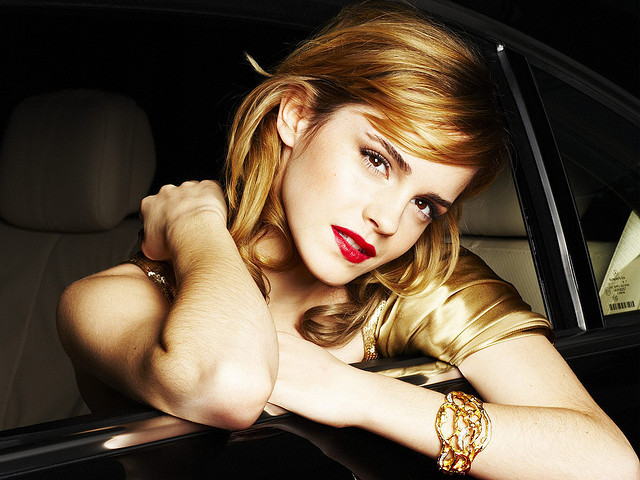 Photo by 916vince
Biography of Emma Watson
Emma Charlotte Duerre Watson is a British actress who became famous for her role as Hermoine Granger in the Harry Potter films. From 2001 to 2009, she starred in six Harry Potter films alongside Daniel Radcliffe and Rupert Grint. Emma also appeared in the television adaptation Ballet Shoes and the 2008 release of the animated film The Tale of Despereaux which grossed over US $70 million dollars in worldwide sales.
In her early career Emma has won several awards including American Moviegoers Outstanding Supporting Actress, Best Performance by a Young Actor (Saturn Awards), and Child Performance of the Year (Total Film Magazine).
Early Life
Emma Watson was born April 15, 1990 in Paris, France where she lived until age five. She is the daughter of British lawyers Jacqueline Luesby and Chris Watson. When her parents divorced Emma and her younger brother Alex moved to Oxford shire with their mother.
Recognizing her acting aspirations from an early age Emma's mother enrolled her at the Oxford branch of Stagecoach Theatre Arts, a part-time theatre school where she studied singing, dancing, and acting for a number of years. She performed is several Stagecoach productions and school plays unknowingly setting the foundation that would prepare her for future stardom.
Emma in Harry Potter
The Harry Potter fantasy film series is based on the seven Harry Potter novels by British writer J. K. Rowling, and is the highest grossing film series in history.
Emma was selected to audition for the Harry Potter role when casting scouts arrived at her school in search of talent. After several auditions she received confirmation that she had gotten the part of Hermoine Granger.
The first Harry Potter film (Harry Potter and the Philosopher's Stone) debut occurred in 2000. The success of the film along with Emma's acting prowess guarantee her return for another five films in the series. The last being Harry Potter and the Half-Blood Prince which was release July 2009.
The series, Emma's co-stars and Emma have been critically acclaimed, with recognition resulting in several awards and nominations
Life Outside of Harry Potter
During her filming time Emma continued her studies at the Dragon School and Headington School. She was considered a scholar, a sportswoman (field hockey) and an artist (for her poetry). Emma also appeared in the BBC drama Ballet Shoes that aired in 2007.
She began University in the fall of 2009.
Emma's Harry Potter Finale
Emma has once again rejoined her Harry Potter co-stars to film the seventh and final Harry Potter novel, Harry Potter and the Deathly Hallows is currently in production and will be released in two parts: Harry Potter and the Deathly Hallows: Part 1 which is set for release in November 2010 and Harry Potter and the Deathly Hallows: Part 2 due July 2011.