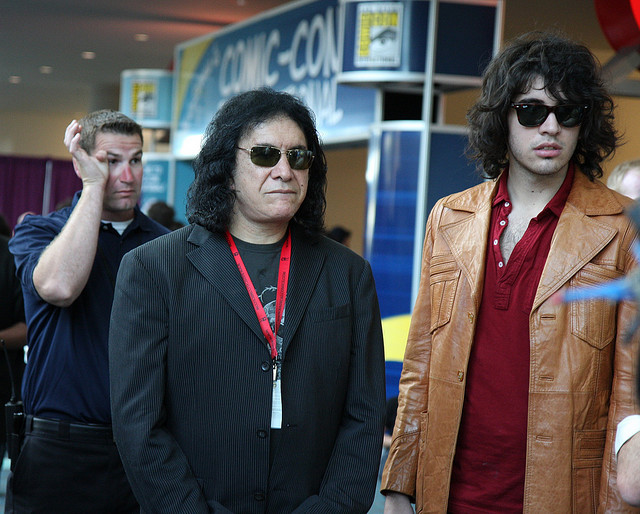 Photo by San Diego Shooter
Biography of Gene Simmons
Rocker Gene Simmons is one of the founding fathers of the American rock bank KISS, which was formed over three decades ago. The band as broken box office records set by the Beatles and Elvis, and has been recognized as America's number one gold record award winning group in history.
Early Life
Chaim Witz was born in Haifa, Israel in 1949, and grew up in New York City with his mother Florence Klein, a Jewish Hungarian immigrant. His father, Feri Witz, remained in Israel. After arriving in the U.S., Simmons changed his name to Eugene Klein (later Gene Klein), and later changed his name in the 1960s to Gene Simmons to honor legendary rock performer Jumpin' Gene Simmons. Simmons attended Sullivan County Community College in Loch Sheldrake, New York.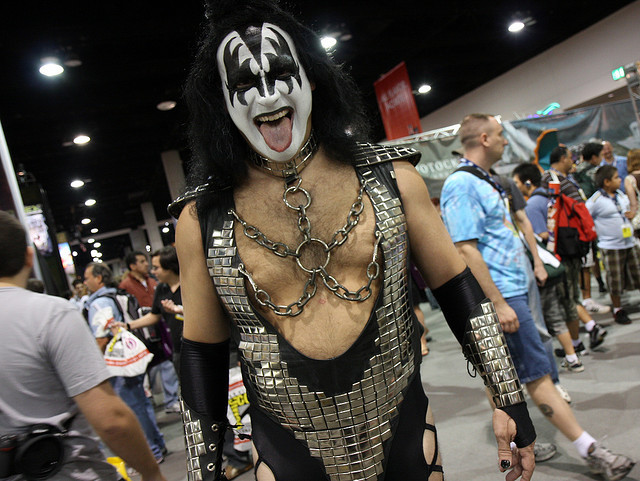 Photo by San Diego Shooter
Career
Simmons joined his first band, Lynx, when he was a teenager. The band was then renamed The Missing Links. He disbanded The Missing Links to form The Long Island Sounds. While he played in these bands, Simmons undertook odd jobs for financial support. He went on to join a new band, Bullfrog Bheer, which recorded the demo, "Leeta".
In the 1970s Simmons formed the rock band Wicked Lester with musician and songwriter Stanley Harvey Eisen (now known as Paul Stanley) and recorded an unreleased album. Dissatisfied with the band's image and performance, Simmons and Stanley left the group and walked away from a record deal with Epic Records.
Along with drummer Peter Criss, Simmons and Stanley formed a trio that began playing in Brooklyn clubs. They eventually found guitarist Paul Frehley, popularly known as Ace Frehley; with Stanley as the lead performer they became known as the band KISS. KISS scored a record deal with Casablanca Records & Filmworks and released its self-titled debut album in February 1974. The group became popular for their made-up faces and hard-rock performances; Simmons also became popularly known as "The Demon".
KISS' fame began to drop and, in 1983, its members took off their trademark make-up which helped them to regain popularity. Between 1996 and 1997 KISS went on a worldwide reunion tour and in 1998, the band released Psycho Circus, the first album in almost 20 years by the original line-up. Since then, Tommy Thayer replaced Ace Frehley on lead guitar and Eric Singer (who performed with Kiss from 1992 to 1996) replaced Peter Criss on drums.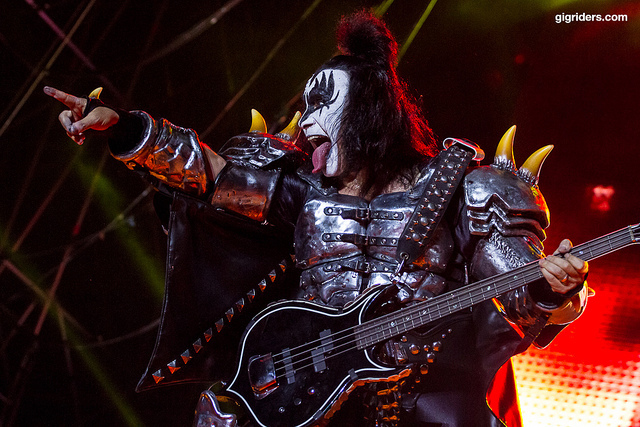 Photo by gaisler | gigriders.com
Success Story
KISS have sold over 80 million albums and played over 2,000 worldwide. Simmons made his first feature film appearance as his alter ego (The Demon from KISS) in the 1978 telemovie _KISS Meets the Phantom of the Park (1978)_ , which received poor reviews in the USA from TV critics despite its success with fans. Simmons subsequently made another appearance in the thriller Runaway in 1984. He has also appeared in minor guest roles on television shows including "Miami Vice", "Millennium" and "Third Watch".
KISS has had several gold and platinum albums; these include Kiss (1974), Destroyer (1976), Unmasked (1980), Asylum (1985), and Psycho Circus in 1998. Simmons also released his self-titled solo project album in 1978 which peaked at #22 on the Billboard album chart.