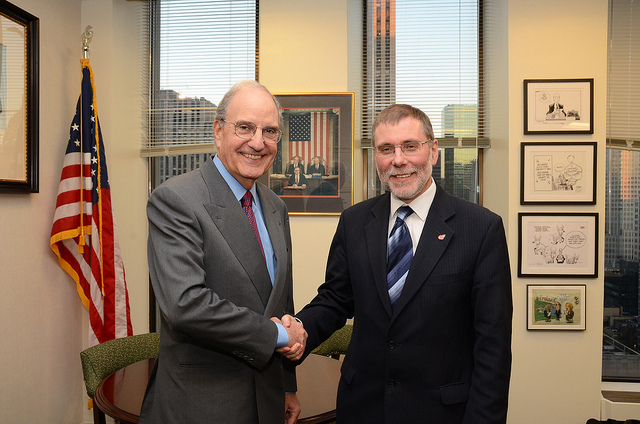 Photo by DUP Photos
Biography of George Mitchell
Middle East envoy for the Obama administration and former U.S. Senate majority leader, George Mitchell has earned a reputation as "a diplomat capable of untangling the world's knottiest disputes".
Mitchell has served as a director of the Walt Disney Company, Federal Express Corporation, Xerox Corporation, and Unilever, Staples, Inc., Starwood Hotels and Resorts and the Boston Red Sox baseball team.
In 2006, he was asked by the Commissioner of Baseball to lead an investigation of the use of performance-enhancing drugs in professional baseball. In addition to the Presidential Medal of Freedom, Senator Mitchell has received awards and honors including the Philadelphia Liberty Medal, the Truman Institute Peace Prize, the German Peace Prize and the United Nations (UNESCO) Peace Prize.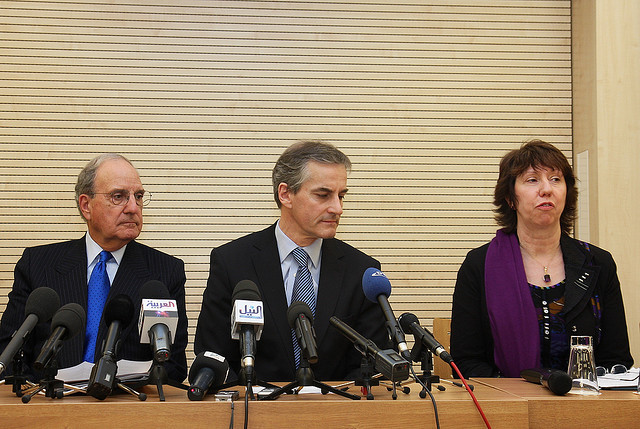 Photo by Utenriksdept
Early Life
George Mitchell was born in Waterville, Maine on August 20, 1933. His Lebanese mother immigrated to the United States at age eighteen and his father was the orphaned son of Irish immigrants. After graduation high school at sixteen, Mitchell received an undergraduate degree from Bowdoin College in 1954 and served in Berlin, Germany as an officer in the U.S. Army Counter-Intelligence Corps until 1956. He received his law degree from Georgetown University Law Center in 1960. He has since received an honorary LL.D. from Bates College.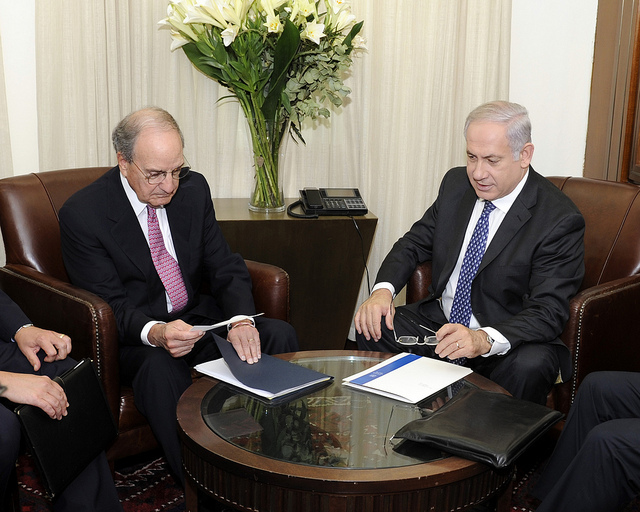 Photo by U.S. Embassy Tel Aviv
Judge Mitchell
From 1960 to 1962 George Mitchell served as a trial lawyer in the Antitrust Division, Department of Justice Department in Washington, D.C. He then became Executive Assistant to Senator Edmund S. Muskie of Maine, his tenure lasting from 1962 to 1965. In 1965 George Mitchell returned to Maine to practice law until 1977. He served as Deputy Campaign Manager for Senator Muskie's vice presidential campaign in 1968 and for his presidential campaign in 1972. In 1974 Mitchell was unsuccessful in his candidacy for Governor of Maine, but was appointed U.S. Attorney for Maine in 1977. In 1979 he became U.S. District Judge for Maine until 1980.
h2>Senator Mitchell
Mitchell was appointed on May 17, 1980, as a Democrat to the United States Senate to fill the vacancy caused by the resignation of Edmund S. Muskie for the term ending January 3, 1983. He was sworn in May 19, 1980 and won reelections in 1982 and in 1988. Mitchell served from May 17, 1980 to January 3, 1995; but was not a candidate for reelection in 1994. During his tenure he served as Deputy President pro tempore between 1987 and 1988, noted as the only Senator other than Hubert Humphrey to hold the post.
Photo by Chatham House, London
Senate Majority Leader
In 1988 Mitchell was elected Senate Majority Leader, the second most powerful elected official in the United States, a position he held for the next six years (1989-1995). His milestones during this period included the movement to reauthorize the Clean Air Act in 1990 and pass the Americans with Disabilities Act of 1990. The Senate also approved the North American Free Trade Agreement and the formation of the World Trade Organization. Mitchell led the Senate to passage of the nation's first child care bill and was principal author of the low income housing tax credit program.
Mitchell completed his last Senate term in 1995 and took on the role of Chairman of the International Commission on Disarmament in Northern Ireland and subsequently chaired the peace negotiations which successfully ended in an agreement between the Republic of Ireland and the British controlled North. Mitchell received the Presidential Medal for his work in Ireland.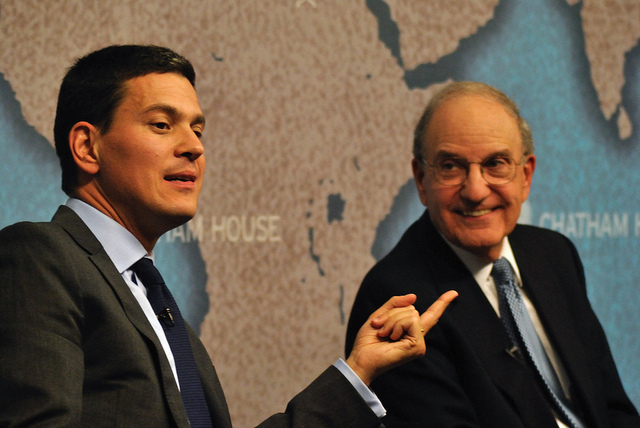 Photo by Chatham House, London
Special Envoy to the Middle East
In January 2009 Mitchell was appointed special envoy to the Middle East, serving on the direction of Secretary of State Hillary Clinton. Known as an expert negotiator Mitchell is expected to renew the American peace making efforts within the region, with focus on the unstable relationship between Israel and Hamas. He will also focus on nurturing a long-term peace deal between Israeli and Palestinian officials.