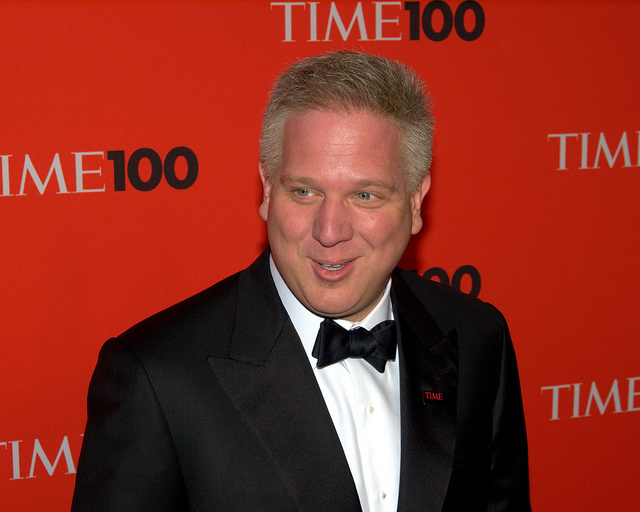 Photo by david_shankbone
Biography of Glen Beck
Glenn Beck is one of America's leading radio and television personalities. He is the host of The Glenn Beck Program the third highest rated radio program in America, and, Glenn Beck, one of the most successful new shows on the Fox News Channel. His unique writing skills and vivid imaginations propelled him to bestseller status, having number one New York Times bestsellers in both fiction and non-fiction.
Photo by Gerald Rich
Early Life
Glenn Beck was born in February, 1964 in Everett, Washington to parents William and Mary Beck. The family later moved to the Skagit County town of Mount Vernon, Washington and operated City Bakery in downtown Mount Vernon.
Beck attended Mount Vernon's private Immaculate Conception Catholic school and won a contest that landed him his first broadcast gig as a deejay for his hometown radio station, KBRC. After his parents divorce in 1977 Beck moved to Sumner, Washington where he was raised by his mother and attended school in Puyallup. Three years later his mother passed away.
After his mother's death, Beck and his older sister moved to their father's home in Bellingham, where Beck graduated from Sehome High School in 1982. After graduating from high school at age 18, Beck worked at radio station KAYK in Provo, Utah and subsequently accepted a job at Washington D.C.'s WPGC in February, 1983.
In 1996 Beck was admitted to Yale University through a special program for non-traditional students but dropped out shortly after. In 2002 Beck created Mercury Radio Arts, a media platform which produces his broadcast, publishing and online projects, as well as his live performances.
Photo by Mike Licht, NotionsCapital.com
Radio Personality
In the latter part of 1983 Beck moved to Corpus Christi, Texas, to work at radio station KZFM and two years later he was hired as the lead DJ for WRKA in Kentucky. The show slipped to third in the market and Beck left abruptly in 1987.
Beck was hired by Y-95. At 23 Beck co-hosted a "morning zoo" program with Arizona native Tim Hattrick. During his time at Y-95, Beck's rivalry with local pop radio station KZZP was found tasteless by his Y-95 colleagues. In 1989, Beck resigned from Y-95 to accept a job in Houston at KRBE, known as Power 104. After his termination from KRBE in 1990 Beck worked with several radio stations before he landed at WFLA (AM) in Tampa, Florida in 2000. It was there that he aired the first The Glenn Beck Program which proved successful for the radio station within one year.
In January 2002, Premiere Radio Networks launched the show nationwide on forty-seven stations. The show then moved to Philadelphia, broadcasting from new flagship station WPHT. In 2008 It was ranked 4th in the nation with over six and a half million listeners. Beck was the recipient of the 2008 Marconi Award for Network/Syndicated Personality of the Year from the National Association of Broadcasters.
Photo by Gage Skidmore
Further Endeavors
Beck is the author of three New York Times Bestsellers. When The Christmas Sweater, debuted at number one on the fiction list, Beck became one of a few authors to write books that reached number one on both the fiction and non-fiction NYT lists. His previous title, An Inconvenient Book, was a number one non-fiction bestseller and went through a remarkable nine printings.
In January 2006 Beck forayed into television with his CNN show Glenn Beck. At the end of his time at CNN-HLN, Beck had the second largest audience behind Nancy Grace and in 2008; Beck won the Marconi Radio Award for Network Syndicated Personality of the Year. As of January 2009 Glenn Beck moved to Fox News Channel.