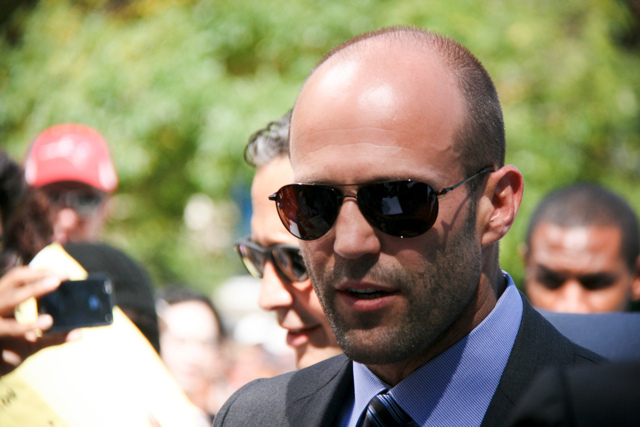 Photo by Marco Manna Photography
Jason Michael Statham was born on 12 September 1972. He is an English actor and martial arts expert. He is primarily known for his roles in the Guy Ritchie crime films: Lock, Stock and Two Smoking Barrels; Revolver; and Snatch. Statham has attained roles in many American films including: The Italian Job; The Transporter; Crank; The Bank Job; War and Death Race.
Background
Statham was born in Sydenham, London, England. Statham has a son, Aaron North who was born 1990 from a short-lived marriage to Debbie North which ended in 1989. After his marriage ended he moved to Great Yarmouth, Norfolk to do as his parents once did by mastering the art of street theatre.
Statham's was discovered by a talent agent who specialized in athletes while he was training at London's Crystal Palace National Sports Centre. Shortly thereafter he modeled for the clothing brand French Connection.
Career
It was during his time modeling for French Connection that he was introduced to the up and coming British director Guy Ritchie who was in the midst of producing a film project. Ritchie needed someone to fill the role of a street-wise con artist. Once he learned about Statham's past, Ritchie cast him to play the role of "Bacon" in his debut 1998 hit: Lock, Stock and Two Smoking Barrels. The movie opened to much critical acclaim and to the delight of audiences. The popularity of the film helped to give Stratham some notice. Statham would again work with Ritchie in the 2000 film Snatch. He was cast alongside famous actors Brad Pitt, Dennis Farina and Benicio del Toro. The movie was a great success earning more than $80 million at the box office. This became the break Statham needed to get himself recognized in Hollywood. He would subsequently appear in two movies by 2001: Ghosts of Mars and The One.
Statham would see the actualization of more film roles and by 2002 he acquired a starring role as the driver Frank Martin in the action movie The Transporter. His background in martial arts allowed him to perform most of his own stunts. It would lead to 2 sequels: Transporter 2 in 2005, and Transporter 3 in 2008. During this period he gained supporting roles in The Italian Job in 2003 in which he played Handsome Rob and Cellular in 2004. He also had a cameo in Collateral. He got the lead role in Crank (2006). In 2005, Statham was again cast by Ritchie to star in his new film, Revolver. His most recent films include: In the Name of the King: A Dungeon Siege Tal; Transporter 3 and Crank: High Voltage.
Statham is currently working on The Grabbers, written by David Peoples and Janet Peoples of Twelve Monkeys. Statham has been quoted as saying "We've got a movie we're trying to do, written by David Peoples and Janet Peoples, in the vein of an old film, The Treasure of the Sierra Madre. It's not a remake or anything, but it's a little bit like that, about relationships and how greed contaminates the relationships these three people have. The working title is The Grabbers."
He is expected to work with Ritchie once again in a new musical and will star in an action film The Killer Elite.