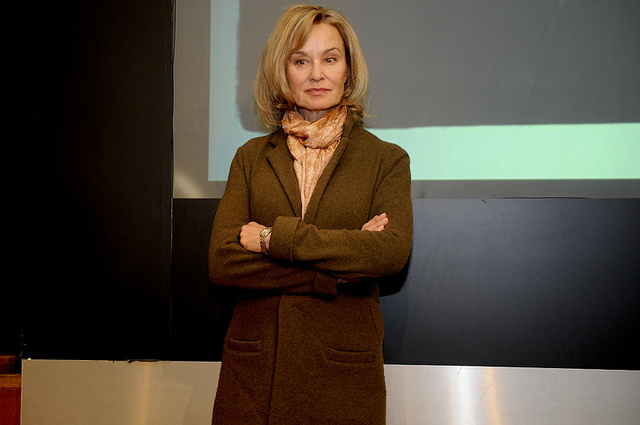 Photo by Casa de América
Overview
Jessica Phyllis Lange was born on April 20, 1949. She is an American stage and film actress. She has had a successful career that has lasted thirty-five years and that has produced six Academy Award nominations, two of which she has won. She is considerably recognized for her performances in Frances, Tootsie, Sweet Dreams, Blue Sky, and Grey Gardens.
She is the third of four children and was born in Cloquet, Minnesota. She is the daughter of Dorothy Florence and Albert John Lange, who was a school teacher and a salesman. Her mother was of Finnish descent, while her father was of German and Dutch descent. She majored in art for a short period at the University of Minnesota before leaving for Paris, France, where she specialized in mime with Étienne Decroux. She returned to New York City in 1973 and acquired acting lessons while she worked as a waitress and a fashion model hired by the Wilhelmina Models agency.
Career
In 1976, she was cast in the motion picture remake of King Kong by Dino De Laurentiis. While it marked the beginning of her career and it did well at the box office. The movie was blasted by critics . Subsequently Lange did not appear in any other film for three years. She was cast in the role of the glamorous figure of death in All That Jazz (1979) by Bob Fosse. The reviews were damning however critics soon realized her potentail when she assumed a role in Bob Rafelson's remake of The Postman Always Rings Twice (1981).
She went on to portray actress Frances Farmer in the 1982 film Frances. She received high praises for her performance and was nominated for the Academy Award for Best Actress. The year proved to be a good year for Lange as she earned another Academy Award nomination that year, for Best Supporting Actress in the 1982 comedy Tootsie. She won the Academy Award for the latter, Tootsie. Her performances throughout the 1980s and 1990s flourished in films including: Sweet Dreams (1985) in which she played Country/Western singer Patsy Cline; Music Box (1989); Men Don't Leave (1990) and Blue Sky (1994) which was directed by Tony Richardson. Her role in Blue Sky earned her the nomination and subsequent Academy Award win for Best Actress.
As of 2000, Lange has generally filled supporting roles. Her most recent role was in, Grey Gardens (2009), which was a remake of the 1970s cult documentary. She played Edith "Big Edie" Bouvier Beale for which she won an Emmy Award.
Lange is also known for her theatrical performances, she began working on Broadway in New York City opposite Alec Baldwin in Tennessee Williams's "A Streetcar Named Desire". She has also performed in the West End in London, United Kingdom, in 2000, as Mary Tyrone in Eugene O'Neill's "Long Day's Journey Into Night". In 2005, she again performed on Broadway in another Tennessee Williams play, "The Glass Menagerie" alongside Christian Slater.
Personal Life and Humanitarian Work
Lange had a brief marriage to photographer Paco Grande during the period 1970-1981. She has lived with playwright/actor Sam Shepard since 1982. She has three children, Aleksandra who was born in 1981 and was the product of her relationship with dancer/actor Mikhail Baryshnikov, Hannah Jane who was born in 1985 and Walker Samuel who was born 1987 with her current partner Sam Shepard. Lange presently resides in New York City.
Lange is a Goodwill Ambassador for the United Nations Children's Fund (UNICEF). She has also publicly criticized former U.S. President George W. Bush and has been quoted as calling his administration "a self-serving regime of deceit, hypocrisy and belligerence.".