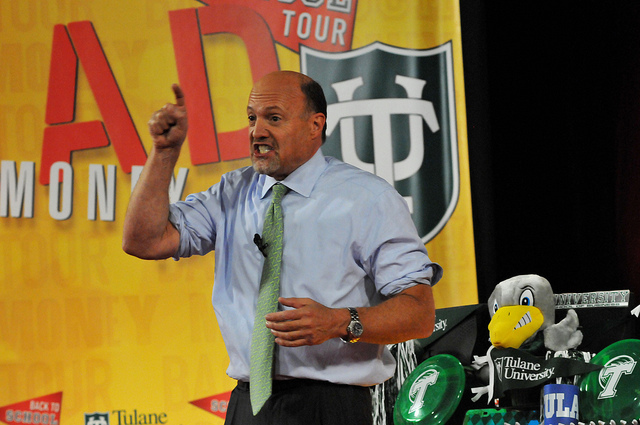 Photo by Tulane Public Relations
Early Life
James Joseph "Jim" Cramer was born on February 10, 1955. He is an American self-proclaimed infotainer, a television personality, a former hedge fund manager, and a best-selling author. He is the host of CNBC's Mad Money and also a co-founder of TheStreet.com. He is also a regular contributor to New York magazine and an on and off contributor to Time Magazine.
He was born to Polish-American parents in Wyndmoor, Pennsylvania. He attended Springfield Township High School in Montgomery County.
He graduated magna cum laude from Harvard College in 1977 with a Bachelors in government.
Career
He commenced his journalism career in college. He worked for the Crimson, and subsequently became its president. Once he graduated, he worked in many entry-level reporting jobs attempting to make a name for himself in journalism. In March 1, 1978, while for the Tallahassee Democrat in Tallahassee, Florida, he covered the Ted Bundy murders.
He soon went on to workas a journalist for The Los Angeles Herald Examiner. He was robbed during this time and was left with very little but the car he owned and a few paltry items. After this experience, he moved in with his sister in Greenwich Village. His sister was at this point in law school and persistently encouraged him to become a prosecutor. Cramer would go on to earn a Juris Doctor degree from Harvard Law School. However his ultimate goal to become a prosecutor was thwarted when he was rejected for employment with the Office of the United States Attorney for the Southern District of New York, headed at the time by Rudy Giuliani. This was as a result of his law school grades which were considered not good enough. He was later admitted to the New York State Bar Association in 1985 but is presently not a member.
He began privately investing in the stock market while still in law school, using his student loans. Cramer left stock picks on his answering machine, which impressed The New Republic owner Martin Peretz, who subsequently gave him $500,000 to invest; Cramer earned Peretz $150,000 in two years.
This proven track record of success helped him to acquire employment in 1984 as a stock broker in Goldman Sachs' Private Wealth Management division. His success in this position inspired him to created his own hedge fund, Cramer & Co. in 1987 which would later be called Cramer, Berkowitz, & Co.
Cramer boasted that he is worth $50 to $100 million in October 2005. He does not currently own any stock other than his stake in TheStreet.com, which trades for his charitable trust.
Response to Detractors
He has been the subject of much criticism ever since his controversial declarations about market manipulation. He responded to his critics by saying on March 9 2009 in a MainStreet article :
"The pundits who haven't paid attention to anything I have been saying or writing for the past 18 months are all over me………(the pundits) won't engage in the merits of, say, favoring Tier 1 capital for the banks vs. common equity, or forbearing on the banks to work the situation out over time because the banks can be profitable if we have some patience. They just attack me……It's time to get serious. It's time to take the issue from the pundits and from the left and right, and put it where it belongs: serious non-ideological debate to put out the real firestorm, the collapse of the economy from Wall Street to Main Street and the ensuing Great Wealth Destruction for all."