Photo by Stephen Dyrgas
Overview and Background
James Marshall "Jimi" Hendrix was born on November 27, 1942 and died September 18, 1970. He was an American guitarist, singer and songwriter. He is generally considered to be the greatest electric guitarist in the history of rock music by other musicians and commentators in the industry. He is also said to be one of the most important and influential musicians of his era across a wide range of genres.
He was born on November 27, 1942 in Seattle, Washington, during the period when his father was stationed at an Army base in Oklahoma. He was named Johnny Allen Hendrix by his mother, 17 year old Lucille Hendrix. He had two brothers, Leon and Joseph, and two sisters, Kathy and Pamela. His mother and father divorced when he was quite young. His mother died of cirrhosis of the liver soon after.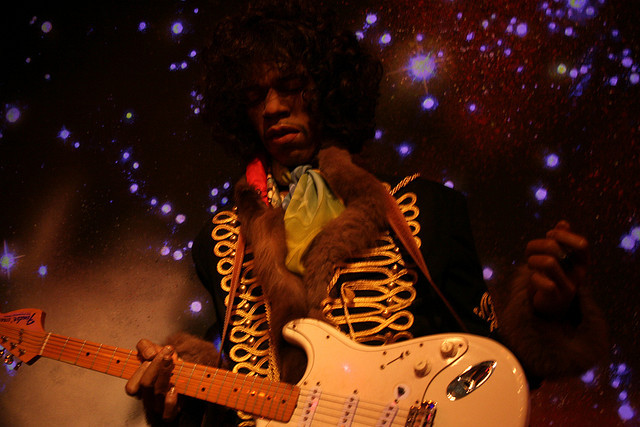 Photo by Miss Shari
Career
His success began in Europe, however he would soon achieve fame in the United States after his 1967 performance at the Monterey Pop Festival. Soon after this he headlined the highly rated 1969 Woodstock Festival and the 1970 Isle of Wight Festival. He prefered raw overdriven amplifiers with high gain and treble and assisted in the development of the once unfavoured technique of guitar amplifier feedback. He was one of the musicians who helped popularize the wah-wah pedal in mainstream rock which he typically used to create an exaggerated pitch in his solos, specifically with high bends and use of legato based around the pentatonic scale. He was said to be influenced by blues artists such as B.B. King, Muddy Waters, Howlin' Wolf, Albert King, and Elmore James, rhythm and blues and soul guitarists Curtis Mayfield, Steve Cropper and also by some modern jazz. He played and recorded with Little Richard's band from 1964 to 1965 and in 1966 he declared: "I want to do with my guitar what Little Richard does with his voice."
Hendirx was one of the first musicians to experiment with stereophonic and phasing effects for the recording of rock music.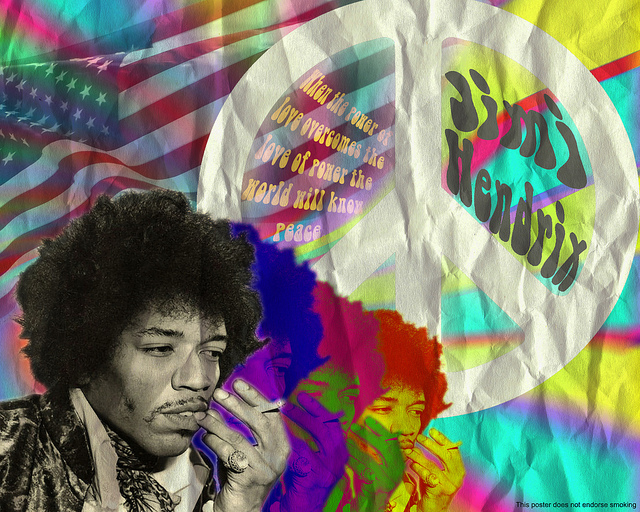 Photo by aguabend
Awards
Hendrix was very accomplished in his lifetime winning multiple awards. He has also been posthumously awarded several more awards, including an induction into the US Rock and Roll Hall of Fame in 1992 and the UK Music Hall of Fame in 2005. An English Heritage blue plaque was established in his name at his former residence at Brook Street, London, in September 1997. He also has a star on the Hollywood Walk of Fame at 6627 Hollywood Boulevard which was dedicated to the him in 1994. As of 2006, his debut US album, Are You Experienced, has been inducted into the United States National Recording Registry. In 2003 Rolling Stone named Hendrix the top guitarist on its list of the Rolling Stone's 100 greatest guitarists of all time. He was the first musician to be inducted in the Native American Music Hall of Fame.
Photo by Paul David Gibson
Death
Early on September 18, 1970, Jimi Hendrix died in London under very strange and controversial circumstances which to this day have not been satisfactorily explained. He had gone to a party the previous evening and was picked up by girlfriend Monika Dannemann. She drove him to her flat at the Samarkand Hotel, 22 Lansdowne Crescent, Notting Hill. It was in the morning at 11:27 am that ambulance crew and police came to the flat and discovered him dead. It appeared that he died from an alcohol overdose.
Jimi's death at age 27 made him the second member of the soon to expand Club 27 – a group of famous musicians who have all died at age 27.  Read Jimi's biography at Club 27.