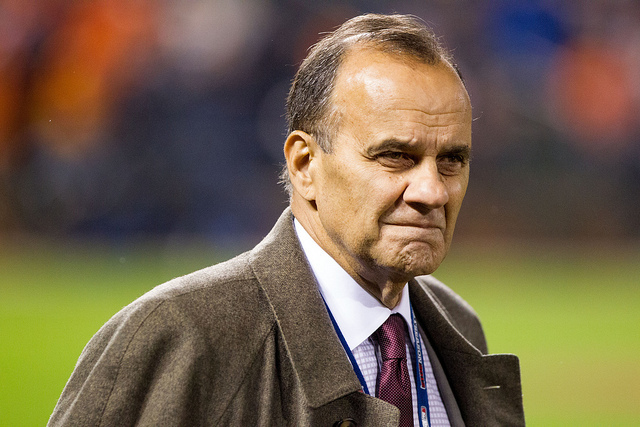 Photo by Keith Allison
Overview and Career
Joseph Paul Torre was born on July 18, 1940. He is currently the manager of the Los Angeles Dodgers and also a former Major League Baseball player. In his earlier years, he played for the Milwaukee/Atlanta Braves, New York Mets, and the St. Louis Cardinals. After his retirement as a baseball player, he went on to manage all three teams at different points in his management career. He has also managed the New York Yankees during the period between 1996 to 2007. During his tenure as manager, the Yankees reached the post season each year and won a total of ten American League East Division titles, six American League pennants, four World Series titles, and in entirety amassed a .605 winning percentage. Up until the 2009 season he has accumulated 2,246 wins , he currently ranks as 5th in all-time Major League Baseball all-time managerial wins. His unmistakable managerial success, especially his numerous achievements with the Yankees, have led many commentators to speculate that he will be a first-ballot Baseball Hall of Famer once he becomes eligible.
Personal Life
He has one child, a son, Michael, with his first wife, Jackie. He has two daughters, Lauren and Christina, with his second wife, Dani. His two first marriages ended in divorce. On the 23rd of August 1987, he married Alice (Ali) Wolterman. They are still married and have a daughter, Andrea.
He has an older brother, Frank who was also a Major League Baseball player. His other brother, Rocco – an NYPD officer, died in 1996.
He was once stricken with prostate cancer and successfully treated for it in 1999.
He greatly enjoys thoroughbred horse racing. He part owns Sis City, winner of the 2005 Ashland Stakes at Keeneland Race Course. She was the dominant 3-year-old filly that year until she came fourth in the May 6 Kentucky Oaks. However, a couple weeks after this point on June 26, Wild Desert, in which he is also a part owner, won the $1 million Queen's Plate which is the first leg of the Canadian Triple Crown. Wild Desert is also part owned by Keith Jones, an NHL player.
On the 14th December, 2005, he was bestowed the honour of carrying the Olympic Torch in Florence, Italy. He ran with it for 405 meters, and ended at the world famous Ponte Vecchio.
Joe Torre Safe at Home Foundation
He and his wife Ali established the Joe Torre Safe at Home Foundation. It was inspired by his experiences growing up, witnessing domestic violence in his home in Brooklyn. The foundation operates about a dozen domestic violence resource centres that have been deemed Margaret's Place, which was his mother's name. They are located in New York City and Westchester County, New York. He also supports other domestic violence prevention programs. During the period of September 2008, he recorded a public service announcement and his own personal voice message showing support for the "RESPECT! Campaign" against domestic violence.