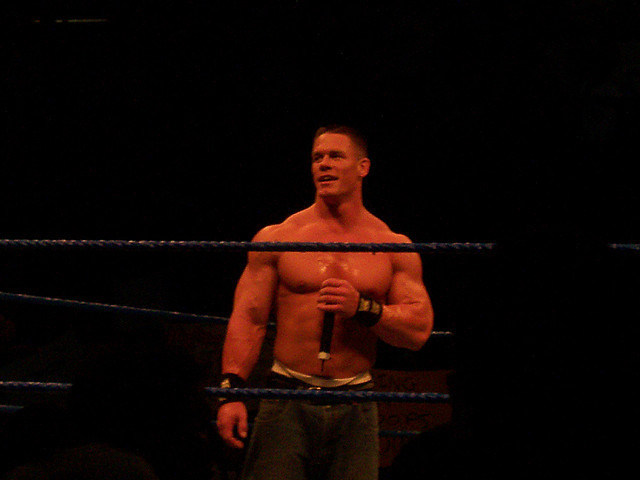 Photo by Snerkie
Overview and Background
John Felix Anthony Cena was born on April 23, 1977. He is an American actor, hip hop musician, and professional wrestler who is presently employed by World Wrestling Entertainment WWE on its Raw brand.
Cena was born in West Newbury, Massachusetts and is the second eldest of five brothers Dan, Matt, Steve and Sean. He graduated from Cushing Academy and then attended Springfield College in Springfield, Massachusetts. While in college he was a Division III All-American centre on the college football team. He wore the number 54, which may still be seen on some of his WWE merchandise. He went on to graduate from Springfield in 1998 with a bachelors in exercise physiology. Once he left college he pursued a career in bodybuilding and also had a job on the side as a chauffeur for a limousine company.
Photo by interbeat
Career
He has had a successful career in professional wrestling. He is a six-time world champion who has won the WWE Championship one time while on SmackDown and three times while on Raw and the World Heavyweight Championship twice while on Raw. He has also won the WWE United States Championship three times and the World Tag Team Championship two times, one time with Shawn Michaels and another time with Batista. He also won the 2008 Royal Rumble match.
Cena began his professional wrestling career in 2000, when he wrestled for Ultimate Pro Wrestling UPW, where he held the UPW Heavyweight Championship. By 2001, he signed a contract with the World Wrestling Federation WWF and was subsequently sent to Ohio Valley Wrestling OVW where he was awarded the OVW Heavyweight Championship and the OVW Southern Tag Team Championship with Rico Constantino.
Besides his career in wrestling, he has also released the rap album entitled You Can't See Me, which debuted at number 15 on the US Billboard 200 chart, and has starred in the feature films The Marine (2006) and 12 Rounds (2009). He has also made guest appearances on a few television shows including Manhunt, Deal or No Deal, MADtv, Saturday Night Live, and Punk'd. He has also been a contestant on Fast Cars and Superstars: The Gillette Young Guns Celebrity Race, where he succeeded to the final round before being eliminated. He placed third in the overall competition.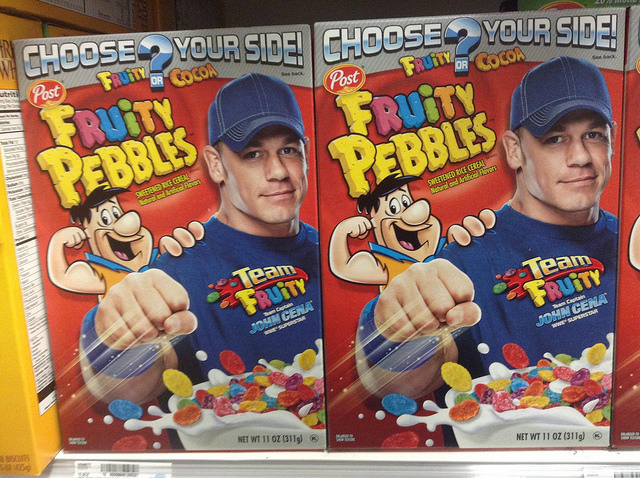 Photo by JeepersMedia
Appearances in Advertisements
Before he began his professional wrestling career he appeared in an advertisement for Gold's Gym. Since being a professional wrestler he has endorsed the energy drink YJ Stinger and appeared in these commercials at the start of October 2003. He has also appeared in advertisements for Subway along with their spokesperson Jared Fogle in November 2006, it aired the following January. For a period during 2007 he also endorsed two "signature collections" of energy drinks and energy bars sold by American Body Builders. In 2008, he also filmed a commercial for Gillette's "Young Guns" NASCAR campaign. As of 2009, he broadened his relationship with Gillette by establishing a new online campaign called "Be A Superstar" which features himself alongside WWE Superstars Chris Jericho and Cody Rhodes. This campaign incorporates videos to help guys look, feel and be their best.
Personal Life
During the period in which he was promoting his 2009 film, 12 Rounds, he announced his engagement to his girlfriend Elizabeth Huberdeau. They have since married as of July 11, 2009.