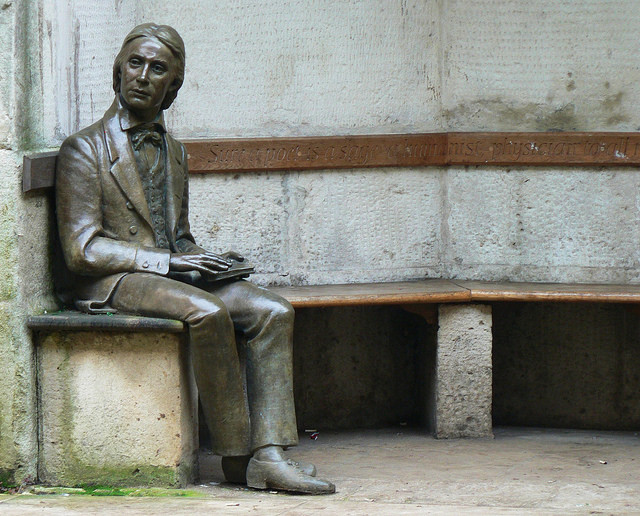 Overview
John Keats was born on the 31 October 1795 and died on the 23 February 1821. He was an English poet who is considered one of the major writers of the Romantic movement. In his brief life his work was not well received and was disdained by many periodicals of the day. However in death his influence on poets such as Alfred Tennyson and Wilfred Owen would be extraordinary. His poetry consisted of a an eloquent use of words and depictions of sensual imagery this is most evident in his series of odes . He is today one of literature' s most celebrated writers.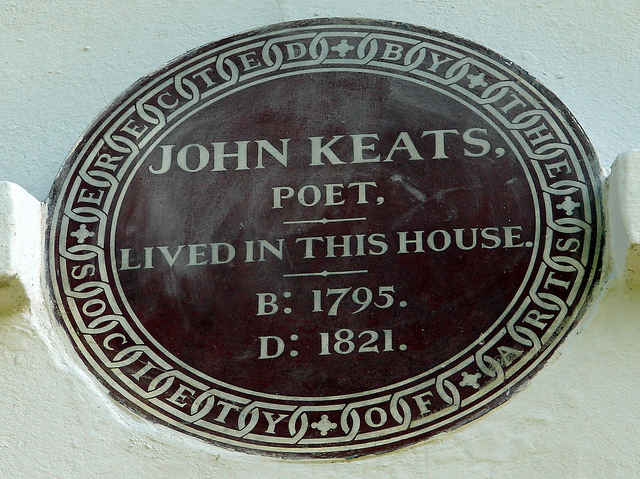 Photo by Simon Harriyott
Background and Life
Keats was born in 1795 in England. His father, Thomas Keats, was a hostler. His tragic story begins around the time of 1804 when his father died of a fractured skull after he fell from his horse. A year later his grandfather died. His mother, Frances Jennings Keats, had remarried after his father's death but did not live with her new husband very long. She moved with her four children to live with his grandmother, Alice Jennings. It was at this point that Keats would attend school and develop a fond love for literature.
In 1810 his mother died of tuberculosis, he and his siblings were left to the care of their grandmother. They were put under the care of guardians one of whom was Richard Abbey. Keats and his sister were not fond of Abbey who believed Keat's dream to be a poet ludicrous. He was removed from his old school to become a surgeon's apprentice at Thomas Hammond's apothecary shop in Edmonton. He ended his apprenticeship in 1814 after a conflict with his master. He then became a student at Guy's Hospital. He studied literature on his own during this period.
His grandmother died which meant he was left to look after his brother, Tom Keats. Tom was also stricken with tuberculosis. He completed his epic poem Endymion during that very sad period. He soon developed the notable symptoms of tuberculosis. His poem Endymion like his other poems was dismissed and denigrated by critics. On 1 December 1818 his brother died of the disease. Keats then moved to live in Brown's house in Hampstead. He lived beside Fanny Brawne, who at that time lived with her mother. He soon thereafter fell in love with Fanny. He was filled with feelings of love for fanny yet suffered greatly because of it. Fanny Brawne wrote in her diary when he had left Hampstead: "Mr. Keats has left Hampstead.". He requested that all his letters from Fanny be destroyed upon his death which they were. Despite this in 1937, a collection of 31 letters, written by Fanny Brawne to Keats sister, Frances, was published by the Oxford University Press. These letters revealed Brawne's true feelings toward Keats and appeared to try and clear her of her promiscuous reputation however it is not certain if her letters ever made much difference.
Photo by Ken_Mayer
His relationship was curtailed by 1820 when Keats began experiencing worse symptoms of tuberculosis. He left the frigid climate of London and moved to Italy with his friend Joseph Severn. He moved into a house, which has now been transformed into a museum to honour his life and works.
He succumbed to his disease on the 23 February 1821 and was buried in the Protestant Cemetery, Rome. His final request was that his tomb should read: "Here lies One Whose Name was writ in Water." He did not wish for his name to appear on his headstone. Severn and Brown also placed the epitaph on his tomb stone: "This Grave contains all that was mortal, of a YOUNG ENGLISH POET, who on his Death Bed, in the Bitterness of his heart, at the Malicious Power of his enemies, desired these words to be Engraven on his Tomb Stone" it was accompanied by the image of a lyre with broken strings.