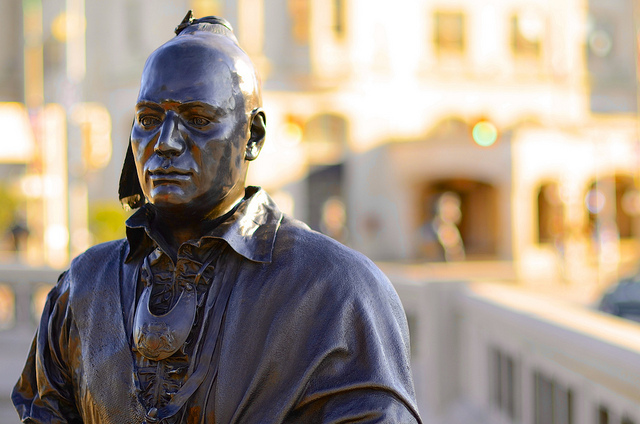 Early Life
Joseph Brant otherwise referred to as Thayendanegea was born March 1743 on the banks of the Cuyahoga River, at Cuyahoga, Ohio which is close to present day Akron, Ohio. His name Thayendanegea derives from the meaning that two wagers or sticks are binded together for strength or "he places two bets". He was born to Christian parents Peter and Margaret (Owanadah) Tehonwaghkwangearahkwa. When Brant's father passed on before 1753, his mother took him and his sister Mary to the province of New York, in Canajoharie – a Mohawk town on the Mohawk River – the place where his family had lived before moving to the Ohio River.
Brant's mother eventually married again to a Mohawk sachem named Brant Canagaraduncka on September 9th, 1753. This marriage improved Margaret and her family's fortune. Her new husband was wealthy and had huge ties with the British so Margaret lived in the best house in Canajoharie. During this time Brant got the opportunity to meet with many influential leaders in the colony.
Services
By the age of 15, Brant had taken part in a number of French and Indian War expeditions. These included the James Abercrombie's invasion of Canada via Lake George in 1758, William Johnson's Battle of Fort Niagara in 1759 and Jeffery Amherst's siege of Montreal via the St. Lawrence River in 1760. Later on he received a silver medal from the British for his services as one of the 182 Indians who participated in the wars. In 1761, Brant got the opportunity to study under the guidance of the Reverand Eleazer Wheelock at the 'Moors Indian Charity School in Connecticut. During his stay he learnt to read, write and speak English. Johnson was preparing a place for Brant to attend King's College in New York City but this plan was disrupted with the outbreak of Pontiacs Rebellion so Brant returned home. Wheelock later wrote that Brant was 'of a sprightly genius, a manly and gentle deportment and of a modest, courteous and benevolent temper'.
Later on Brant participated in an attack group in the Iroquois war parties in March 1764 that attacked the Delaware Indian villages in the Susquehanna and Chemung valleys. He then became a translator for the British Indian Department and was appointed as the departmental secretary with the rank of captain for the new British Superintendent's Indian warriors from Canajoharie. He also became a British Officer who helped the British to win several major battles. At the end of his legacy Brant was noted for his contributions as a Mohawk chief who helped to gain Indian support for the British in the French and Indian Wars. Brant's tribe attacked the American settlers to aid the British in the American Revolution. After the war, he was unable to receive land from the American government and so relocated to Canada's modern day Ontario until his final days.
Personal Life
Brant spoke at least three and possibly all of the Six Nations languages. Around 1768 Brant got married to Christine in Canajoharie, the daughter of an Oneida chief who he met while in school. After Brant's stepfathers death he and his family lived in his home and had a large farm which he used to raise corn, as well as cattle, horses, sheeps and pigs. His wife first died in March of 1771 from tuberculosis. Brant then moved to Fort Hunter in the spring of 1772 and became a teacher of Mohawk and an interpreter for Reverand John Stuart. He became an Anglican and teamed up with Reverand to translate the Anglican catechism and the Gospel of Mark into the Mohawk language. Later on Brant returned to Canajorie in 1773 and married his previous wife Peggie's half sister Susanna who would also pass on before Brant. On November 24, 1807 Joseph Brant died in his house at the head of Lake Ontario. His remains were then taken 34 miles to a tomb at Her Majesty's Chapel of the Mohawks in Bratford.