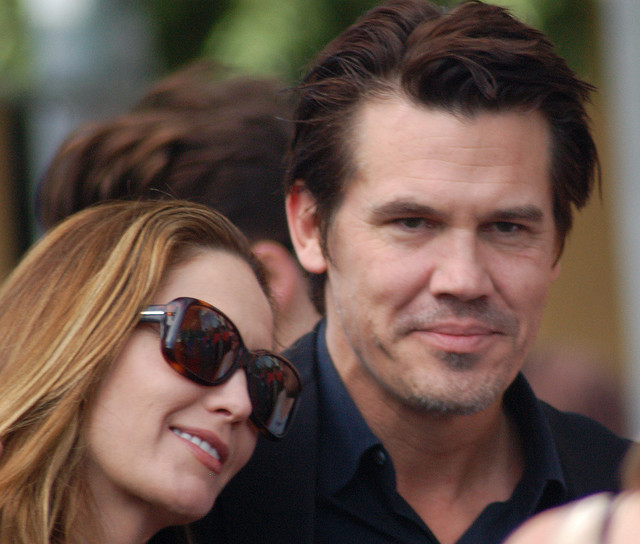 Photo by Sharon Graphics
Early Life
Josh Brolin was born on February 12, 1968 in Los Angeles, California. He is the son of actor James Brolin and mother Jane Cameron Agee who is a wild life activist and native of Corpus Christi, Texas. Although Brolin was never really exposed to his father's acting career, he took acting class during high school and played a part in a school production of 'A Streetcar named desire.' This move intrigued and motivated him to pursue acting as a career in the future. When Brolin was 18 his parents' got a divorce and his father later married to Barbra Streisand who is now his step mother. Brolin also goes by the childhood nick name 'Dirty' to which he is sometimes referred to.
Career
At first Brolin started out in guest spots on TV shows and movies until he got a break in the 1985 movie 'The Goonies' directed by Richard Donner where he played the role of Brand Walsh. In 1987 he was offered a role in the series '21 Jump Series' directed by Tom Hanson but turned it down to perform in the series of 'Private Eye' which only lasted for half a season. The role in 21 Jump Series was eventually taken by Johnny Depp and Brolin eventually guest-starred in an episode in its first season.
Brolin also appeared in several stage roles in Rochester, New York for several years alongside mentor and friend Anthony Zerbe. One of Brolins more prominent roles early on in his career came in Wild Bill Hickock in the ABC western TV series; 'The Young Riders' which lasted for three seasons from 1989 to 1992. Two other TV series in which he was involved was in the 1994's 'Winnetka Road', an Aaron Spelling production and 2003's Mister Sterling both of which were cancelled after a few episodes.
Brolin went on to do a lot of supporting in villainous roles in movies such as 'Milk' directed by Gus van Sant. His performance in this movie earned him an Oscar nomination for Best Supporting Actor. Another movie was 'Grindhouse: Planet Terror' directed by Quentin Tarantino and Robert Rodriguez, Acadamy Award winning film 'No Country for Old Men' and his biggest box office success in 1997's American Gangster which grossed US$265,495,454 worldwide. In 2008 he starred in the film W, directed by Over Stone which was a biopic on key events in the life of President George W. bush. It is said that initially Brolin was hesitant but eventually went along. Outside of acting Brolin is the co-founder of the website MarketProbability.com and also an active stock trader.
Personal Life
Brolin has two children, Trevor Mansur and Eden. Eden was conceived from a previous marriage to actress Alice Adair and Trevor Mansur from his current marriage with Diane Lane who he has been married to since August 15, 2004. Brolin was arrested on a misdemeanor charge of domestic battery on December 20, 2004 when his wife called the police. It was reported that he and his wife got into an altercation; Lane however, did not press any charges against Brolin. The couple's spokesperson later stated that the incident was a misunderstanding.
Brolin, actor Jeffrey Wright and five other crew members of W were arrested on July 12, 2008, after an altercation at the Stray Cat Bar in Shreveport, Louisiana. After posting a cash bond of US$334, Brolin was released and ultimately all charges against all seven men were dropped by Shreveport prosecutors.
Filmography
The Goonies (1985)
Thrashin (1986)
Private Eye (1987)
The Young Riders (1989)
Outer Limits: Season 1: Episode 8 (1985)
Bed of Roses (1996)
Flirting with Disaster (1996)
Mimic (1997)
Nightwatch (1997)
The Mod Squad (1999)
Best Laid Plans (1999)
It's the Rage (1999)
Picnic (2000)
Hollow Man (2000)
Slow Burn (2000)
Mister Sterling (2003)
Melinda and Melinda (2005)
Into the West (2005)
Into the Blue (2005)
The Dead Girl (2006)
Grindhouse – Planet Terror (2007)
In the Valley of Elah (2007)
No Country for Old Men (2007)
American Gangster (2007)
W (2008)
Milk (2008)
Jonah Hex (2010)
Wall Street 2: Money Never Sleeps (2010)