Photo by dcnerd
Early Life
Julianne Moore was born Julie Anne Smith on December 3, 1960 at Fort Bragg near Fayetteville, North Carolina. She was born to mother, Anne Love Smith who was an immigrant from Greenock, Scotland and father Peter Moore Smith. Her mother worked as a psychiatric social worker and her father was an army colonel, military lawyer, judge and helicopter pilot. Julianne has a younger sister Valerie and brother Peter Moor Smith III who is a novelist.
Due to her father's involvement in the military, Julianne lived in several places across Germany and the United Stated while growing up and was considered an 'army brat'. She attended J.E.B. Stuart High School in Falls Church, Virginia and Frankfurt America High School in Frankfurt, Germany and graduated in 1979.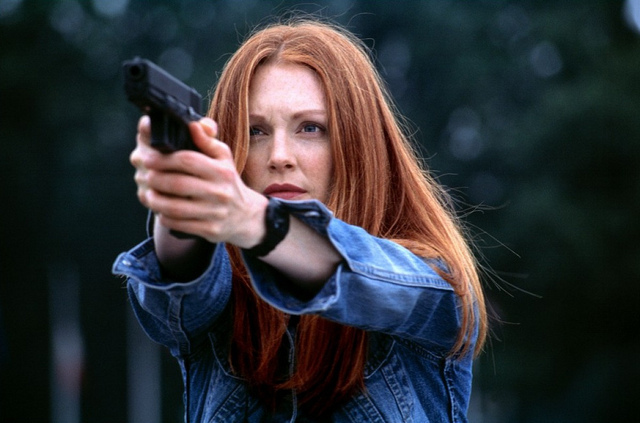 Photo by quicheisinsane
Career
In 1983, Moore moved to New York City to work as waitress and used this time as an opportunity to cast for various roles. She eventually got cast in the dual roles of Frannie Hughes and Sabrina Hughes on the soap opera: As the World Turns which she played from 1985 to 1988. Her performance in the television series earned her a Daytime Emmy Award. In 1987 she became a part of a junior company in New York premier of Caryl Churchill's Serious Money at The Public Theater. Due to the Screen Actors Guild, she had to change her name because two other actresses already had the names Julie Smith and Julianna Smith so she chose her middle name Moore as her last. There was also another actress named Julie Moore so she had to use Julianne as her first name.
In the 1990's she began starring in feature films and supporting roles in films like 'The Hand That rocks the Cradle, Benny & Joon' and 'The Fugitive'. She later gained acclaim for her performance in the 1993's 'Short Cuts'. In the late 1990's to early 2000's she started to appear in a series of films that receive Oscar recognition, including her roles in Boogie Nights (Best Supporting Actress nomination) The End of the Affair (best Actress nomination) and her two 2002 films, Far from Heaven (Best Actress nomination and The Hours (Best Supporting Actress nomination). She also gained commercial success for her role in the movie Hannibal and The Forgotten. Outside of film, Moore made her Broadway debut in David Hare's play Vertical Hour on November 2006 which was directed by Sam Mendes.
Outside of her acting career, she is signed to IMG Models in New York City and since 2002 has been a celebrity spokes model for Revlon. She has made appearances on print ads and commercials that include Halle Berry, Kate Bosworth, Jessica Alba and Susan Sarandon. In October 2007, Moore made her literary debut with the publication of Freckleface Strawberry, a children's book based on her experience as a child and created a follow up with the second book titled Freckleface Strawberry and the Dodgeball Bully in April, 2009.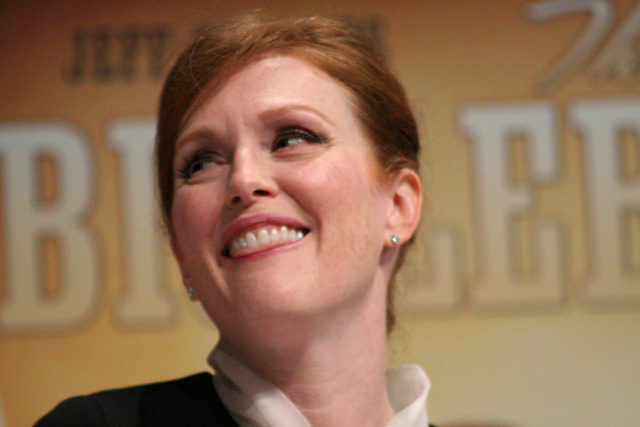 Photo by vidmon
Personal Life
Moore currently lives in West Village, New York with her family which includes her husband, Bart Freundich and her two children; son Celeb and daughter Liv Helen. She has been with Freundich since 1996 and has been married since August 23, 2003. Moore has stated that she is concentrating more now on raising her children versus her acting career but has stated that she feels fortunate that she and her husband have such flexible jobs which allows them the time to be parents as she loves when her family can accompany her while doing her films.
On April 29, 2009 Moore's mother Anne Love Smith passed away in Easton, Maryland at the age of 68. As for other academic achievements, Julianne has received her Bachelor's degree from the College of Fine Arts at Boston University.
`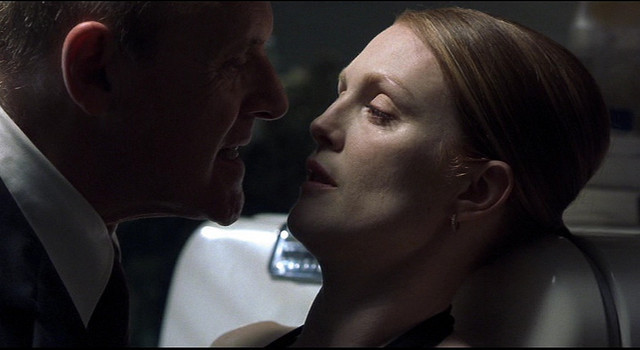 Photo by FatBusinessman
Filmography
Slaughterhouse II (1989)
Takes form the Darkside: The Movie (1990)
An Adult Comedy (1990)
Cast a Deadly Spell (1991)
The Hand That Rocks The Cradle (1992)
The Gun in Betty Lou's Handbag (1992)
Body of Evidence (1993)
Benny & Joon (1993)
The Fugitive (1993)
Short Cuts (1993)
Vanya on 42nd Street (1994)
Roommates (1995)
Safe (1995)
Nine Months (1995)
Assassins (1995)
Surviving Picasso (1996)
The Lost World: Jurassic Park (1997)
The Myth of Fingerprints (1997)
Boogie Nights (1997)
The Big Lebowski (1997)
Helicab (1998)
Psycho (1998)
Cookie's Fortune (1990)
An Ideal Husband (1999)
A Map of the World (1999)
The End of the Affair (1999)
Magnolia (1999)
The Ladies Man (2000)
Not I (2000)
Hannibal (2001)
Evolution (2001)
The Shipping News (2001)
World Traveler (2001)
Far From Heaven (2002)
The Hours (2002)
Marie and Bruce (2004)
Laws of Attraction (2004)
The Forgotten (2004)
The Prize Winner of Defiance, Ohio (2005)
Freedomland (2006)
Trust the Man (2006)
Children of Men (2006)
Next (2007)
I'm Not There (2007)
Savage Grace (2008)
Eagle Eye (2008)
Blindness (2008)
Shelter (2009)
The Private Lives of Pippa Lee (2009)
A Single Man (2009)
Chloe (2009)
The Kids Are All Right (2010)
Boone's Lick (2010)