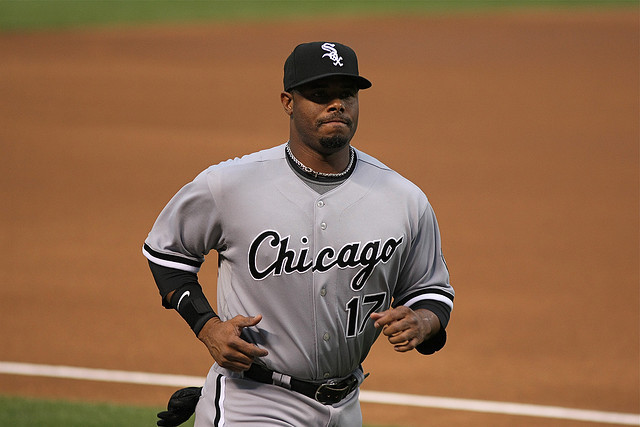 Photo by Keith Allison
Early Life
Ken Griffey was born George Kenneth "Ken" Griffey Jr on November 21, 1969. He shares birthday and birthplace with baseball Hall of famer, Stan Musial. While growing up his father, Ken Griffey Sr played baseball for the Cincinnati Reds so his family had to move to Cincinnati, Ohio when Griffey was only 6 years old. Griffey attended the Archbishop Moeller High School where he participated in both football and baseball. While in high school, he went on to become baseball player of the year from 1986 to 1987.
Career
In the 1987 amateurs draft pick, Griffey was selected with the first overall pick of that year by the Seattle Mariners where he played eleven seasons from 1989 to 1999. During the 1990's he was a frequent participant in the All-Star Game. Between 1990 and 1991, Griffey and his father became the first son and father to play on the same team at the same time and to also hit back to back home runs together. In 1993 while playing at the MLB Home Run Derby, he hit the warehouse beyond the right field wall on the fly and as of September 2009 is still the only player ever to do so.
In 1994 Griffey received the most votes for any player as an All Star game selection and in 1997 he won the American League's Most Valuable Player Award when he hit 304 with 56 home runs and 147 RBls. By 1999 he had ranked 93rd on the Sporting News list of 100 Greatest baseball players which was compiled during the 1998 season. While playing with the Seattle Mariners, he was a 10 time American league Gold Glove winner, the 1992 All-Star Game MVP, 1997 AL MVP, 1998 ESPY co-winner for Male Athlete of the year, 1999 Player Choice Awards Player of the decade and was named to the All-Century team in 1999. After his 1999 season, Griffey requested a trade to the Cincinnati Reds for Brett Tomko, Antonio Perez, Jake Meyer and Mike Cameron because he wanted to be closer to family. It was reported that he was very pleased with playing on his father's former team even though he had played with Seattle since age 19.
During his time at Cincinnati his statistics fell below his usual level of play: in 145 games he hit 271 with 40 home runs. He also started to receive multiple injuries which helped to lower his bat speed which resulted in less power and fewer home runs and he was eventually forced to miss 260 out of 486 games from 2002 through 2004 which diminished his skill and his reputation as a star. He later on expressed that he would want to play for Seattle again if the opportunity granted itself.
Griffey became the standard by which center field defense was judged. Griffey had his own signature sneaker line with Nike Inc and was also featured on the Wheaties cereal box. On June 20, 2004 Griffey became the 20th player to hit 500 career home runs, at Busch Stadium in a game against the St. Louis, Cardinals. That same season he would suffer from a right hamstring injury that tore off the bone completely and placed him on the disabled list. This caused him to do an operation on his leg to reattach his hamstring. Griffey eventually played with the Chicago White Sox and then made it back to the Seattle Mariners where he still currently plays. Griffey's baseball career profile has racked in 1,752 hits, 398 home runs, 1,152 RBls and 167 stolen bases which established him as one of the most prolific players and one of the best baseball layers overall of his era.
Personal Life
On November 18, 2008, Griffey was named an American Public Diplomacy Envoy by then Secretary of State Condoleezza Rice. Ken Griffey is married to wife Melissa Griffey and has three children together, George Kenneth III and daughter Taryn Kennedy and an adopted son named Tevin Kendall. In 2008, Griffey founded 'The Ken Griffey Jr Family Foundation, which is a fund that supports several causes for different children's hospitals across American and the Boys and Girls Clubs of America. Griffey was diagnosed with pleurisy in April of 2007 which is an inflammation of the lining of the cavity surrounding the lungs called the pleura. Infections are normally the most common cause of pleurisy. It is known to cause painful respiration when the inflamed pleural layers rub against each other due to the lungs expanding to breathe in air and a list of other symptoms.