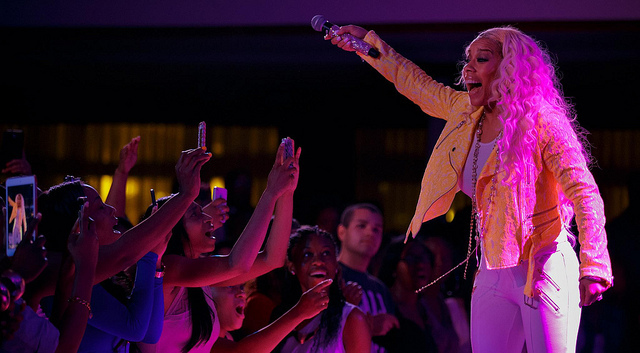 Photo by The USO
Life & Career
Keyshia Miesha Johnson, known as Keyshia Cole was born on October 15th, 1981 in Oakland California, United States. Keyshia Cole is a singer, songwriter and also had her own reality show which was aired on BET between 2006 and 2008. During her musical career Keyshia Cole has gone on to release three albums which have achieved major success. Her first album being 'The Way It Is' released in June, 2005 followed by 'Just Like You" in September, 2007 and 'A Different Me' which was released in December, 2008.
Before rising to prominent success, Cole worked on numerous projects including productions from movies like Barbershop 2: Back in Business and Step Up Soundtracks. These musical efforts helped to boost her career and in 2004 her work caught the attention of A&M records Executive Ron Fair. Soon after her first single called 'I changed my mind' which was produced by Kanye West was released on November 9, 2004. Keyshia Cole cited that Brandy and Mary J. Blige are among her biggest musical influences and inspiration.
The release of her first album led to Keyshia Cole starring her own reality series, titled from her album which also featured members of her family and was filmed in Atlanta, Georgia. The show premiered and created record breaking views for BET. The TV series was also rated as the top returning series premier in BET's history and as well as the number one original series premier of the year. It is reported that 2.9 million viewers and 2 million households watched the season 2 finale and is also considered the number 1 series telecast in Bet's history. Season 3 of the series was filmed in summer 2008 and premiered on November 11, 2008. However, after that Cole concluded that there would not be a fourth season. Cole's mother and sister went on to debut their own reality show titled Frankie & Neffie that airs on BET.
Her second album was nominated for four (4) Grammy awards in the categories of 'Best Contemporary R&B Album', 'Best Rap/Sung Collaboration' at the 2008 Grammy Awards and 'Best Female R&B Vocal Performance' and 'Best R&B Song' at the 2009 Grammy Awards. This album featured the singles ,Shoulda Let You Go, Let it Go which featured Missy Elliot and Lil Kim, Last Night featuring Diddy, I Remember and 'Heaven Sent'. Heaven sent was released on March 7th of 2007 and debuted at number one. During this time her career was on a steady rise and she appeared on the cover of several magazines such as Sister 2 Sister, Essence, VIBE, Jet and Dub.
On October 21st, 2008 Cole's lead single titled Playa Cardz Right featuring Tupac from her third album. Upon release the album debuted at number two on the U.S Billboard 200. Her third single from that album was recently released titled 'Trust' which features Monica which is doing well on the U.S. Billboard Hot R&B/Hop Hop Songs. For this album she embarked on a touring campaign called 'A Different Me Tour' with other artist such as Bobby Valentino, Keri Hilson and The Dream. After the release of this album, Cole was featured again on the March 2009 Issue of Vibe along with Yvonne Cole on the June Issue of Sister 2 Sister.
In August of 2009, Keyshia began working on her fourth Studio Album which is said to be due by Valentine's Day 2010. On this project it is said that Keyshia would be working with producers such as Kanye West, The Runners, and Missy Elliot. During her musical career Keyshia Cole has also been featured on songs with other artist. She appeared on the track 'Boyfriend/Girlfriend' with the hip hop band C-Side, with rapper Trina on the song 'I Got a Thang for you', with Singer Keri Hilson on 'Get Your Money Up' and also in the song called 'Game's Pain' with rapper The Game. In 2008 Keyshia Cole was featured with a group of hip hop, R&B and pop artist in a charity song titled 'Just Stand Up' which was done to raise money in aid of extensive cancer research. The collaboration of these artists helped the American Association for Cancer Research to award 73.6 million dollars towards groundbreaking cancer research.
Discography
The Way it Is (2005)
Just Like You (2007)
A Different Me (2008)
Keyshia (2010)
Tours
2007: Dreamin Tour (Performing with Young Jeezy)
2007: Double up tour (Opening for R. Kelly)
2008: I am Music Tour (Opening for Lil Wayne)
2009: A Different Me Tour (Headliner)
Filmography
Television
2005: All of Us (Guest Appearance)
2006 – 2009: Keyshia Cole: The Way It Is
2008: Snoop Dogg's Father Hood (Guest Appearance)
Paris Hilton's My New BFF (Guest Apperance)
BET's 106 & Park (Guest Apperance)
Films
How She Move (2008) – Herself
Why Did I Get Married Too? (2010) – Jada
Awards & Nominations
2005
Win Vibe Award (Tied with Young Jeezy) for the Next Award
Vibe Award (Nomination for R&B Voice of the Year & Vibe Vixen
NAACP Image Awards: Nomination for Best New Artist
BET Awards: nomination for Best Female R&B Artist & Viewers Choice
2006
Soul Train Awards: Nomination for Best Female R&B/Soul Single & Best Female R&B Soul
Album
American Music Awards: Nomination for favorite Female Artist
2007
Soul Train Music Awards: Nomination for Best Female R&B/Soul Single
Urban Music Awards: Nomination for Best Collaboration 2007
BET Awards: Nomination for Best Collaboration
Win ASCAP: Award for R&B/Hip Hop Song (Love)
2008
Grammy Awards: Nomination for Best Rap/Sung Collaboration (Let It Go)
Grammy Awards: Nomination for Best Contemporary R&B Album (Just like You)
BET Awards: Nomination for Best Female R&B Artist
BET Awards: Nomination for Best Collaboration (Let It Go)
BET Awards: Nomination for Viewers Choice Award
Early Entertainment Awards: Win for Video of the Week (Heaven Sent)
2009
Grammy Awards: Nomination for Best R&B Song (Heaven Sent)
Grammy Awards: Nomination for Best Female R&B Vocal Performer (Heaven Sent)
BET Awards: Nomination for Best Female R&B Artist
American Music Award: Nomination for Favorite Female R&B Soul Artist