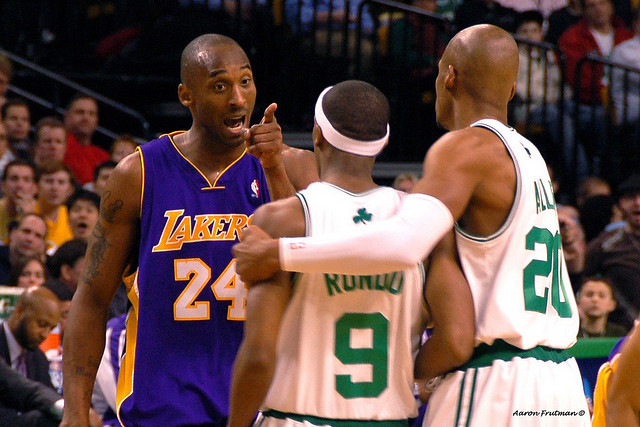 Photo by Aaron Frutman
Early Life
Kobe Bryant was born on August 23, 1978 in Philadelphia, Pennsylvania. His parents named him after the famous beef of Kobe in Japan which they saw on a restaurant menu. Kobe is the youngest of three children born to former NBA player Joe 'Jellybean' Bryant who played for the Philadelphia 76ers and was also a former coach to the Los Angeles Sparks.
At age three Kobe began playing sports such as basketball and soccer. At the age of 6 when Kobe and his family relocated to Italy because his father began playing professional basketball, he learned to speak Spanish and Italian fluently. During the summer season, Kobe would revisit the USA to play in a summer league basketball game. In 1991 when Joe Bryant retired from professional basketball, the Bryant family relocated back to the United States. Later on Kobe stated that if he had continued to live in Italy he would have tried his hand at becoming a professional soccer player.
During Kobe's High School years he was coached by his father and gained national recognition for his performance in basketball at the high school level. Kobe would work out with 76ers coach John Lucas and scrimmage with the team and also played one on one with Jerry Stackhouse. While in his senior year in High School Bryant led his team, the Aces to their first state championship in 53 years. He had an average of 30.8 points, 12 rebounds, 6.5 assists, 4.0 steals and 3.8 blocked shots which lead the Aces to a 31–3 record. When his high school career ended he would become Southeastern Pennsylvania's all-time leading scorer at 2,883 points, surpassing Wilt Chamberlain and Lionel Simmons.
Career
In 1996, Bryant was chosen as the 13th overall draft pick by the Charlotte Hornets and then traded to the Los Angeles Lakers. At the age of 17, Bryant became the youngest player and starter to ever play in an NBA game so his parents had to cosign his contract with the Lakers until he was able to sign on his own when he turned 18 before the season began. Initially during his rookie season, Bryant was mostly on the bench behind guards Eddie Jones and Nick Van Exel until later down in the season where he began to receive more playing time. At the end of the season he averaged 15.5 minutes a game.
In his second season Bryant received a lot more play time and at this time was able to display more of his ability as a young guard. When the Lakers 'played small' he would see an increase in his minutes. He would play small forward alongside the guards he's usually backup. This resulted in his point average doubling from 7.6 to 15.4 points per game. His 15.4 points per game became the highest of any nonstarter in the NBA's 1983 season.
Bryan went on to become one of the premier shooting guards in the league and earned appearances in the league's All-NBA, All-Star and All Defensive team. The Los Angeles Lakers became one of the premier championship contenders under Bryant and team member Shaquille O'Neal who formed an outstanding center-guard combination. The power team went on to win three consecutive championships from 2000 to 2002 and in 2009 Bryant led the Lakers to their fifteenth title and his fourth NBA championship. He also won his first Final MVP award. Bryant has also represented the USA international as part of USA's Olympic Team Bryant's, the team won a gold medal in the 2008 Summer Olympic. Kobe's career profile averages 25.1 points per game, 4.6 assists, 5.3 rebounds and 1.5 steals and is cited as one of the most prolific scorers in NBA history and considered as a standout defender, having made the All-Defensive first and the second nine of the last ten seasons.
Personal Life
In November 1999, when Bryant was 21 years old, he met 17 year old Vanessa Laine while she was working as a background dancer on 'Tha Eastsidaz' music video 'G'd Up'. At that time Kobe was also working on his debut music album which was never released. In May 2000 after 6 months of dating, the two became engaged while Laine was still a senior at Marina High School in Huntington Beach, Caliornia. Later on she decided to complete her schooling independently due to public scrutiny.
On April 18, 2001 in Dana Point, California Bryant and Laine got married without the support of Bryant's parents. Neither his family, his agent nor his team mates were present at the function. Bryant's parents were concerned that he was too young for marriage and were also concerned with the fact that the Laine was not from African-American descent. For the first two years Bryant and his family were estranged until his wife produced his first daughter on January 19, 2003 named Natalia Diamante Bryant.
In the summer of 2003, Bryant was arrested by the sheriff's office of Eagle, Colorado in connection with an investigation of a sexual assault complaint filed by a 19 year old hotel employee Katelyn Faber. At the time Bryant was due to undergo knee surgery nearby and checked into a Lodge & Spa at the Cordillera hotel. Faber accused Bryant of raping her in his hotel the night before he was supposed to have surgery. Bryant admitted that sexual encounter took place but denied that he sexually assaulted her. This incident tarnished Bryant's reputation and led to the termination of his endorsement contracts with Nutella and McDonalds. The sale on his replica jersey also fell significantly low from its usual high sales. In September 2004 the case was dropped and Bryant agreed to apologize to Faber for the incident which also included a public mea culpa. On May 1, 2006, Bryant's second daughter Gianna Maria-Onore Bryan was born six minutes ahead of former teammate Shaquille O'Neal's daughter Me'arah Sanaa.