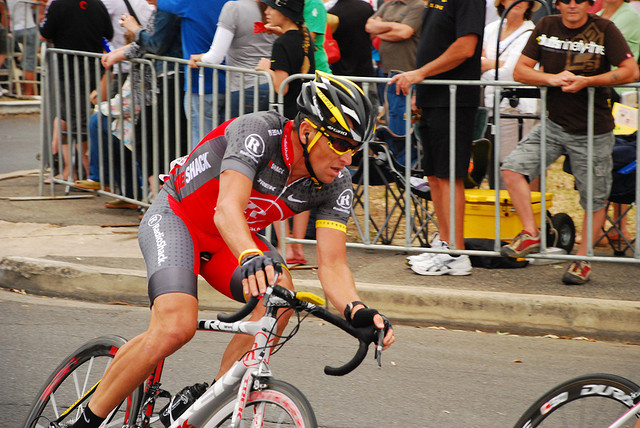 Photo by PoweriPics
Early Life
Lance Armstrong born Lance Edward Gunderson was conceived on September 18, 1971 in Plano, Texas located to the northern suburb of Dallas. Lance was named after Lance Rentzel who was a Dallas Cowboys wide receiver. His mother Linda Mooneyham was a secretary and his father Eddie Charles Gunderson was a route manager for The Dallas Morning News. When Lance was two years old, his father left his mother and later on his mother got married to Terry Keith Armstrong, a wholesale salesman who adapted Lance when he was three years old.
Armstrong began his sporting career as the age of 12 as a swimmer at the City of Plano Swim Club and finished fourth in Texas state 1,500 meter freestyle. After he saw a poster for a junior triathlon he entered and won, after which he stopped swimming.
Career
By 1988 Armstrong was the number one ranked triathlete in the under 19 group. His points total for 1987 as an amateur was better than the five professionals who ranked the highest that year. By the age of 16, Armstrong had already become a professional triathlete and also the national sprint-course triathlon champion in 1989 to 1990 at the age of 18 and 19 respectively.
In 1991 he won the U.S. amateur championship as a bicycle racer and would go on to represent the U.S. in the 1992 Summer Olympics where he finished 14th with the help of teammates Timm Peddie and Bob Mionske. Afterwards he received a professional contract with Motorola for his performance, the company with whom he would later on win his first race, the Trophee Laigueglia in Italy.
In 1992 he went on to compete in the tour of Ireland race. Thrift Drug said it would award $1 million to a rider winning all three races, a feat that was previously unachieved. Armstrong collected the Thrift Drug Triple Crown of Cycling: The Thrift Drug Classic in Pittsburgh, the K-Mart West Virginia Classic and the CoreStates USPRO national championship in Philadelphia. He won the Thrift Drug Classic again in 1994 and came second in the Tour Du Pont in the United Stated.
Later on in Europe he came second in the Clasica San Sebastian and Liege Basogne-Liege but in 1995 he won both the Clasica San Sebastian and the Tour Du Pont. In 1996 he repeated his success and became the first American to win the La Fieche Wallonne and the Tour Dupont. Soon after there was a decline in his performance and he was unable to complete the Tour De France.
Personal Life
Armstrong owns and resides in two homes, one in Austin, Texas and a ranch in Texas Hill Country. At age 25 he was diagnosed with stage three testicular Cancer which had already spread to his lungs, abdomen and brain. By his first urologist visit he was already coughing blood and had a large testicular tumor. He had to take immediate surgery and chemotherapy to save his life and underwent an orchiectomy to remove his diseased testicle. His doctor said that he had less than a 40% chance of survival. He took his chemotherapeutic treatment at the Indiana University in Indianapolis Medical Center and on December 13, 1996 he received his last chemotherapy treatment and his cancer went into complete remission. By 1998 he was engaged in serious training for racing again.
In June of 1997 Armstrong met Kristin Richard and got married on May 1, 1998, together they have three children, Luke, Isabelle and Grace. Armstrong had banked his sperm three years earlier and used this as the means of pregnancy. In September 2003, the couple filed for divorce. While Armstrong was on Tour de France he requested for his children to fly in for the ceremony where his son Luke helped him to hoist his trophy.
In the autumn of 2003, Armstrong began dating singer-songwriter Sheryl Crow and made their relationship public in January 2004. By September 2005, the couple announced their engagement but by February 2006 had broken up. Afterwards Armstrong and fashion designer Tory Burch dated but after several months ended their relationship. Armstrong dated Kate Hudson briefly from May to July 2008. By July, 2008 he was dating Anna Hansen after meeting at one of Armstrong's charity works and by the December that year she was pregnant with his child who was preconceived naturally.
Outside of cycling, Armstrong has started the Lance Armstrong Foundation in support of persons affected by cancer. He also founded Athletes for Hope with a number of other iconic sports figures like Muhammad Ali, Tony Hawk and others which is a charity that helps professional athletes to get involved in charitable causes to inspire non-athletes to volunteer and support the community. In 2008 and 2009 he appeared on PBS Kids show Arthur to teach about biking and spreading the awareness of Cancer.
Filmography
Dodgeball: A True Underdog Story (2004)
You, Me and Dupree (2006)