Biography of Lebron James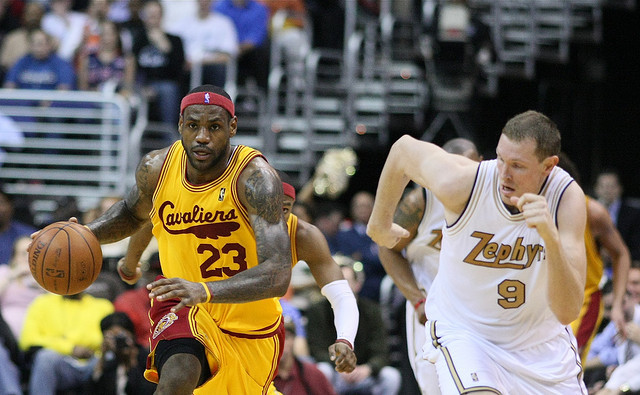 Early Life
LeBron Raymone James was born on December 30th of 1984 in Akron, Ohio, United States.
While attending St. Vincent-St. Mary High School in Akron, James played both football and basketball. In his sophomore year he was named first team all-state as a wide receiver and led his team to the state semi-finals in his junior year. In his freshman year he played basketball for the fighting Irish which was coached by Keith Damrot. At this time, James was averaging 21 points and 6.2 rebounds and led his team to a 23 – 1 record during their games for the Division 3 State Title.
James then started to work with his coach at the local recreation center and in his sophomore year he average 25.2 points, 7.2 rebounds, 5.8 assists and 3.8 steals. His team gained a 26 – 1 record and Division State Title for the second consecutive season. LeBron James became the first sophomore to be named Ohio's Mr. Basketball which he did twice and also the first sophomore ever selected to the USA Today All–USA First Team where he was named Gatorade Player of the Year. At this time he received the nickname 'King James.
Even though the St. Vincent – St. Mary basketball team did not defend its state title, James appeared in the SLAM Magazine which furthered his exposure on a national level. He also appeared on the covers of ESPN Magazine and Sport Illustrate, which further increased his popularity. A few of James high school games were even televised nationally on ESPN2 and regionally on pay-per-view.