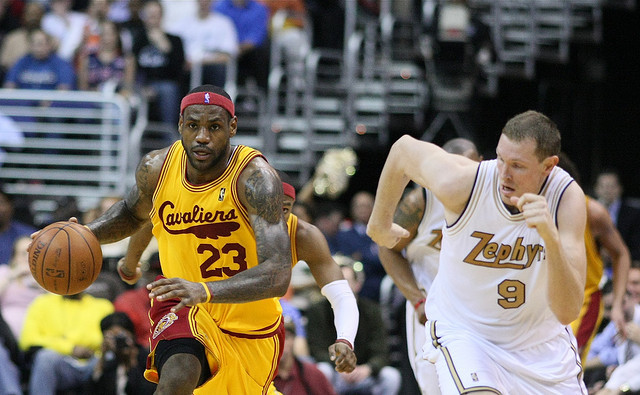 Photo by Keith Allison
Early Life
LeBron Raymone James was born on December 30th of 1984 in Akron, Ohio, United States.
While attending St. Vincent-St. Mary High School in Akron, James played both football and basketball. In his sophomore year he was named first team all-state as a wide receiver and led his team to the state semi-finals in his junior year. In his freshman year he played basketball for the fighting Irish which was coached by Keith Damrot. At this time, James was averaging 21 points and 6.2 rebounds and led his team to a 23 – 1 record during their games for the Division 3 State Title.
James then started to work with his coach at the local recreation center and in his sophomore year he average 25.2 points, 7.2 rebounds, 5.8 assists and 3.8 steals. His team gained a 26 – 1 record and Division State Title for the second consecutive season. LeBron James became the first sophomore to be named Ohio's Mr. Basketball which he did twice and also the first sophomore ever selected to the USA Today All–USA First Team where he was named Gatorade Player of the Year. At this time he received the nickname 'King James.
Even though the St. Vincent – St. Mary basketball team did not defend its state title, James appeared in the SLAM Magazine which furthered his exposure on a national level. He also appeared on the covers of ESPN Magazine and Sport Illustrate, which further increased his popularity. A few of James high school games were even televised nationally on ESPN2 and regionally on pay-per-view.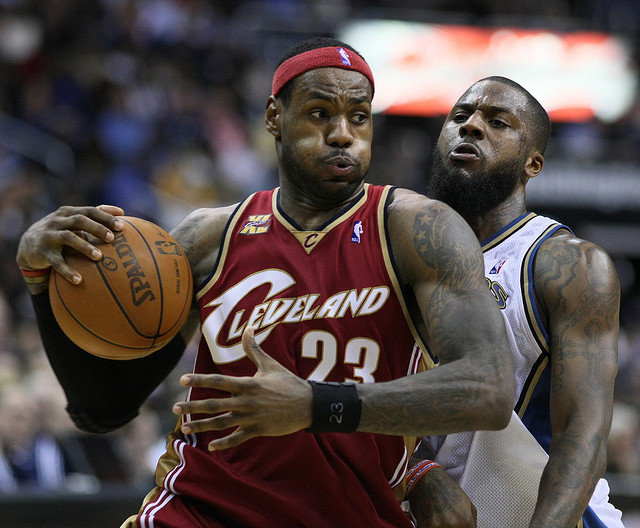 Photo by Keith Allison
NBA Career
At the age of 18, Lebron James was selected as the number one draft picks in the 2003 NBA . He was drafted by the Cleveland Cavaliers and signed a US$90 million shoe contract with Nike before his professional debut. James was named 2003 – 2004 NBA Rookie of the Year, becoming the first Cavalier and youngest NBA player to ever receive the award. Since going to the Cleveland Cavaliers James has lead the team to consecutive playoff appearances and in 2007 for the first time in the franchise's history the team made it to the NBA Finals.
During the 2004 – 2005 season, James was selected for the NBA All-Star Game. In this game he recorded 13 points, 6 assists and 8 rebounds. Throughout this season, James became the youngest player in the league's history to record a triple- double score, 50 points in a game and also make the All-NBA Team. He averaged 27.2 points, 7.2 assists, 7.4 rebounds and 2.2 steals per game. Despite James' performance the Cavaliers were still unable to make it to the playoff and finished with a 42 – 40 regular season record.
In 2006, James made his playoff debut against the Washington Wizards and recorded a triple- double with 32 points, 11 assists and 11 rebounds. In that game the Cavaliers defeated the Wizards 97–86. James at this time joined Maic Johnson and Johnny McCarthy as the only players in NBA History to register a triple-double in their playoff debut. LeBron James has established himself as a legitimate triple-double threat and has averaged 27.5 points, 6.7 assists and 7.0 rebounds per game for his career. As of the 2008 – 2009 season, he has recorded 28 triple-doubles in his career with four in the post season and 24 in the regular season. LeBron James is also a member of the USA National Team that has won a bronze medal at the 2004 Olympics and a gold medal at the 2008 Olympics. In 2008 – 2009 he was NBA's Most Valuable Player. Since 2005 he has been on both All-NBA and an All-Star every season.
Photo by Keith Allison
Personal Life
LeBron James has two children, LeBron James Jr and Bryce Maximus James. LeBron James jr was born on October 6th of 2004 and Maximus on June 14th of 2007. James has built a large empire through his many endorsement deals and was ranked number 1 in the Forbes Top 20 Earners under 25 with annual earnings of $27 million. He was also featured on the cover of February 2009 Edition of GQ Magazine
James has released six (6) signature shoe styles under Nike and four additional shoes. He has contracts with companies such as Sprite, Nike, Glaceau, Upper Deck and Bubblicious. In June 2008 he donated $20,000 to a committee in aid of electing Barack Obama, he also gathered approximately 20,000 people at the Quickens Loans Arena for the viewing of the Democratic presidential nominee Barack Obama's 30 minute American Stores, American Solutions television advertisement.