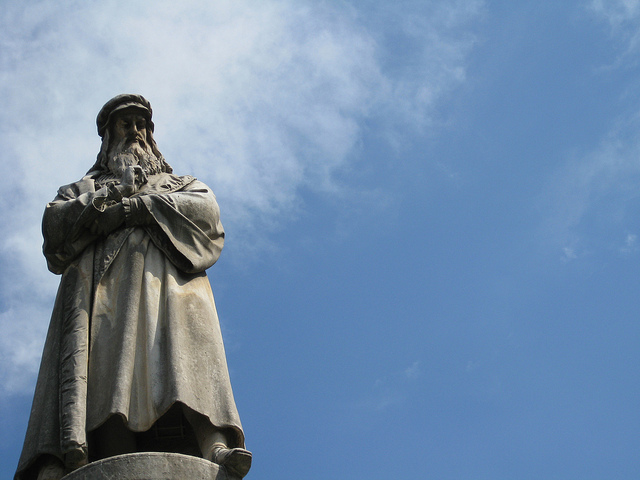 Early Life
Leonardo di ser Piero da Vinci was born on April, 15, 1452, in the Tuscan hill town of Vinci, in the lower valley of the Arno River in the territory of Florence. Leonardo had no surname in the modern sense, "da Vinci" simply means "of Vinci" the are in which he was born. His full name, literally means, "Leonardo son of Mes(ser) Piero from Vinci." Leonardo spent his first five years of life in the hamlet of Anchiano, then went on to live in the household of his father, grandparents and uncle in the small town of Vinci. Of his childhood, Leonardo only recorded two incidents in later life. One incident, which he regards as an omen, was when a kite dropped from the sky and hovered over his cradle, its tail feathers brushing his face. The second incident occurred while exploring in the mountains; he discovered a cave and was both terrified and driven by curiosity at the prospect of some great monster lurking inside.
At age fourteen, in 1466 Leonardo was apprenticed to Andrea di Cione, known as Verrocchio, one of the most successful artists of that time. Leonardo was had the opportunity to learn a vast range of technical skills and had the opportunity to learn drafting, chemistry, metallurgy, metal working, paster casting, leather working, mechanics and carpentry as well as the more artistic skills of drawing, painting, sculpting and modeling. At the age of twenty, in 1472, Leonardo qualified as a master in the Guild of St. Luke, the guild of artists and doctors of medicine. However, his attachment to Verrocchio was such that he continued to collaborate with him, even after his father set him up in his own workshop. A pen and ink drawing of Arno valley, drawn on August 5, 1473 is dated as Leonardo's earliest known work.
Career
In 1476 court records show that Leonardo and three other young men were charged with sodomy, and later acquitted. Record of his work and whereabouts are absent from that time until 1478. However it is still assumed that Leonardo had his own workshop in Florence between 1476 and 1481. In 1478 he gained an important commission to paint an altarpiece for the Chapel of St. Bernard and "The Adoration of the Magi" in 1481 for the Monks of San Donato a Scopeto. However the commission was interrupted when Leonardo went to Milan. Between 1482 and 1499, Leonardo worked in Milan, and was commissioned to paint the "Virgin of the Rocks" and "The Last Supper."
He returned to Florence in 1500, and on his return, he and his household guests were provided with a workshop where Leonardo created the cartoon of "The Virgin and Child and St. John the Baptist," a work that gained such a high level of admiration that all types of people flocked to see it. In 1502 Leonardo acted as a military architect and engineer and traveled through italy with his patron. When he rejoined the Guild of St. Luke. he returned to Florence where he spent two years designing and painting a great mural of the Battle of Anghiari. In 1506 Leonardo returned to Milan, where his most prominent pupils or followers in painting either knew or worked with him.
Personal Life
Leonardo continued to move throughout Europe, spending most of his time working in Milan and Rome. Throughout his life, Leonardo attracted the curiosity of other for his remarkable talents and lifestyle choices. He was a vegetarian and took to to, as Vasari described, purchasing caged birds and releasing them. Leonardo kept his private life secret, however his sexuality has been the subject of speculation for years. He does not appear to have had any close relationships with women, and has described his feelings for a male student, Melzi, as both loving and intensely passionate. It has been claimed since the 16th century that his relationships with men could have been of a sexual or erotic nature. After producing some of the most famous paintings in the world, like the "Mona Lisa," and being revered for his technologial ingenuity, Leonardo died at the age of 67 on May 2, 1519.