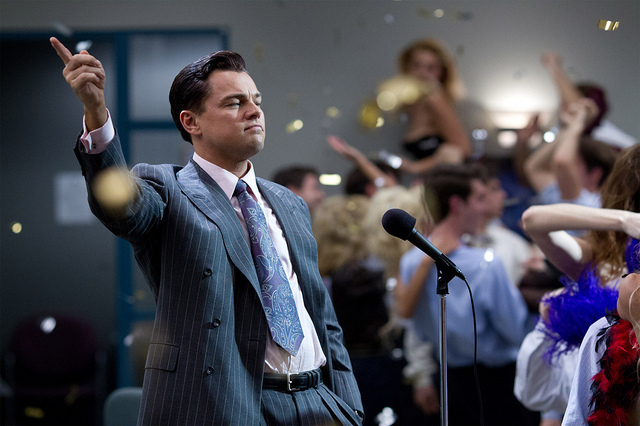 Photo by Museum of Cinema
Early Life
Born in Hollywood, California on November 11, 1974, Leonardo attended the Seeds University Elementary School at UCLA where he also took summer courses in performance art before moving on to the Centre for Enriched Studies in Los Angeles. Following that, DiCaprio enrolled at John Marshall High School. Having exposure to the underground art culture from an early age, Leonardo had it instilled in him that creativity was a hugely important thing.
Career
In 1988, at the age of fourteen, Leonardo started auditioning for roles, and subsequently appeared in a series of commercials and educational films. From bit parts on soap operas, to bubble gum commercials, DiCaprio scored his first regular gig on the series "Parenthood," which only lasted three episodes.
By 1991 Leonardo was cast in the hit ABC sitcom, "Growing Pains," playing the role Luke, a troubled homeless boy taken in by the Seavers. His big break came the following year, in 1992, when Michael Caton-Jones cast him as the character Tobias Wolff in his big-screen adaptation of Wolff's best selling novel "This Boy's Life." Co-starring alongside Robert DeNiro and Ellen Barkin, the film continues to be one of Leonardo's favourite acting experiences.
In 1993, Leonardo was cast in the role of Arnie for the critically acclaimed film, "What's Eating Gilbert Grape" His extraordinary performance earned him an Academy Award Nomination for Best Supporting Actor in 1994 at the age of nineteen. Two years later, in late 1996, DiCaprio signed on to star in James Cameron's "Titanic," after having been hesitant to take the part initially. His initial misgivings ultimately gave way to Cameron's relentlessness and the story's thematic elements.
"The Man in the Iron Mask," starring Leonardo, owned the number one position on the top ten box office list for the better part of the first half of 1998 with "Titanic," he virtually knocked himself out of the top spot with "The Man in the Iron Mask."
Leonardo's lifelong passion for environmental awareness began to play a role in his life, after he was already well into his film career. Finally in the capacity to make influential decisions and a difference in the sphere of environmentalism, Leonardo was invited to chair the Earth Day 2000. He also interviewed then President, Bill Clinton on the deterioration of the ozone level. LeonardoDiCaprio.org is now devoted to helping the environment on a worldwide level.
To date, Leonardo has starred in over six box office hits, including, "Gangs of New York" and "The Aviator" which he not only starred but served as an executive producer. In the field of environmentalism, Leonardo has also won many awards for his efforts toward a Greener environment. In 2009, the year started out with Leonardo's third nomination for an Academy Award, this time as Best Actor in a Leading Role for his performance as Danny Archer in "Blood Diamond." In the same year, "The Departed," which starred Leonardo, won an Oscar for Best Picture of the year. Throughout the spring, Leonardo contributed to the editing, production and directing of the environmental documentary "The 11th Hour," which was released in Augusts. The film was nominated for a Satellite Award for Best Documentary and won a Clarion Award for best Feature Film and the Diversity Award for Best Documentary.
Personal Life
Leonardo has dated models, Gisele Bündchen and Bar Rafaeli. He is close friends with Tobey Maguire and Kate Winslet. He owns a home in Los Angeles and an apartment in TriBeCa, Manhattan, New York. He bought an island in Belize where he plans to create an eco-friendly resort, as well as an apartment in Riverhouse; an eco friendly building overlooking the Hudson River in Manhattan.