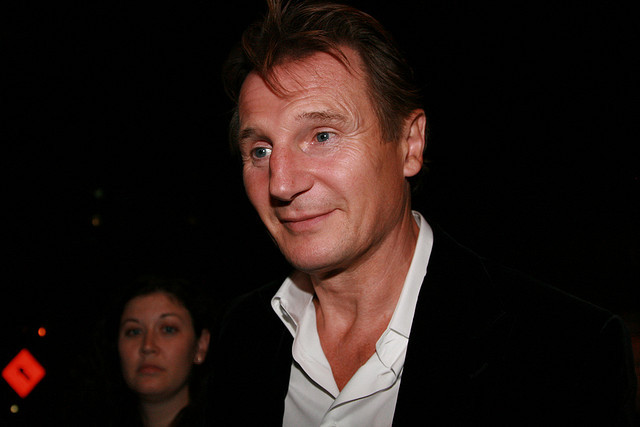 Photo by karen in toronto
Early Life
Irish actor, William John Neeson was born in Ballymena, County Antrim, Northern Ireland on June 7, 1952. He was raised as Roman Catholic in a predominantly Protestant and Unionist town of Ballymena by Katherine Brown and Bernard Neeson. He was the third child of the family, and the only boy among four siblings, his sisters, Elizabeth, Bernadette and Rosaline.Neeson began boxing lessons at the age of nine, and later became Ulster amateur senior boxing champion. However, he subsequently withdrew from the ring due to a blackout.
Neeson first experienced being onstage at age eleven. He gained the lead role in a school play, which he accepted because the girl he fancied would be starring. He stuck to acting in school productions from then on. Following high school, Neeson enrolled as a Physics and Computer Science undergraduate student at Queen's University Belfast, in Northern Irelands, before leaving to work for Guinness. While at university, Neeson's abilities as a talented footballer emerges, and he was spotted by manager Seán Thomas. He conducted a trial for the Bohemian F.C club in Belfast Ireland, when he was featured briefly as a substitute in a game against Shamrock Rovers, replacing Tony O'Connell. However, he was not offered a contract, and that remains his only performance in professional football.
Career
Neeson, like most persons new to the film and acting industry, started out working odd jobs and appearing in theatre productions. After this stint, director John Boorman cast him in his period epic Excalibur. Neeson went on to establish himself as a popular character actor working in such films as, "The Mission, the Dead Pool and Next of Kin." He landed his first starring role in the Sam Raimi film "Darkman" and was subsequently established as one of the most leading actors in Hollywood with appearances in such films as "Husband and Wives," and his Oscar nominated performance in the Academy Award Winning film "Schindler's List" directed by Steven Speilberg.
Neeson's success has led him to since collaborate with the top directors in the business, such as George Lucas in "Star Wars: Episode 1: The Phantom Menace," Martin Scorsese in "Gangs of New York." and Christopher Nolan in "Batman Begins." Neeson also voiced the lion Aslan in the blockbuster fantasy film "The Chronicles of Narnia: The Lion, the Witch and the Wardrobe.
Personal Life
Since July 3, 1994, Neeson and actress Natasha Richardson has been a married couple. Together they have two songs, Michael and Daniel Neeson. They live together as a family in an ex-urban neighbourhood, Millbrook, New York. In August 2004, Neeson and his wife bought an additional 16 acres of land next to their estate.